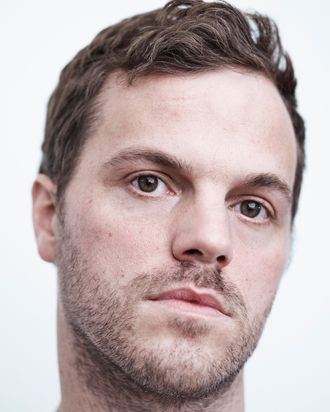 Matthieu Blazy, ladies and gentlemen.
Photo: Willy Vanderperre
After the surprise exit of Bottega Veneta creative director Daniel Lee last week, less than a month after a major show in Detroit, the company announced the promotion of Matthieu Blazy to the position of creative director today, "with immediate effect." (Hmmm.)
Blazy, 37, who splits his time between Milan and Antwerp, has been toiling behind the scenes of the fashion industry for years and has long been pegged as a star on the rise. He was working on the Artisanal couture collection and women's ready-to-wear at Maison Margiela when Suzy Menkes, the International New York Times columnist, unmasked him (contra Margiela's long-standing house policy of anonymity) in 2014. Ever since, insiders have followed him from role to role: from Margiela to Céline, where he worked on Phoebe Philo's collections, to New York, where he moved with his partner, Pieter Mulier, to work on Raf Simons's Calvin Klein. (The Simons ties are strong: the Bottega release notes proudly that Blazy is "a Raf Simons protégé," and got his start at Simons' namesake men's wear label. Mulier, who worked with Simons for years himself, is now the creative director of Alaïa. "PROUD AND EMOTIONAL," Mulier posted about Blazy's appointment today.) When major postings have come open, Blazy's name has often been mentioned — he was rumored to be in consideration for the top spot at Balenciaga, which went to Demna Gvasalia, and at Hermès, which went to Nadège Vanhee-Cybulski — but he remained in design director roles, like the one he took at Bottega Veneta in 2020. Now he'll be out in front.
"​​I am confident that Matthieu Blazy's wealth of experience and broad cultural background will allow him to bring his creative impetus to the task of carrying on the legacy of Bottega Veneta," François-Henri Pinault, the chairman and CEO of Bottega Veneta owner Kering, said in a statement today.
Under Lee, Bottega had been a resurgent bright spot in the Kering stable. When Lee took over from Tomas Maier, a 20-year veteran, the company had slipped behind Yves Saint Laurent to the No. 3 position by revenue among Kering brands. But the success of key new styles like the Pouch and the Cassette bags and the influencer-beloved square-toed sandal (fashion notwithstanding, leather goods make up 78 percent of BV sales) helped to drive growth even through the pandemic. In the first half of 2021, revenues were up 40.6 percent, and its second-quarter revenue, of €379.4 million, was a house record.
Blazy's first collection for the house will be presented next February.