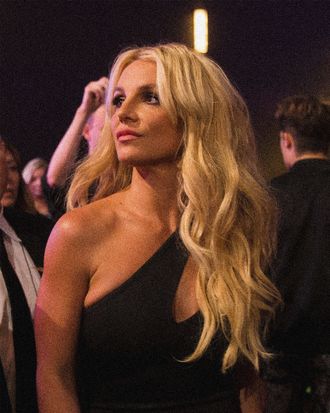 It's Britney, bitch.
Photo: Image Group LA/Walt Disney Television via Getty Images
On June 23, Britney Spears told a Los Angeles probate court how she really feels about the conservatorship that's ruled her life for the past 13 years. In her own words, she's "done" with the "abusive" arrangement that has granted her father and various attorneys full control over her finances, her career, and her person since 2008 — even as her albums, world tours, TV gigs, and performances keep these legal guardians on her payroll. The contradiction is not lost on Britney, who argued that it "makes no sense" for her to "make a living for so many people" who in turn decide how she gets to live.
"I just want my life back," she told California Superior Court Judge Brenda Penny. "All I want is to own my money, for this to end, and my boyfriend to drive me in his fucking car."
Although the conservatorship itself remains in place, that could change at the singer's upcoming hearing on Friday. In the meantime,
certain key players have abdicated their roles. Most recently, Judge Penny officially suspended Britney's father, Jamie Spears, from his role as conservator. As we wait to hear whether the court will rule to terminate the conservatorship altogether — an outcome Jamie is now officially asking for — here's a guide to who's involved and what happens next:
Britney's father
Jamie Spears assumed the role of financial and personal conservator when he enacted the guardianship in 2008. Though he relinquished control of Britney's personal life to Jodi Montgomery — a licensed, private fiduciary appointed as conservator of Britney's person — two years ago, he remained in charge of her finances until he was suspended on September 29.
The singer has painted her father as a driving force behind her misery, informing the court in July: "I want to press charges against my father today." In the media, Jamie has been cast as an aggressive stage parent constantly leveraging his daughter's talent for personal gain — "I am Britney Spears!" he reportedly bellowed during an early conservatorship meeting — a charge he denies. And this summer, amid escalating calls for his removal from the case, Jamie's position remained slippery.
On June 29, he requested that Penny open an investigation into the "serious allegations" raised in his daughter's testimony that month — presumably including the assertion that he had forced her into a labor situation that she compared to "trafficking." On August 6, Jamie filed court documents alleging that Montgomery told him Britney is "mentally sick" and needs to be put on a 5150 psychiatric hold. (Montgomery characterized this as an extreme misrepresentation of her words.) Then, one week later, Jamie made what looked, on the surface, like a significant concession: In a court filing from August 12, his attorney said the singer's father intended to resign "when the time is right." Emphasizing that Jamie does not believe any valid grounds exist for his removal, the filing granted that he would resign if the transition was "orderly." Britney's new attorney, Mathew Rosengart, subsequently accused Jamie of trying to "extort" $2 million from his daughter in exchange for his departure.
All of which is to say, his request to end the conservatorship altogether — and without making Britney undergo another psychiatric evaluation — came as a huge surprise. In a court filing from September 7, Jamie acknowledged many of the points Britney has aired over recent months, concluding that she "is entitled to have this Court now seriously consider whether this conservatorship is no longer required."
On September 29, Judge Penny ruled to suspend Jamie from his role as conservator, marking a huge step toward Britney's freedom. "The current situation is not tenable," the judge ruled, per the New York Times — a decision that displeased Jamie. His then-attorney, Vivian L. Thoreen, called it "disappointing, and frankly, a loss for Britney." Confusingly, he filed again for the arrangement's wholesale termination on November 1, with an attorney stating that "Britney's recent testimony and requests to take personal control of her estate and affairs have made clear that continuing the conservatorship is contrary to her desires."
"Jamie sees no reason why the conservatorship should continue for any amount of time and asserts he has no interest in the conservatorship continuing," the filing goes on. "The mission has been successful and it is now time for Britney to re-take control of her life. Not tomorrow or next week, now."
Britney's legal counsel
On July 6, Britney's court-appointed attorney — Samuel D. Ingham III, who has represented her since the conservatorship was put into place — filed a petition to resign. The move seemed in line with his client's stated wish to choose her own attorney, but her testimony also raised questions about who Ingham really served. Britney told Judge Penny that she "didn't know [she] could petition the conservatorship to be ended" until relatively recently, and that Ingham discouraged her from speaking out sooner. Then, the New York Times reported that Ingham's advocacy for Britney seemed spotty at best — suspicious, considering the $3 million he has made off her case since 2008. On July 14, Judge Penny approved his resignation.
On July 14, Judge Penny approved the appointment of Britney's new counsel, Matthew Rosengart. A former federal prosecutor and one of the Hollywood Reporter's top 100 "power lawyers" for 2021, Rosengart has a long list of celebrity clients, including but not limited to Ben Affleck, Steven Spielberg, Sean Penn, and Winona Ryder. His first order of business: Calling on Britney's father to resign. "We will be moving promptly and aggressively for his removal," Rosengart said at the time.
Having accomplished that goal, Rosengart currently seeks to have Jamie investigated. As the New York Times reports, Jamie's recent reversals overlap with Rosengart's requests to depose him and to review extensive documentation on how he ran Britney's estate. In Rosengart's eyes, Jamie's change of heart looks more like an attempt to evade accountability as his actions come under legal scrutiny.
Britney's professional conservators
On July 1, Bessemer Trust — a private wealth-management firm that, along with her dad, Jamie Spears, oversaw Britney's finances — also asked to exit the arrangement "immediately." The request came days after Bessemer's official appointment as co-conservator, and it cited "changed circumstances": Jeff Glowacki, a managing director at the bank, said that when Ingham asked Bessemer to come onboard, he described the conservatorship as "voluntary." After hearing otherwise from Britney, Bessemer back out. On July 14, Judge Penny granted that request as well.
Meanwhile, Montgomery has insisted (through her attorney) that she "has been a tireless advocate for Britney and for her well-being," and "unlike family members who serve as conservators, is required to follow a Code of Ethics." Montgomery denied blocking Britney from getting married and having more children, an accusation the pop star leveled against her conservators in court in June. She wants to stay on as conservator for now, and she has also requested security detail, citing the high volume of threats she says she's received since Britney's June court date.
Britney's mother
Another family member who has opinions on the conservatorship: Lynne Spears, Britney's mom. Lynne says she's been involved in the conservatorship since May 2019, stepping in during what she called a "time of crisis" when Jamie forced Britney to enter medical treatment. In July court documents obtained by Entertainment Tonight, she indicated that the conservatorship had not served Britney's "best interests."
On July 6, Lynne filed a petition asking Judge Penny to authorize her daughter's immediate "appointment of independent counsel," arguing that "[Britney] can care for her person" now. She has earned "literally hundreds of millions of dollars as an international celebrity," the filing noted, and "her capacity is certainly different today than it was in 2008."
Lynne also backed Britney's request to remove Jamie from the conservatorship. In a signed declaration submitted to the court on July 22, Lynne said Jamie has maintained "absolute control over [Britney's] money and her health-care decisions," noting that the relationship between Britney and her father has "dwindled to nothing but fear and hatred." According to Lynne, Jamie has kept Britney under close scrutiny, even asking household staff and security detail "to inform on and report back to him each and every detail of every action that takes place in [Britney's] home."
She also echoed Britney's claim that Jamie encouraged Britney to submit herself to a medical facility "against her wishes" and "was threatened with punishment if she did not stay for medical treatment that she did not want to endure." She went on to describe Jamie's control over their daughter as "exhausting and terrifying," saying that Britney was subject to Jamie's "constant threats and his decision-making over all aspects of her life."
Lynne does not hold an official position within the conservatorship, but in a November 2 Instagram post, Britney said her mother had been complicit. "What people don't know is that my mom is the one who gave him the idea," she said in the caption, according to the BBC. (The post has since been deleted.) "I will never get those years back … she secretly ruined my life."
"You know exactly what you did," she reportedly continued. "My dad is not smart enough to ever think of a conservatorship, but tonight I will smile knowing I have a new life ahead of me."
What happens next?
The November 12 hearing will determine whether the conservatorship should be terminated altogether. In the interim, Mathew Rosengart's proposed replacement as conservator of Britney's finances — John Zabel, a certified public accountant — has taken over Jamie's role.
Additionally, Jamie's behavior while acting as conservator has come under further scrutiny, thanks to new documentaries on the conservatorship. Controlling Britney Spears, a follow-up to the investigation the New York Times and FX dropped in February, delves into the elaborate surveillance machine Jamie allegedly architected to monitor his daughter, claims Rosengart believes merit serious investigation. During the September 29 hearing, Rosengart reiterated that belief, describing the choice to "eavesdrop on her most intimate communications with children, boyfriend, and lawyer" as "unfathomable," according to one reporter who attended the hearing.
A second hearing date has been set for December 8 to resolve the outstanding financial matters, which includes over a million dollars in legal fees that have been billed to Britney's estate.
This article has been updated.