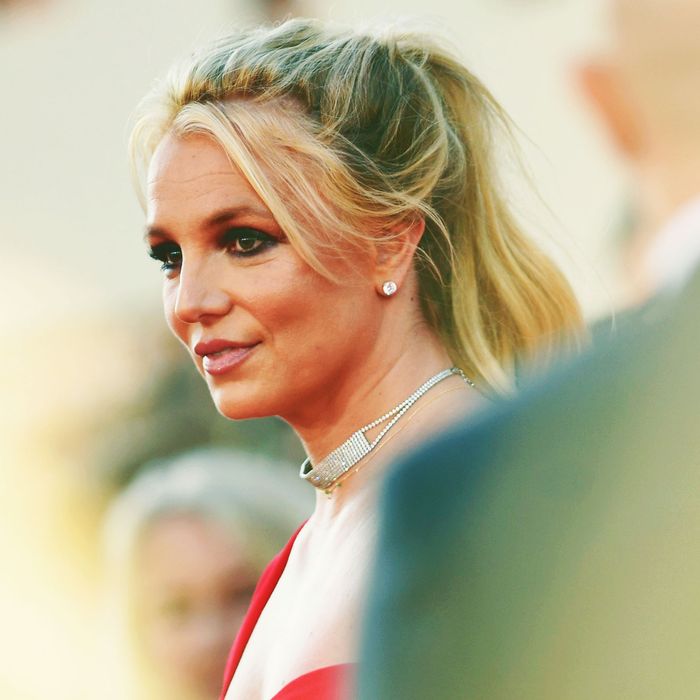 Photo: Valerie Macon/AFP via Getty Images
After more than a decade of having almost no control over her personal and professional life, Britney Spears is finally a free woman. On Friday, a judge ended her conservatorship, which for the past 13 years has allowed Spears's dad, Jamie, and other parties to make decisions about whom she sees, what medication she takes, and how her money is spent. Members of the #FreeBritney movement celebrated outside the courthouse, hugging, crying, and belting her song "Stronger."
For Spears, it was a long, painful road to today's hearing. The conservatorship was first put in place in 2008, following a very public meltdown that involved attacking a paparazzo's car and being rushed to a psychiatric ward on a gurney. Although legal guardianships are usually reserved for elderly people deemed incapable of making their own decisions, many assumed the arrangement was in Spears's best interest. That is, until a small but vocal movement known as #FreeBritney started to gain momentum a few years ago. These fans suspected that the conservatorship was abusive and that Jamie and his team were taking advantage of a pop star who was capable of touring and putting out platinum-selling albums. (Her net worth is in the ballpark of $60 million, and she bankrolled the entire conservatorship team.) The theory gained more traction with the release of a New York Times documentary, but it wasn't until June that these concerns were finally validated by Spears herself.
In bombshell testimony on June 23, she spoke about being stuck in an "abusive" situation in which she was medicated without her consent, ordered to perform, and forced to stay on birth control despite her desire to have another child. "I just want my life back," she told Judge Brenda Penny. "All I want is to own my money, for this to end, and my boyfriend to drive me in his fucking car. And I would honestly like to sue my family." (Although she had expressed similar concerns in court as early as 2014, they were not made public until last year.)
Since then, the dominoes quickly began to fall: Members of Spears's conservatorship team began to resign, and she hired a powerhouse lawyer, Mathew Rosengart, who immediately filed papers to end the arrangement. Her father initially went on the defensive, saying his daughter had struggled with "addiction and mental-health issues" and accusing others involved in the conservatorship of abuse, but he eventually, begrudgingly, agreed to step down (even as his lawyers continued to argue that there were "no actual grounds for suspending or removing" him). Shortly thereafter, he was suspended from his position.
While it's a day of celebration for Spears and her fans, the future is more uncertain. The 39-year-old singer has made it clear she wants to spend time with her two sons and fiancé, and there's speculation that she may never tour again. But even though the conservatorship has ended, the legal battle against her father may just be getting started. Rosengart has made it clear that he will launch a "vigorous investigation" into the "millions of dollars" Jamie has reaped over the past 13 years. The next court hearing is set for early December and will tackle the finances involved in the conservatorship.