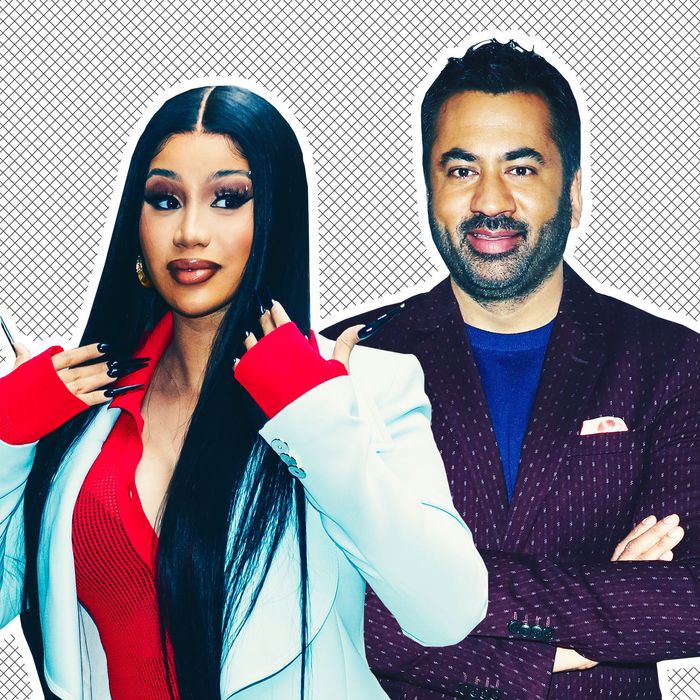 Photo-Illustration: The Cut; Photos: Getty Images
Another day, another unlikely friendship forged by Cardi B on Twitter. If you'll recall, the rapper and burgeoning TV critic recently swapped profile pictures with Penn Badgley after the two expressed some passionate mutual admiration. And now, Cardi has agreed to officiate the wedding of actor and comedian Kal Penn, who recently got engaged to his longtime partner Josh. This is one busy woman.
The setup was arranged via yet another cute Twitter thread, which started with Kal Penn tweeting that he was on Cardi B's flight to L.A. Apparently her presence caused the comedian to have a dream where Cardi B officiated his upcoming nuptials. Then, per his dream, "the three of us walked out of LAX holding hands." Not exactly a traditionally sought-after wedding venue, but I guess it counts as destination? This is still extremely cute.
Turns out Penn's dream was in fact a manifestation, because after he shared it with his followers, Cardi B retweeted him, writing, "First, why didn't you say hi! Second, I'm licensed to do that sooo……..let me know."
Penn commented on her post to seal the deal and explain that he was "gonna say hi but didn't want to be disrespectful (your do not disturb light was on)." Cardi B is a busy woman, and Penn respects that. How she'll find time to officiate his wedding while tending to all these new friendships and, oh, I don't know, raising two children and collecting Grammys is unclear. But if anyone can find a way, it's Cardi.
Penn is not the only celebrity currently seeking a plot-twist wedding officiant. Kristen Stewart just scored the Mayor of Flavortown himself to officiate her wedding to fiancée Dylan Meyer. Shortly after she revealed during her engagement announcement that she'd like Guy Fieri to marry them, Fieri recorded a video for the Today show to let Stewart know that she would indeed be getting a "sweet, spikey-haired officiant" for her big fat flavorful wedding. Hurrah!
In conclusion, if you too have impending nuptials and would like to employ an unexpected officiant, I highly recommend you share this information publicly, as it seems like there's a pretty high chance your desired celebrity will see it and be in touch. When you reach for the stars, you land at … Kal Penn's LAX wedding!