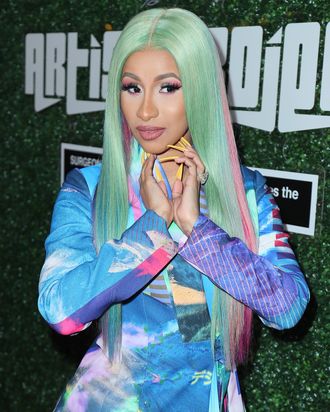 Photo: Leon Bennett/FilmMagic
I've always wondered how celebrities celebrate the holidays, but I never guessed it would be with assless pajama bottoms and alcoholic whipped cream. Cardi B is preparing to launch Whipshots, her new vodka-infused whipped cream, and between these tipsy ice-cream toppings and Rihanna's assless Savage x Fenty PJs, I'm beginning to think I've been doing Christmas all wrong.
The "luxurious AF" Whipshots are dropping December 1 and will be available exclusively to fans who sign up for the mailing list. The company will drop 500 cans a day in one of three flavors — vanilla, caramel, and mocha. There's not a lot of information on the official website yet, so it's unclear whether Whipshots will ever be available to buy outside these scheduled drops. What we do know, according to a press release, is that Whipshots are nondairy and don't require refrigeration and that the rapper has called them "Cardi in a can." What that means for taste, I can't say for sure, but I would be willing to find out.
Dairy-versus-nondairy issues aside, alcoholic whipped cream sounds kind of incredible. It's also genius: finally, a whipped-cream shot that's actually … a shot shot. Is it a necessity in life? Hell, no, but this is the kind of celebrity-endorsed decadence we deserve. Besides, what dessert or cocktail isn't improved by a little whipped cream on top?
Bottom line: If there's any celebrity I trust to sell me something gooey and sweet that will lower my inhibitions, it's the woman who wrote "WAP."