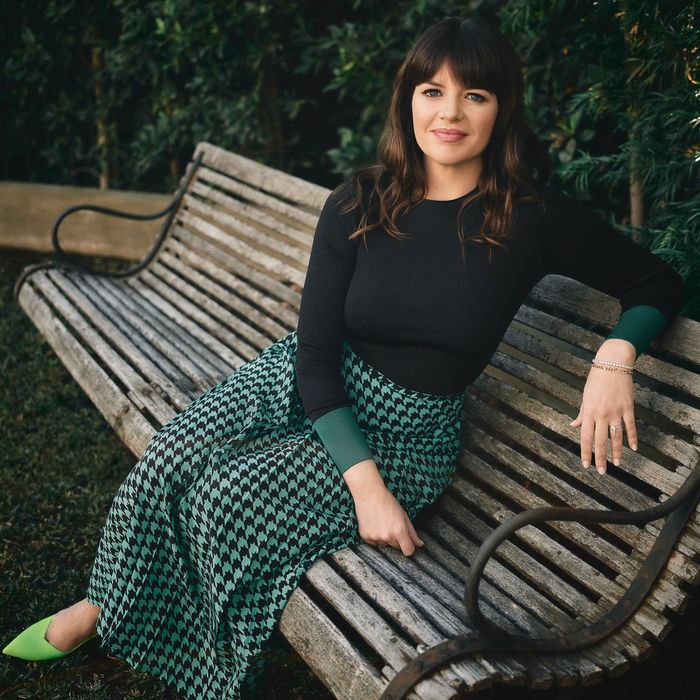 Casey Wilson has spent much of the past year thinking about how a housewife could be implicated in her husband's alleged wrongdoing — two housewives, in particular. The first shouldn't come as a surprise if you already know Wilson as one of the two hosts of Bitch Sesh, the popular podcast dedicated to all things Real Housewives ("I do hope in my obituary," Wilson tells me, "I'll be credited in some small way with normalizing watching the Housewives"). Yep, it's Erika Jayne. Jayne — legal name, Girardi — is the Beverly Hills cast member you've probably heard about even if you don't watch the show: She's in the midst of a headline-making divorce from her much older husband, Tom, a former attorney accused of misappropriating and "embezzling money meant for victims" of a 2018 airplane crash (just one in a growing number of accusations); he has also been roped into several pending lawsuits against Jayne. It's juicy, horrifying stuff to watch unfold — much like the story of the second housewife, Bonnie Herschkopf, which happens to be Wilson's role in the Apple TV+ true-crime series The Shrink Next Door, which premiered November 12.
The show follows the ensnaring of one Marty Markowitz (Will Ferrell) by his unsettlingly "friendly" therapist, Dr. Ike Herschkopf (Paul Rudd). Wilson plays Dr. Ike's frequently sidelined and increasingly exasperated wife, a fictionalized character not in the 2019 true-crime podcast of the same name. "We had to create her out of whole cloth," Wilson says over Zoom, dressed casually at her Los Angeles home just days after Shrink's New York City premiere. She's cracking jokes, widening her eyes, and frequently waving her burgundy-manicured nails in front of her face as she collects her thoughts. "The idea was to play it slightly ambiguous: How complicit is this woman in her husband's behavior? She's so in love with her husband. I tried to play her like she thinks he's a god."
But just as Wilson and her fellow Housewives fans have learned, a god complex and some old-fashioned charisma do not an innocent man make. In fact, much of Jayne's story line this season has lived in that murky "anything goes" space between fact and fiction, where tensions flare as truth loses meaning. Bonnie too slips into those crevices as The Shrink Next Door unspools, and she's played with warmth and familiarity by Wilson, operating at her dramatic best. As Bonnie watches her husband sink his talons deeper and deeper into his patients, rather than do anything about it, she quietly lets the weaseled fame and fortune elevate their lifestyle. "In some way, she was his first cult member until Marty comes along," Wilson says. "Also, though, she does move into her husband's patient's home in the Hamptons, puts her name on the mailbox, and renames the kitchen 'Bonnie's Kitchen.' So at a certain point, she's certainly benefiting from this scenario as well."
Wilson, who turned 41 last month, is having a career-high year, which included the spring release of her debut book, The Wreckage of My Presence, a collection of alternatingly funny and touching essays that weave together Wilson's thoughts on Los Angeles, marriage, motherhood, and her mother, who passed away in 2005. "I really am telling my mom's story, and she's not here to tell it, so I was very nervous about putting it out there," she says slowly, referring to an essay that chronicles a painful and honest conversation with her father about her mother's true story several years after her passing. "I wanted it to be a love letter to my mom, but you never know how things will be received with any type of art that you put out there. But also I had no one else to blame for this one but me. Usually, if something doesn't work, I'll blame anyone around me but me, but not on this one."
She needn't have worried. A virtual book tour with hosts like Kristen Wiig and Ziwe followed ("I was in this chair — just with better lighting," Wilson says, shaking her bangs back and forth as she poses dramatically for the laptop camera). The book earned a spot on the New York Times best-seller list and rave reviews from some of Wilson's heroes including Drew Barrymore (who wept in an Instagram video extolling the book's virtues), Andy Cohen, Amy Sedaris, and Melanie Griffith.
"I put together a little press box that I wanted to just send to any people that I've loved and respected," she says of her prerelease strategy. "We did include — this was my idea, I'm proud to say — Valentine conversation hearts, and on them, I had written, 'Please help me. You're more famous than me. Promote me please.'" She pauses to laugh at the audacity of her own plan, shooting a Can you believe me? look. "But, honestly, I was blown away," she adds. "Melanie Griffith was reading it on a yacht — what more is anyone asking for?"
The most meaningful and unexpected response to The Wreckage of My Presence came from the star of her and her mom's favorite movie. "In the book, I reference Terms of Endearment, and my mom and I used to watch it I want to say a thousand times a year before she passed," she says, the volume of her voice gently lowering. "Debra Winger read the book and reached out to me, and I disintegrated. I was crying. I felt there was some connection there. It felt not of this plane."
The control that came with writing her book unlocked something dormant in her, she says, illuminating what might come in a career already studded with highlights like Saturday Night Live, Gone Girl, and the cult-favorite TV show Happy Endings (they really are trying to bring it back in some capacity, she promises for the umpteenth time). "My editor said, 'Just so you know, when I give you these notes, really, at the end of the day, they're suggestions. It's your book,'" she remembers. "That's unheard of when writing a TV show or movie — and the same goes for podcasts. If you write a TV show or a movie, there's 17,000 cooks in the kitchen, and I think unless you're a proven auteur, your voice can get watered down so much. The podcast world is like the Wild West right now. Nobody's clamping down on anyone. In a way, it's freeing."
And The Shrink Next Door comes at a turning point in Wilson's career just after her Showtime series, Black Monday, wrapped its three-season run. After becoming a small-screen favorite on Happy Endings, Wilson found further success in 2014 by starring in Bitch Sesh co-host Danielle Schneider's takes on The Real Housewives (The Hotwives of Orlando and The Hotwives of Las Vegas). But more often than not, she found herself "getting cast in broader comedies." "I love them," she says, "so I don't say that in a disparaging way." But with shows like Shrink, she's looking to expand. "I've played the friend, the girl next door to the girl next door — I'm two doors down," she says, waving her arms exasperatedly as she mimes the distance between the spotlight and the "very far stage-right" type of role she booked for years. "I've played the supportive friend who is always like, 'You go girl. You need to get back out there' to the main girl. And I love those parts. But with Shrink, I was like, Oh my God, this is the kind of tone I've been dying to do."
For now, she's eager to watch the rest of The Shrink Next Door, having only seen the first two episodes "because I hate to watch myself." "But it's good, right?" she says. "Because I've been in stuff where you're like …" She winces, then grins, reminding herself that, all things considered, even the roles she can't watch herself play are ones that got her where she's going today. "It's not a hard life," she says with an exaggerated shrug and an eye roll. "I can't complain."