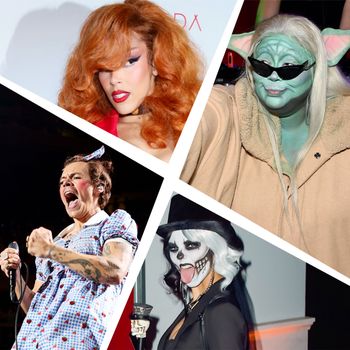 A
Powerpuff
Girls
character, Baby Yoda, and a skeleton, oh my!
Photo-Illustration: by The Cut; Photos: Getty Images
I've said it once, and I'll say it again: Halloween is a perfect holiday. The candy! The chilling cinema! The opportunity to see which celebrities like to play it safe with their costumes and which are willing to let their little freak hearts dress as they please!
Celebrities should be legally obligated to show us their Halloween costumes. If we get to see you look professionally hot the rest of the year, you must let us see what you look like dressed in blood, guts, and various prosthetics. It's only right.
Without further ado, here are some of this year's very best Halloween costumes worn by celebrities. Cue "Monster Mash"!
Zoë Kravitz and Channing Tatum as Iris and Travis from Taxi Driver
It's the Halloween episode of Extreme Makeover: Channing Tatum Edition! This marks the first time Kravtiz has posted about her boyfriend since the two reportedly started dating this summer.
Chlöe Bailey as Lola from Shark Tale
The singer also dressed up as Betty Boop and Jada Pinkett Smith's Niobe from The Matrix.
Drew Barrymore as … Drew Barrymore
The Drew Barrymore Show had a whole Halloween extravaganza last week, including this Drew-from-the-future costume that had predictions about global warming ending and Leonardo DiCaprio becoming president? Anyway, she also dressed as her character Casey Becker from Scream. Celebrities dressing as themselves? Very good!
Heidi Klum as a zombie
The queen of Halloween outdid herself this year, putting together a short horror film in which she dressed as something straight out of The Exorcist.
Kourtney Kardashian and Travis Barker as Sid and Nancy
A little on the nose, but sure! They also went as Christian Slater and Patricia Arquette's characters from True Romance, which, of course, provided ample opportunity to touch tongues.
Jamie Lee Curtis as Psycho's Marion Crane
For the premiere of the latest Halloween movie, Jamie Lee Curtis dressed up as her mother, Janet Leigh! Specifically, the character her mom played in Psycho.
Rihanna as Gunna
Rapper Gunna subsequently changed his Instagram profile picture to one of RiRi dressed as him. As he very well should!
Megan Thee Stallion as Pinhead
Megan Thee Stallion also dressed up as Cruella de Vil and a hot girl with a pumpkin head. More important, she dressed her dog as a harlequin.
Doja Cat as Princess Kida from Atlantis
Technically, this was for her under-the-sea-themed birthday party, but we'll count it! She also dressed as Miss Sara Bellum from The Powerpuff Girls.
Hayley Kiyoko as 067 from Squid Game
As the singer put it, she was "the 067th person" to dress as HoYeon Jung's character from Netflix's hit show Squid Game.
Lizzo as Baby Yoda
Lizzo's Halloween spirit could not be contained to just one costume. Thus, she also dressed as the tall, scary, "red light, green light" girl from Squid Game:
And as Dorothea from the 1992 animated movie Bébé's Kids:
Harry Styles as Dorothy from The Wizard of Oz
Though Harryween deserves to be recognized as its own separate holiday, it's only right to celebrate this perfect man and his perfect costume here as well.
Olivia Rodrigo as Michelle Pfeiffer in Scarface
The singer dressed as Michelle Pfeiffer's Elvira Hancock.
Steve Buscemi as a fellow teen
A perfect costume! No notes!
Sophie Turner, Joe Jonas, and Olivia DeJonge as Isabella, Paolo, and Lizzie from The Lizzie McGuire Movie
A little disappointed we didn't get a full reenactment of the "What Dreams Are Made Of" musical number, but a very good group costume nonetheless.
Sarah Michelle Gellar and Freddie Prinze Jr. as Baby and Johnny from Dirty Dancing
Sarah and Freddie, for your consideration: Perhaps next year, you could re-create your looks from I Know What You Did Last Summer? Just a thought!
Paris Hilton as Cinderella
Predictable? Sure! But if anyone can pull off a standard hot-girl costume, it is Paris Hilton.
Katy Perry and Orlando Bloom as a syringe and a doctor
The world's corniest couple strikes again! Also, Katy Perry's syringe says "Katy Perry" on it, which I can only take to mean she was dressed not as a Pfizer- or Moderna-brand COVID vaccine but as a Katy Perry–brand COVID vaccine?
Cardi B as Morticia Addams
She and her daughter, Kulture, also dressed as witches.
Lil Nas X as Voldemort … and the basketball guy from Ned's Declassified School Survival Guide
He's got the range!
Hailey Rhode Baldwin Bieber as Britney Spears
Listen, if I had the money, the resources, and the face of Hailey Baldwin Bieber, I would do it too.
LeBron James as Freddy Krueger
Still doesn't top his Pennywise costume, but I appreciate the effort.
Nina Dobrev, Shaun White, and Adam Devine as The Queen's Gambit
Did you know Nina Dobrev and Shaun White are dating? I did not! What a delicious little Halloween treat.
Victoria Justice as a skeleton
Did you know that Victoria Justice is not Nina Dobrev? We all learn something new every day.
Ciara as all of TLC
The singer also dressed as Selena and gave her own performance of "Bidi Bidi Bom Bom."
Janelle Monáe as the Grinch
She also did a whole Jekyll-and-Hyde number.
Kendall Jenner as Mars Attacks!
Hot, but make it '90s sci-fi!
Ariana Grande as Creature From the Black Lagoon
Hot, but make it classic horror!
Taylor Swift as a squirrel
If Joe Alwyn didn't dress as a nut, I swear to God …
Chika as Dwight Schrute
Identity theft is not a joke, Chika.
Amy Schumer as a tampon
A gorgeous homage to recently having her uterus removed.
Adam Rippon as Nicki Minaj's cousin's friend
Nothing is scarier than COVID misinformation.
Megan Stalter as Jennifer Coolidge
She's taking the dog, dumbass!
Mary Beth Barone and Benito Skinner as Kravis
Inspired and inspiring. May we all strive to become horny couple Travis Barker and Kourtney Kardashian.
Mindy Kaling as a strawberry
I would like to think this is a nod to the infamous strawberry dress by designer Lirika Matoshi that took over Instagram and TikTok in the summer of 2020.
Kaavia James Union Wade as Adele
And, finally, the best costume of all: Dwyane Wade and Gabrielle Union's daughter dressed as Adele. Does this 2-year-old even know who Adele is? Probably not! But that is part of the joy of toddlers in costume. Set fire to the rain, little Adele!
This post has been updated.