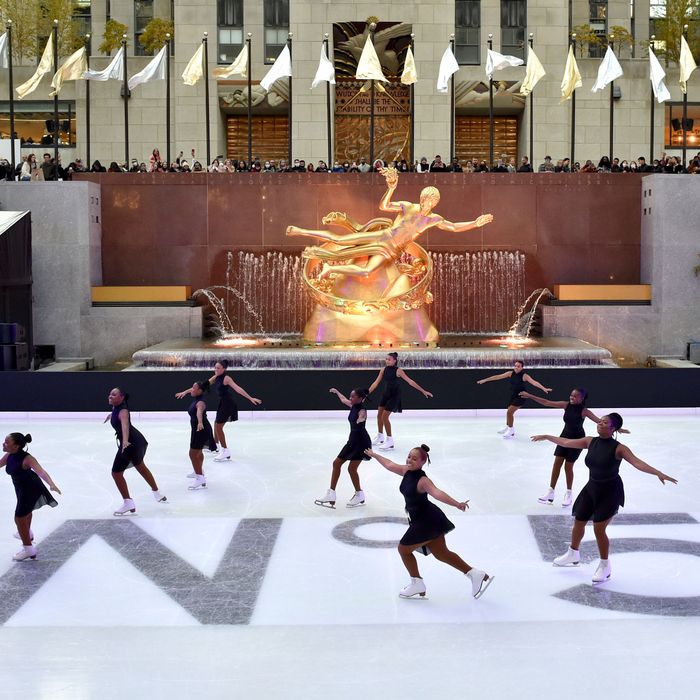 Photo: Bryan Bedder/WireImage
It was a chilly Friday night in New York City, and the entrance to Rockefeller Center was swamped with onlookers. "Is Beyoncé here or something? What's going on?" the crowd murmured as I maneuvered through them using giant-size Chanel No. 5 silhouettes as guidance. There was no Beyoncé, but there were an array of celebrities, influencers, stylists, and other industry professionals gathered to celebrate the 100th anniversary of Chanel's No. 5 fragrance.
The brand threw a soirée and took over Rockefeller Center for its iconic scent, the powdery yet floral best-selling perfume. It included an outdoor exhibition featuring large statues of the perfume, a figure skater prancing on ice stamped with a "No. 5," a live band, and a "surprise performance."
At around 8:30 p.m., the beat dropped to Mary J. Blige's 1992 hit "Real Love." Stepping out in her signature thigh-high boots, a Chanel jumpsuit, and a calf-length vest, Blige surprised the partygoers to help them celebrate (and yes, she hit her OG squat dance). She sang hits including "Real Love" and "Just Fine" as the crowd sipped on Champagne and cider.
If you are a fan of Chanel and the No. 5 fragrance, lucky for you: The 100th-anniversary party exhibition is free and open to the public through today. Play games, have themed treats, and see the larger-than-life No. 5 statues for yourself (which makes for a great photo-op.)