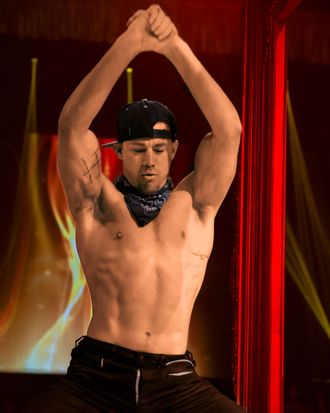 Photo: Warner Bros/Courtesy Everett Collection
Well, grab your breakaway pants and hit play on "Pony," by Ginuwine, because Magic Mike is officially coming back for another round. On Monday, November 29, Channing Tatum announced another Magic Mike movie is in the works. And, as the great Jada Pinkett Smith said in Magic Mike XXL, we're about to see if "he's still got some magic in that Mike."
The third, and presumably final, film in the stripper trilogy, Magic Mike's Last Dance, will be directed by Steven Soderbergh, who directed the original 2012 Magic Mike but did not return for Magic Mike XXL (2015). The script has already been written by trilogy writer Reid Carolin, and Channing is, obviously, already onboard. "Well world, looks like Mike Lane's tapping back in," the actor wrote on Twitter and Instagram, sharing a photo of the front page of the script.
The rest of the OG Magic Mike crew, Adam Rodriguez (Tito), Joe Manganiello (Big Dick Richie), Matt Bomer (Ken), and Kevin Nash (Tarzan), have yet to confirm or deny their involvement. However, both Rodriguez and Bomer left some joyful emoji comments on Tatum's Instagram, which should bode well for their potential return. As for the actors who joined in Magic Mike XXL — namely a sultry Donald Glover, actual professional dancer Stephen "tWitch" Boss, and MC extraordinaire Jada Pinkett Smith — their involvement also remains a mystery.
Magic Mike's Last Dance might also provide an opportunity for new men to join the beloved team of male strippers. Joseph Gordon-Levitt famously re-created a Magic Mike dance number during his opening monologue on Saturday Night Live in 2012. And then there's Lenny Kravitz. In July, Zoë Kravitz (who is also Tatum's rumored girlfriend) commented on one of her father's Instagram posts, tagging Tatum and asking, "You auditioning for MM3?" We all thought it was just a joke at the time, but now, it looks like there might be a spot onstage available if Kravitz wants it.
Magic Mike's Last Dance is set to premiere exclusively on HBO Max, but a release date has yet to be announced. In the meantime, fans can get their Magic Mike fix with the HBO Max reality show Finding Magic Mike, which premieres December 16. And, of course, you can watch Tatum grind to "Pony" anytime you want thanks to the powers of the internet.