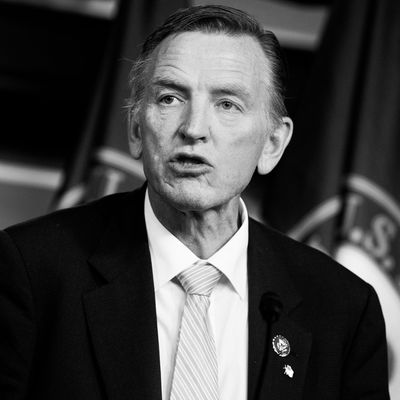 Photo: Tom Williams/CQ-Roll Call, Inc via Getty Images
On Monday, Paul Gosar, an elected member of the U.S. Congress from Arizona, tweeted a video his staff put together that depicts him as an anime hero killing fellow congressmember Alexandria Ocasio-Cortez, whose face is (poorly) Photoshopped onto some monster's body.
The video, which was flagged by Twitter as hateful content but remains up on the site with a disclaimer, is an edited clip from a Japanese anime series called Attack on Titan, Gizmodo points out. In Gosar's edited version, which consists of various politicians' heads pasted onto cartoon bodies, he and a handful of other far-right representatives, including Marjorie Taylor-Greene, team up to attack Ocasio-Cortez and President Joe Biden. The scenes are intercut with footage of asylum seekers and border-patrol agents at the U.S.-Mexico border with blood splatters overlaid on the screen, imagery of cowboys, and photos of Donald Trump and Matt Gaetz. After the video was posted from his office's Twitter account, Gosar retweeted it to his personal account with the caption, "The creativity of my team is off the hook."
Ocasio-Cortez wrote on Twitter that she came across the video while traveling to Glasgow to speak at the U.N. Climate Change Conference, calling Gosar "a creepy member I work with who fundraises for Neo-Nazi groups." She continued, "He'll face no consequences bc [GOP leader Kevin McCarthy] cheers him on with excuses." Ocasio-Cortez, of course, is now accustomed to being forced to confront and cope with this kind of behavior from fellow congressmembers, as are her progressive colleagues (particularly those who are not white). This particular attack comes just a little over a year after another congressman, Ted Yoho, called her a "fucking bitch" as she headed into the Capitol building.
Gosar, it probably goes without saying, is exactly who you'd expect him to be. Most recently, he has appeared in the news as an avid defender of the January 6 insurrection at the Capitol. According to a Rolling Stone investigation, Gosar was one of the representatives communicating with the protest planners ahead of the insurrection and may even have offered a "blanket pardon" to organizers willing to help him plan it. Just last month he retweeted a different video with his Photoshopped head in it that follows a meme format popular in neo-Nazi groups. He also spends a great deal of time with Nick Fuentes, whom the DOJ has called a "white supremacist" and who likes to complain that the U.S. is losing its "white demographic core."
Gosar's digital director, Jessica Lycos, responded to the Washington Post's request for comment, writing, "We made an anime video. Everyone needs to relax." She continued:
The left doesn't get meme culture. They have no joy. They are not the future. It's a cartoon. Gosar can't fly and he does not own any light sabers. Nor was violence glorified. This is about fighting for truth."
That's … one way of putting it? Meanwhile, Gosar retweeted yet another meme Tuesday morning that included the phrase "It's a cartoon. Relax." Some Democrats have communicated their disgust at the video, including House Speaker Nancy Pelosi, who urged McCarthy to call for an investigation.