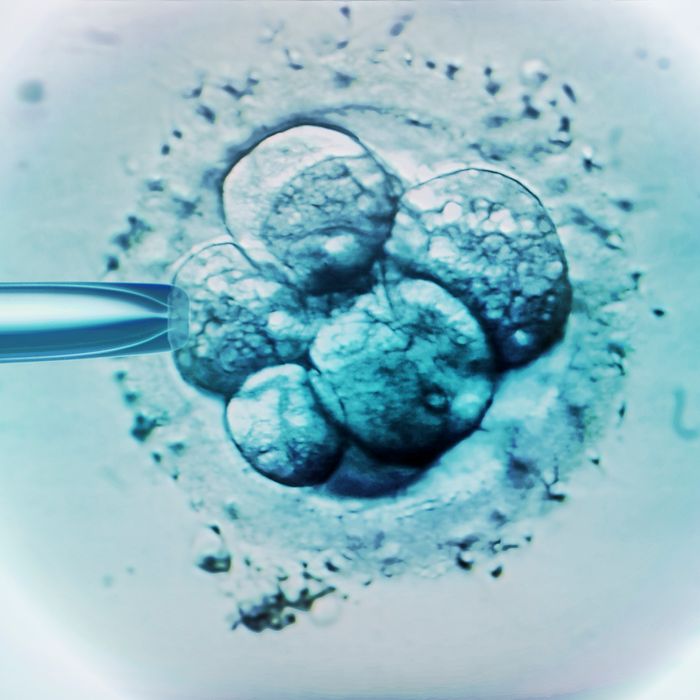 A California IVF clinic faces a lawsuit after allegedly implanting two patients with the wrong embryos.
Photo: Getty Images
A California fertility center implanted two IVF patients with the wrong embryos, a new lawsuit alleges, a mistake one couple says they only discovered when a hunch prompted them to get a DNA test for their daughter two months after giving birth. Daphna and Alexander Cardinale say they had to trade babies with another couple and are now suing the California Center for Reproductive Health, its owner — obstetrician Eliran Mor — and the embryology lab, In VitroTech, for medical malpractice, negligence, breach of contract, and infliction of emotional distress.
The Cardinales reportedly tried to conceive for three years before their second child was born in September 2019 after two costly rounds of IVF. But, according to the Washington Post, the baby bore no resemblance to either parent, nor to their first daughter — to the degree that friends and family would ask if their IVF embryo had been donated. This fixation on the infant's appearance apparently sowed tension between the couple, and Daphna finally agreed to a DNA test in November 2019. The lab called the results "strange," per the Post, because they did not match either of the Cardinales. Turns out their biological child had been born a week before their daughter to another couple, who went unnamed in the lawsuit.
"I was overwhelmed by feelings of fear, betrayal, anger, and heartbreak," Daphna said during a news conference Tuesday, according to the Associated Press. "I was robbed of the ability to carry my own child. I never had the opportunity to grow and bond with her during pregnancy, to feel her kick."
But they had also become deeply attached to the baby they brought home in September, Daphna told CBS: "When I found out she wasn't mine, I poured more love into her. Maybe I was just clinging to her. I was just so scared I was going to lose her, which I ultimately did." The Post reports that the two families first decided to meet and then decided to switch babies for "short visits," which eventually became "too difficult," leading to a permanent exchange in January 2020. According to the AP, all parties involved are now attempting to "forge a larger family" because, Alexander said at the press conference, "they were just as much in love with our biological daughter as we were with theirs."
The Cut has contacted the CCRH for comment and will update if we hear back.