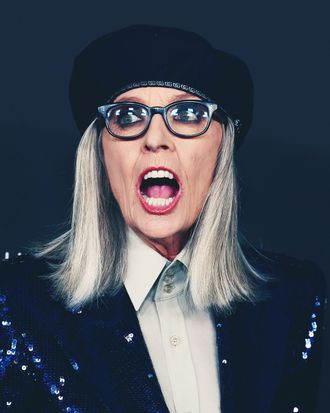 Photo: Taylor Hill/WireImage
There is nowhere Diane Keaton thrives more than on Instagram. There, she generously shares intel about her pants and teeth with nary a lowercase letter in sight. Even when she was busy playing Justin Bieber's grandma in a music video, she maintained a truly admirable commitment to typing in all caps, a decision I personally find refreshing amid a sea of lowercase pop girls. Recently, Keaton made a horny little mistake on Instagram that only served to amplify the pleasantly chaotic nature of her account.
Here's what happened: Keaton posted a video captioned "MALE BEAUTY!!!," naturally. In it, she narrates a mysteriously sourced black-and-white slideshow of men with absolutely no unifying theme other than hotness. "Talk about beauty, Leonardo DiCaprio," she opens, the camera hovering on a photo of someone who does look sort of like Leonardo DiCaprio. "Give me a break. I knew him when he was a kid."
While I won't question whether Diane Keaton knew Leonardo DiCaprio when he was young (she did), she seems to have forgotten the precise contours of his hot face, because it turns out the man she was looking at was actually Reese Witherspoon's 18-year-old son, Deacon. Witherspoon pointed this out in the comments, writing, "Diane, the first one is my son!" with a little heart eyes emoji, to which Keaton responded with three "embarrassed face" emojis.
To be fair, DiCaprio peered up at the camera through those damp-looking bangs enough times that the person in the photo is easy to mistake for him. Despite the delightful little mixup, Keaton has thankfully not taken this post down. If this is the kind of content you log into Meta (sorry) hoping to see, I highly recommend watching the rest of the video, which includes Rob Pattinson, Clint Eastwood, John Cassavetes, and a leather-jacketed man pursing his lips under a handlebar mustache. (Diane's commentary on the last one: "I don't know who this guy is, but how 'bout that look?") Just don't spend too much time scrolling through her account or you might end up blowing your monthly hat budget.