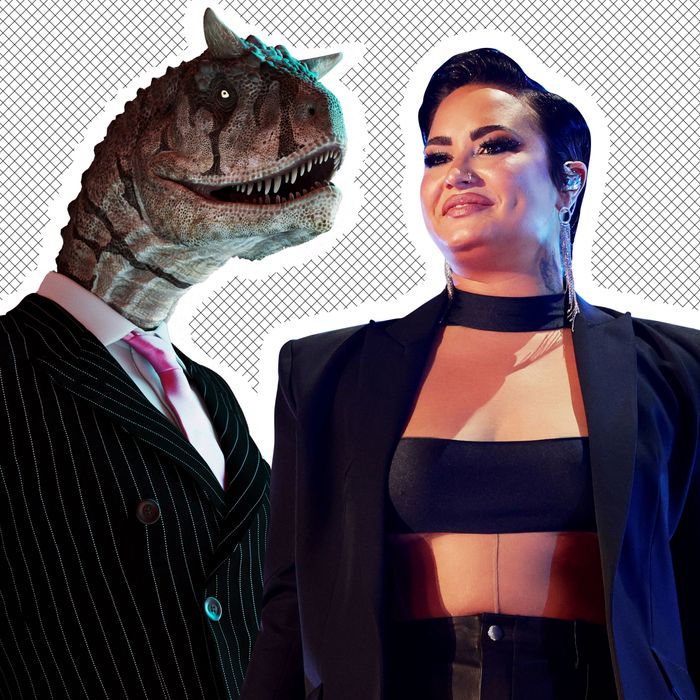 Photo-Illustration: The Cut. Photos: Getty Images
Back in 2020, when gyms were closed and hand weights were sold out, the at-home-fitness-class subscription site Gaia saw a dramatic increase in subscribers (over 100,000 new members joined that year). While its yoga classes were a big part of the sell, the site is also a "consciousness-expanding" platform offering "documentaries, meditation classes, and various additional resources." Alicia Keys gave Gaia a shout-out in December.
Last week, Demi Lovato took to Instagram to share that they are Gaia's newest ambassador to their 118 million followers. Lovato's caption read, "Thrilled to be a @wearegaia ambassador. Understanding the world around us (the known and the unknown) is so exciting to me!"
Lovato has also been notably interested in aliens lately. Just last month, they debuted a docuseries on Peacock, Unidentified With Demi Lovato, to investigate extraterrestrial life alongside family and friends. In promoting the show, Lovato made headlines for saying they think aliens is a derogatory term for said extraterrestrial beings — a hot take even in PC culture. So it seemed as if Gaia might be the next logical step? Well …
As The Daily Beast has pointed out, Gaia is filled with high-quality conspiracy-theory videos on topics ranging from, yes, aliens to reptilian overlords and anti-vaxx sentiment. Most notable is a series from the British conspiracy theorist David Icke, who has shared the notion that the world is run by lizard people. Gaia, The Daily Beast notes, has become a "hub for QAnon" as members leave other platforms that have banned popular conspiracy theorists and their work.
Whether Lovato is aware of all this is unclear. Nonetheless, once new Gaia subscribers sign up, they can see Lovato's favorite videos, including a series claiming that Atlantis was (is?) real and that humanity is living in the aftermath of a battle between giants and, you guessed it, lizardlike "reptilians."