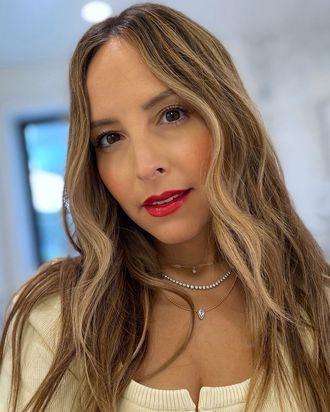 Want more skin care? Join the Beauty Group on Facebook.
When Lilliana Vazquez found out she was pregnant with her first baby in 2020, she eliminated retinol and all of the acids in her skin-care routine and braced herself for the worst. "I was terrified because I have always had 'problem' skin. I'm 41 years old, and I get pimples all the time for no reason," says the E! News style expert. "I'm diligent about washing my face, I take off my makeup, but I think people, like me, sometimes just have reactive skin." As someone who is on-camera several days a week, Vazquez has always been aware of the pressure of appearing camera-ready at all times. "I was like, 'People are gonna see me in person and think, She doesn't look at all like what she looks like on TV.'"
So it was with trepidation that Vazquez waited for the acne to set in and for melasma, often called the "veil of pregnancy," to arrive. The biggest surprise came when it didn't. "I had two breakouts in ten months. Two!" she says. "My skin was simply the best it's been in my life during pregnancy."
As far as cosmetic procedures go, Vazquez has only ever gotten Botox in her forehead from dermatologist Dr. Adam Geyer, whom she sees because "he still gives me movement in my face. Like, if I can't move my forehead, I don't want it." But she hasn't seen him in 15 months, since before her pregnancy. Right now, Vazquez is instead focused on maintaining a nourishing routine for her combo to oily skin and is very slowly reintroducing her previous holy grails — Biologique Recherche P50 and Sunday Riley Good Genes — back into the rotation to see if she still needs them.
Keep reading for her nonnegotiables, including the $8 eye-makeup remover she's used since high school, the exfoliator she uses every night, and the lip balm worth the splurge.
The Eye-Makeup Remover
"I've tried all makeup removers, and nothing gets eye makeup off better than this. But it's especially the way that it removes eyelash glue that I love. There's no bigger pet peeve of mine than having that little tiny bit of glue stuck between lashes and then your lashes sticking together when you blink. I don't know what's in it, but it's so good. I've been using it probably since high school — I'm not kidding."
The Double Cleanse
"Working in TV, there's a ton of layers between the powder and the really heavy foundation on your face, so I need something that's really going to break down all of those products. I've found that this cleansing balm does that. I put it on my face, work it in, and then I have a cleansing cloth that I use to get everything off."
"I used to see dermatologist Dr. Nancy Samolitis in L.A. before red carpets. She's such an incredible wealth of knowledge. She's always like, 'You don't have to use the same serum every night.' Like, you might be treating different things so you can switch up treatments every night.
I was using the Ordinary's Hyaluronic Acid 2% + B5 Serum, but it wasn't giving me the results I wanted. Then Dr. Samolitis suggested that I look for hyaluronic acid in a different type of product, like a serum or a toner or a cleanser. And when I saw that her cleanser has H.A., I thought, 'This is exactly what I want.'"
The Physical Exfoliant
"I use this exfoliant every single day. The first time I used it, I was like, 'Wait, it's a … powder. What is this gonna do for me?' It's gentle, but it really, really works. I like the feeling of a physical exfoliator because my skin turns over very quickly; chemical exfoliators are a great love of mine, but sometimes I just need to feel like I'm doing a gentle exfoliation manually. It turns into a kind of paste with a little bit of water, and I focus it on my T-zone, and especially around my nose, which for whatever reason always feels like it's shedding skin."
The Chemical Exfoliant
"I used to use this every other day before I got pregnant, but I use it once a week now. I just reintegrated into my routine after I stopped breastfeeding, and that was literally only a few weeks ago. It is really strong, and my skin isn't quite used to it yet. For a while, I thought that just a physical exfoliator was enough, but I do think that a chemical exfoliator in your routine is really, really important. I mean, P50 is kind of a holy grail. It reeks — I really hate the way it smells — but it works."
The Serums
"When I bought this, I was pregnant, and I was looking for something that is deeply, deeply hydrating, but in a serum, not in a lotion. I had a facial in Aspen, Colorado, where it's super-dry all the time — like super, super dry. It was a Biologique Recherche spa, and I asked my facialist for a recommendation. She was like, 'If I were you, I would use the Colostrum. We call it liquid gold.' I was like, 'Cool, whatever.' It's definitely an investment — it's expensive for a small bottle — but I just use the tiniest amount. But I loved the way my skin felt with it. The serum is super-light, but it is so deeply nourishing. I can't even explain it. It's like magic when I put it on my skin."
"I started with the Rich Cream from Augustinus Bader, like everybody else. I actually met with Dr. Bader a couple of weeks ago. I said, 'Listen, your stuff is really expensive, and my audience can't afford to spend on the full line. I'm so lucky that you've gifted me things' — I'm super-honest about that — 'If I have the Rich Cream, why do I also need the Serum?' He actually said to me, which is the most honest answer, 'You don't need both. It's a delivery mechanism. Some people prefer serums, so we made a serum with TCF8. Some people prefer oils, so we made a face oil with TCF8. All you need is one product, but if you want something that absorbs more quickly and that gives you more of a result immediately, then use the Serum.' So I use the Serum at night when I use my REN face oil instead of my moisturizer. I don't use the Serum and the Rich Cream; I use the Serum and my face oil."
"Good Genes is like a facial in a bottle. If I don't have time to get a facial, which I don't right now, and I use that at night, it makes such a difference. I always use it if I have an event or a red carpet or if I just want to feel like I look really good the next day."
The Moisturizer
"Just go out and get it. It really is worth the money. I use it both night and day. Some people say, 'Oh, it's too heavy for the day,' but I find that not only does it make a great moisturizer, but it also acts like a primer for my makeup. It's perfect."
The Face Oils
"REN was introduced to me by a good friend. She's such a fan of theirs, and I became a fan of theirs also when I was looking for really 'clean' beauty when I got pregnant. This is a face oil that I use when my skin feels super, super dehydrated — it's not an everyday thing for me. I also use it to spot-treat; I put it on the nonoily sections of my face. I get really dry around my chin and around my eyes, so usually I apply it here."
"The La Mer Renewal Oil is more of a super-indulgent, 'I'm having a self-care Sunday' type of product for me. I put it all over my face, down into my neck and into my décolleté, and I sit there and let it absorb. Sometimes I find that because it has fragrance, it can be a bit irritating to my skin, so I use it very sparingly."
The Lip Balm
"I love the smell and the texture of this lip balm. My very good friend Lauren Feld swears by this. Before, I was like, 'I'm never gonna buy a La Mer lip balm. You're crazy. Like, what's wrong with you? I work really hard for my money.' Then she bought it for me for Christmas and got me hooked.
Does it work better than something like Aquaphor? I think it does. But if you did a clinical study, would it? I don't know. Here's the thing: With beauty, sometimes you need a little reminder of how special you are, and when I put this on, that is how I feel. I feel like I am doing the most extra for myself and that I deserve to be doing the most extra for myself."