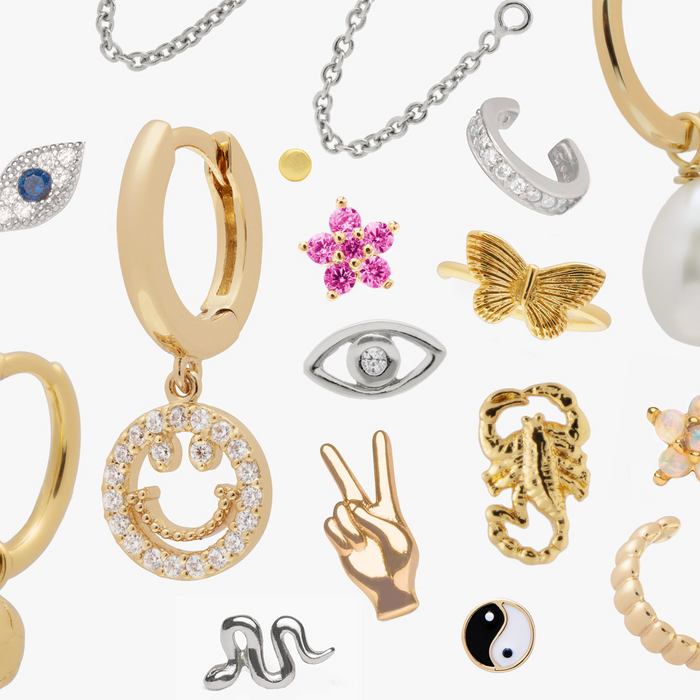 The holidays are almost upon us, and with them comes the annual challenge of buying gifts for friends with, um, hyper-specific tastes. Whether they're picky with their purchases or simply already seem to have it all, some friends are just hard to shop for. May we recommend a solution? This holiday season, treat these friends to a set of stylish, high-quality earrings that they can mix and match as they choose.
That's the idea behind the popular Earscape Sets from Studs, the ear piercing and earring brand you've probably seen all over social media. Each set comes with four to seven earrings that can be worn in any combination, anywhere on your ear. Every Earscape Set is different — some include only single earrings to create a unique look on each ear, while others include pairs or even a chic connecting chain. They're perfect for those friends with specific tastes, as each set is curated by Studs around a single style or theme. (Plus, buying the sets can save you up to $40.) It's all about making your ears a canvas to express your personal style.
This holiday season, the Earscape Sets also come with a free Studs limited-edition pink pouch. Read on for our Earscape Set picks for those hard-to-shop-for friends in your life.
For The Friend Trying to Dress Themselves Into a Better Mood
Clothing and accessories can act as a mood-booster, it's a fact — why else do you think we all did so much online shopping this year? If you have a friend who ignores everything wrong in their life with some retail therapy and a brightly-patterned dress, this Earscape Set is a perfect fit. The set contains two pavé smiley face huggie earrings, a peace sign stud, and a smaller smiley face stud with a chain connecter to connect the studs. How's that for an instant boost of dopamine?
For The Friend Who Just Really Loves the '90s
We've all heard it: the '90s are back, in a big way. But maybe you have that one friend who takes the trend further than everyone else. They can't stop bingeing '90s sitcoms, their daily uniform is a pair of bike shorts and an oversized sweatshirt, and their closet is full of slip dresses. Studs' South Beach Set is a perfect complement to their wardrobe: The '90s-inspired set includes a palm tree stud, a dolphin stud, and two huggie earrings with bright pink hearts.
For The Friend Who Literally Only Wears Gold Hoops
They like the classics, and you can't fault them for that. If your friend cringes at colors and has confessed to you that they're "too busy for accessories," Studs has a set for that. The Crescent Hoop Set comes with two sets of classic gold hoops in graduating sizes for their perfect earstack. The best part? These chunky earrings are super lightweight. You'll be giving your friend a wardrobe staple that they'll wear over and over again.
For The Friend Who's a Little Bit Goth
Your friend never left their college emo phase, and they keep daydreaming about quitting their office job and taking their punk band full-time. (Or maybe they just wear a lot of black.) Studs' aptly-named Mall Goth Set includes two silver huggies with dangling skulls, a silver cuff, and a delicate evil eye with blue cubic zirconia detailing in the center. The set also includes a trendy chain earring for a little extra embellishment.
For The Too-Online Friend
If your friend is always up to date with the latest meme or viral story, they're probably too online. Give them a gift that lets them (literally) wear their most-used emojis with this Earscape Set. The set includes single studs of emoji-inspired earrings (a lightning bolt, a snake, a butterfly, a smiley face, and more) as well as three chains of differing sizes to link the disparate studs together.
For The Trendsetter Who's Always Looking For The Next 'It' Look
Your friend reads all the fashion blogs (hello!), spends their paycheck on the newest trendy bag, and wouldn't be caught dead wearing last season's shoes. This Earscape Set features a handful of trends in style right now, from the slightly-goth gold skulls to the delicate gold hoops with pearls. The set also comes with a yin-yang symbol stud and a simple black cubic zirconia stud.
For The Minimalist Who Keeps It Simple
No frills, no problem: if your friend prefers to keep their style simple and classic, try gifting them small, delicate jewelry that'll go with anything. Enter Studs' Delicate Best Seller Set — the set includes the brand's best-selling dainty, gold pieces. There are two slender gold hoops, two matching pavé studs, a rectangle cubic zirconia, and a simple gold chain jacket. Even if they tend to keep things unfussy, they can still have fun mixing and matching this set.
For The Scorpio Friend
It's Scorpio season! If your Scorpio friend takes their astrological sign seriously (like, so seriously that they ask everyone they meet what their star sign is), now's the time to celebrate them. This Scorpio-inspired set features two delicate gold scorpion dangle huggies that are sure to be a conversation-starting statement piece. The set also includes one small scorpion stud, a simple gold stud, and a gold ribbed cuff perfect for faking a conch piercing.
For The Friend Who Always Has A Vase of Fresh Flowers
Your friend stops by the farmers market every Sunday monday to get a fresh bouquet of flowers, and their apartment always smells wonderful. This set is the perfect gift to celebrate those cottagecore vibes: It includes two best-selling daisy huggies, two different floral studs in opal and enamel, and a dainty butterfly cuff to fit over the upper ear.
This advertising content was produced in collaboration between Vox Creative and our sponsor, without involvement from Vox Media editorial staff.