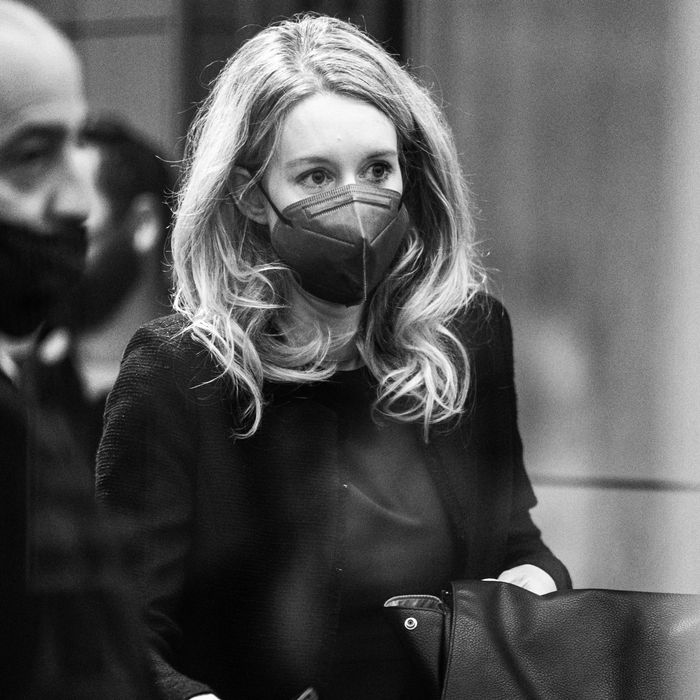 Photo: David Paul Morris/Bloomberg via Getty Images
For more than a week now, Elizabeth Holmes has testified at at her own trial, where she faces 11 criminal wire-fraud charges for lying to employees and investors about her blood-testing company, Theranos. Her testimony comes three months into the trial, in which her defense has argued that she was a young, naïve entrepreneur misled by her boyfriend and business partner at the time, Ramesh Balwani, into deceiving investors about the state of her technology.
For years, Holmes presented Theranos as a groundbreaking start-up that could test for hundreds of diseases using a few drops of blood, when in reality she was using faulty technology and massively exaggerating her company's abilities to both investors and government officials. She has insisted that she had faith in her technology and did not intentionally mislead anyone, and has pleaded not guilty.
On Monday, Holmes pinned much of the blame on Balwani, accusing him of emotional and physical abuse and saying that he undermined her confidence running her business and manipulated her into making false claims.
Balwani and Holmes were 37 and 18 when they met during a college trip Holmes took to China. Balwani, a Silicon Valley businessman who'd worked with Bill Gates as a sales manager in the early days of Microsoft, had no experience in medicine. According to her testimony, she contacted him the year after they met, when she dropped out of Stanford to start Theranos. In her testimony, she recalled telling him she had been raped while studying at Stanford, and him responding she was "safe now that I had met him." Five years later, he joined Theranos as its president.
According to Holmes's testimony, Balwani was controlling not just when it came to her business but in their relationship: She claimed he prescribed the food she ate to keep her "pure," dictated her schedule and the clothes she wore, kept her away from her family, and forced her to have sex with him when she didn't want to. Her defense provided iPhone notes she wrote during the time they were dating, including one she typed after his alleged assault that said:
Don't enjoy literally anything about it or who I am if I did it. Hurts so much. So so much. Can't focus on anything except why? Why hurting myself? Can't even move let alone do sit-ups or actually sit up. Lying swollen. Literally.
According to Holmes's account, Balwani also wielded major influence over her business decisions and frequently undermined her confidence in her own choices. She claimed he texted her during meetings criticizing her tactics and once wrote to her, "I have molded you." She said, "He told me that I didn't know what I was doing in business, that my convictions were wrong, that he was astonished by my mediocrity and that if I followed my instincts, I was going to fail." He allegedly told her to "become a new Elizabeth" in order to succeed. "He impacted everything about who I was," she said, "and I don't fully understand that."
Holmes's defense presented documents that she says were written in Balwani's handwriting, telling her she was "a monkey trying to fly a spaceship" and laying out instructions for how she would get up in the morning, how much time to spend in meetings, and what to focus on throughout the day. Her lawyers also brought in a schedule she had written for herself that she said were Balwani's instructions: "rise & thank God most things are not logical" at 4 a.m., "do everything I say, word for word," and "show no excitement."
Holmes said she moved out of their shared apartment in 2016, after an inspection at the Theranos lab found serious errors with its blood-testing process. She testified that until then she had believed Theranos' technology worked, and the inspection made her realize Balwani "wasn't who I thought he was." They were indicted together in 2018 and Holmes's lawyers argued to split their fraud cases, with Balwani's trial set for next year. Her allegations became public in August, just before her trial began, when court documents were unsealed claiming Balwani's years of abuse had impacted Holmes's state of mind while making business decisions. One filing said that Balwani would throw "hard, sharp objects" at Holmes. Balwani denied the allegations in the court documents.
Before Monday, Holmes's testimony had largely contradicted what her lawyers had been arguing: that she was inexperienced and didn't understand what she was doing when she misled investors into believing her technology worked. By most accounts, including her own, she was a hands-on CEO with total control over what happened at her company. She testified that Balwani's influence had affected her entire life but denied that he had told her what to say to investors and journalists about Theranos. Balwani again denied the allegations through an attorney who was present at the trial.