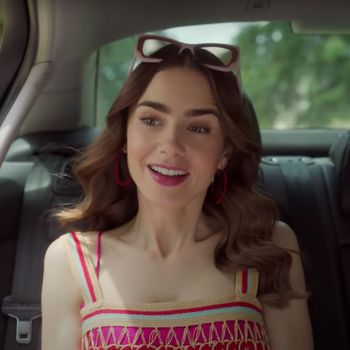 Je suis
Emily.
Photo: Netflix/YouTube
Grab a baguette and turn off your brain — the trailer for season two of Emily in Paris is here. If you're looking for a delicious and terrible little treat, something to massage your mind into a smooth mass, a show that will make you say, "I … hate this?" while you continue to watch every available episode in a single day, Emily in Paris is back with open arms and questionable outfits.
When we last saw Emily, played by Lily Collins, she kind of made a good impression on her boss Sylvie after bumbling around her very posh and incredibly French marketing firm. Emily hooked up with her hot neighbor Gabriel, played by the overwhelmingly beautiful Lucas Bravo. Gabriel was about to leave for Normandy but decided to stay in Paris, presumably for Emily. (The show isn't called Emily in Normandy!) Oh, also, he is still sort of dating Camille.
This show is nothing if not extremely consumable. It is lovably hateable, brave in its ability to say almost nothing at all. Emily is neither relatable nor aspirational, she is just Emily. She isn't self-aware enough to be camp, but damn it, she comes close. (In season one, Emily said Paris "looks like Ratatouille," wore an Eiffel Tower dress to her first day of work, and went jogging in a blouse.) Is it, say, Emmy worthy? Absolutely not. Emily in Paris is good because it is bad, which is to say it is neither. And both. It's the Schrödinger's cat of modern television.
So, what's next for our little influencer expat? It appears a new love interest, played by yet another overwhelmingly beautiful man, Lucien Laviscount. Per Wonderland magazine, Jeremy O. Harris is also in this season playing an "iconic designer." Emily is still dressing like an early '00s child actor on the red carpet. Mindy, played by Ashley Park, is still a delightful, bright spot in this show. Perhaps Emily will run into Joe Goldberg, who ended season two of You in Paris. Truly anything is possible in Emily's Paris.
Season two of Emily in Paris is available to stream on Netflix starting December 22.