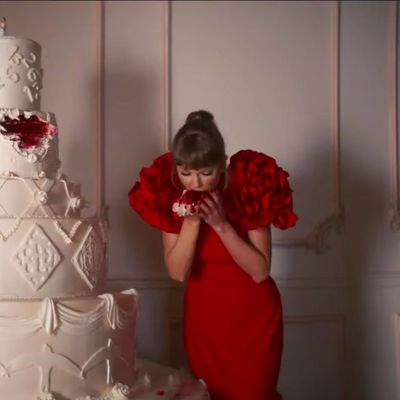 Photo: Taylor Swift/Youtube
Pull out all your red clothing because the Red (Taylor's Version) rollout continues. On Friday, Taylor Swift delivered the long-awaited rerelease of her 2012 album with nine never-before-released songs "from the vault." And Monday morning brought another treasure: the music video for "I Bet You Think About Me (Taylor's Version) (From the Vault)," one of the new songs on the album, featuring Chris Stapleton. Can you guess what color is featured heavily in it?
The wedding-themed video includes some celebrity guests, as most of Swift's projects do, with her good friend Blake Lively making her directorial debut and Miles Teller acting in it — a casting choice that set off many fans who were unimpressed by Teller's reported stance against vaccines, though Teller announced Tuesday that he is indeed vaccinated. Regardless, he does seem to have some personal experience with wedding drama. The music video features Swift sabotaging Teller's wedding while wearing a variety of all-red items including a bellhop uniform, an enormous gown, and an extremely Nashville all-red guitar. Also involved: a five-tier red-velvet wedding cake, which Taylor at one point rips into with her hands. Magnifique!
You know what else is red in this video? The red scarf, which pops up on the neck of Teller's bride. As you may recall, when Red first came out, the album included a song called "All Too Well," which is pretty obviously about Taylor's relationship with Jake Gyllenhaal. In the lyrics, Swift says she left a red scarf at her ex's sister's house when they were dating, and the ex (again, probably Jake Gyllenhaal) still has it.
On Friday, the red scarf returned to haunt us (and Gyllenhaal) via the music video for a new, ten-minute version of "All Too Well." There it is, hanging on a stairway banister in a dramatic zoom-in shot. Swift's avid fans seem to agree "I Bet You Think About Me" is also about Gyllenhaal, which would explain why the red scarf is still hanging around.
Anyway, this ranks very high in the "Taylor Swift revenge-fantasy music videos" canon, which is a wide and varied genre. If you're inclined to watch her teach flower girls how to flip someone off while singing the lyric "I don't have to be your shrink to know that you'll never be happy," I cannot recommend this one enough. Also, again: red-velvet cake!