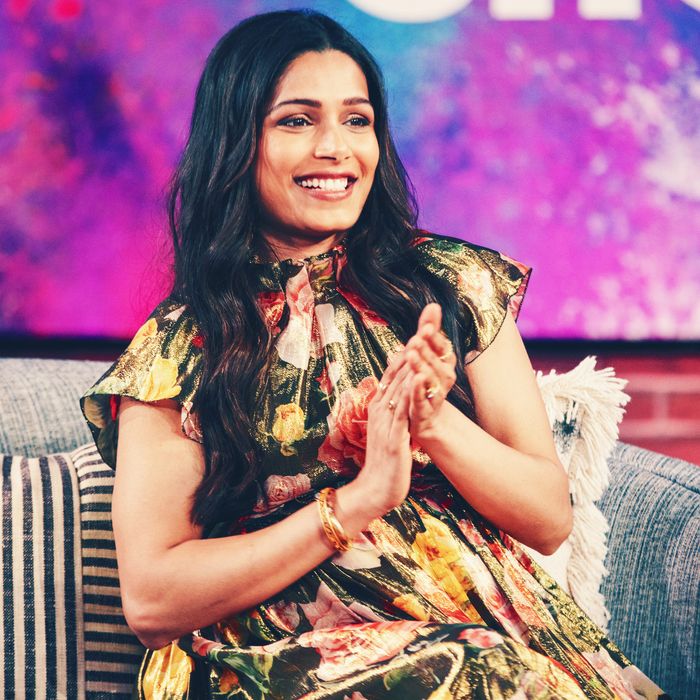 Photo: Weiss Eubanks/NBCUniversal/NBCU Photo Bank via Getty Images
Freida Pinto has a lot of celebratory Thanksgiving weeks ahead of her. Pinto announced the birth of her son in an Instagram post on Sunday, November 22 — which also happens to be her husband's birthday. Two birthdays and a national holiday? I'm exhausted just thinking about it.
The announcement included two photos of the newborn — one where he's resting on his father's chest, another where he's on his mother's — and revealed her son's name, Rumi-Ray. She refrained from sharing any other info about her first son and covered his face with an angel emoji for privacy. But from what I can see, he's a sweet little nugget with an impressive head of hair.
The post also acted as a birthday tribute to her husband, Cory Tran. In the birthday message, Pinto thanked Tran for being a "Super-Dad," writing that it "gives this sleep deprived Mama a break." She continued, "I am so grateful and in love with how we do life together. Love you madly." She ended her post with a message to her newborn, writing, "Rumi-Ray you are one lucky boy!'
Tran, meanwhile, shared the same photos on his Instagram page, thanking his wife for the "best birthday gift you could ever ask for." He continued, "I'm in awe of you more and more every day. Watching you give birth to Rumi-Ray was truly a miracle, you are such a warrior."
Tran and Pinto, who were set up by their mutual friend Aaron Paul, announced that they were expecting in June, seven months after getting married mid-pandemic. "We decided one day to go to the Honda Center in Anaheim and just get married," she revealed during an appearance on The Kelly Clarkson Show. "This was perfect! We got married and then we got to go home and take an afternoon nap." May there be many more naps in their future.