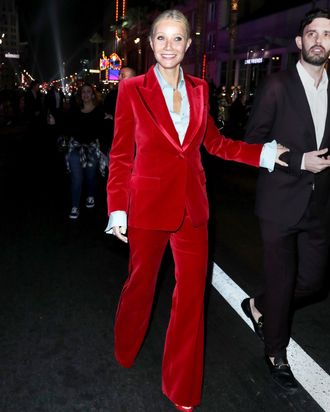 Photo: Matt Baron/Shutterstock
These days, Gwyneth Paltrow is known for exploding vagina candles, not knowing which Marvel movies she's starred in, and teaching the masses about sex on Netflix. But last night on Hollywood Boulevard at Gucci's star-studded Love Parade fashion show, the Goop founder recalled an earlier era of her life in the public eye by rewearing the red Gucci suit that she wore to the 1996 MTV VMAs.
It turns out, it wasn't exactly the same suit. While the original was designed by Tom Ford for Gucci for fall 1996 (one was recently listed on the resale site 1stDibs and sold for $8,500), last night's iteration was designed by current Gucci creative director Alessandro Michele for the brand's 100th-anniversary show in April. Some things, however, didn't change: She once again wore the suit with a light-blue button-down and her hair pulled into a low bun.
"This is one of Tom Ford's original collections for Gucci," she said of the 1996 suit in an interview with Vogue. "I was super — as everybody was at the time — obsessed with what he was doing for Gucci. He completely revolutionized the brand. Everybody was clamoring to get anything they could from the collection, and I was very lucky to borrow this beautiful red velvet tuxedo from him."
You don't usually see Gwyneth Paltrow and relatable in the same sentence, but it's nice to see her do normal people things like outfit repeating — especially when it looks so good.