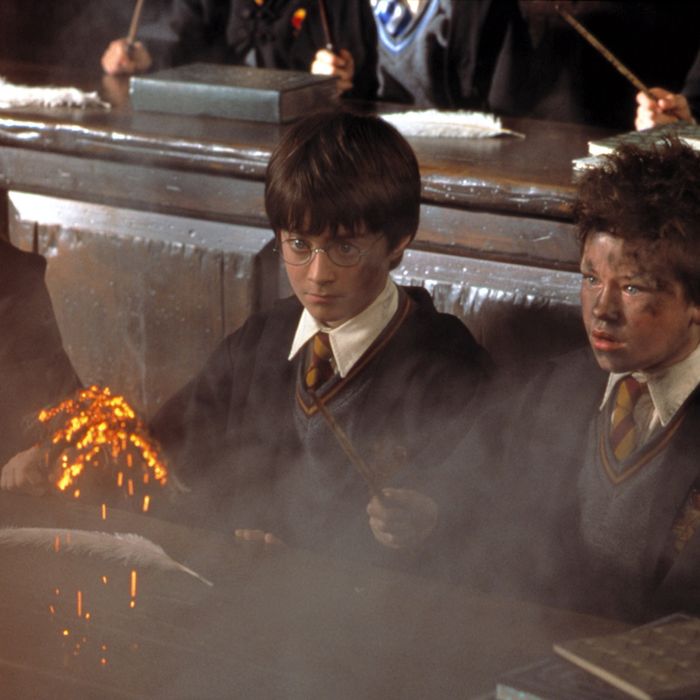 Photo: Warner Bros/Courtesy Everett Collection
Revival fatigue? We don't know her. In celebration of the 20th anniversary of Harry Potter and the Sorcerer's Stone (the movie, not the book), HBO Max is getting Dumbledore's Army back together for a TV special, Harry Potter 20th Anniversary: Return to Hogwarts. Because who doesn't love revisiting problematic old faves?
The special, set to premiere January 1, will feature a reunion with Daniel Radcliffe, Emma Watson, and Rupert Grint — a.k.a. Harry Potter, Hermione Granger, and Ron Weasley, respectively — all of whom, I assume, have not been in a room together since the end of the Harry Potter and the Deathly Hallows: Part 2 press tour in 2011. Their fellow Hogwarts alums Tom Felton (Draco Malfoy), Oliver Phelps (George Weasley), James Phelps (Fred Weasley, RIP), Alfred Enoch (Dean Thomas, hot), Bonnie Wright (Ginny Weasley), and Evanna Lynch (Luna Lovegood) will also make appearances. As for the adults, fans can expect appearances by Sorcerer's Stone director Chris Columbus, Helena Bonham Carter, Robbie Coltrane, Gary Oldman, Jason Isaacs, Imelda Staunton, Mark Williams, Ian Hart, and Voldemort himself, Ralph Fiennes.
Notably absent from the announcement is Harry Potter author J.K. Rowling. Though no one needs to be reminded the woman who invented the Wizarding World is also offended by the phrase "people who menstruate," so it's not a huge loss.
Who asked for this? Who knows! The point is it's happening, and it's going to be magical. According to a report from The Sun, Radcliffe, Watson, and Grint will be heading back to Warner Bros. Studio in London, supposedly to film in iconic locations like the Great Hall and Platform 9 & ¾. Executive producer Casey Patterson confirmed in a statement the cast would "return home to the original sets of Hogwarts" for the special but didn't specify which actors would actually be going back to wizarding school. And there's no word yet on how much new content will be released. (Fingers crossed for more adorable clips of baby Radcliffe, Watson, and Grint.)
Return to Hogwarts already sounds more thorough than the Friends reunion but less fun than the Lord of the Rings virtual reunion. Though that might be due to the fact that Return to Hogwarts is just one of the specials planned to celebrate the franchise's 20th anniversary. In fact, per Variety, a first look at the special will be released November 28 during the premiere of Harry Potter: Hogwarts Tournament of Houses, the trivia competition hosted by Helen Mirren, which will also include cameos from Pete Davidson and Jay Leno for some reason.