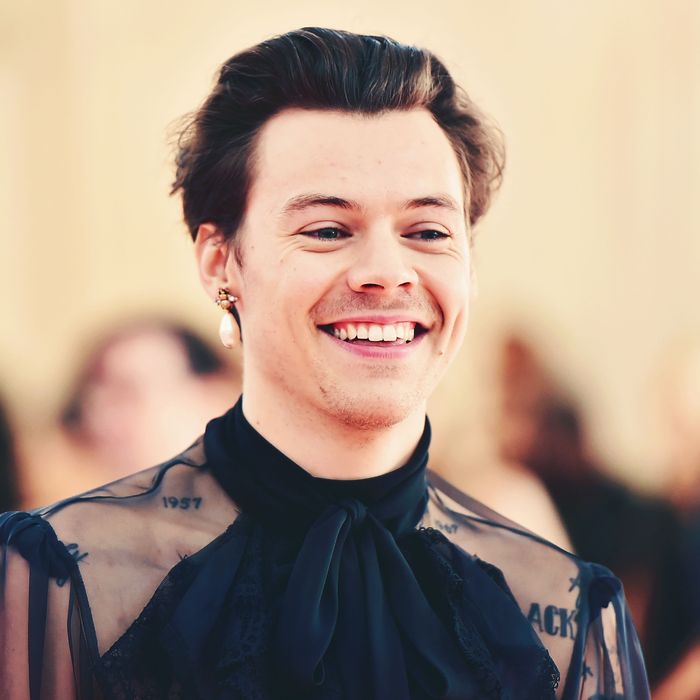 Harry Styles wearing a "Perfect Pearl."
Photo: Theo Wargo/WireImage
This summer, watermelon-scented rumors started swirling that Harry Styles was making us a beauty brand. It turns out he totally did, and it's already here!
It's called Pleasing, its tagline is "Find your Pleasing," and its overall mission is "to bring joyful experiences and products that excite the senses and blur the boundaries." I'm happy to report that it's doing all of the above on day one by giving us this nipple-baring photograph of its founder.
Anyway, in terms of product, Pleasing's first drop is called "Perfect Pearl" and includes the following: a pearly white polish, a pearly matte topcoat, a curated quartet of nail polishes (to take the guesswork out of replicating a Styles Skittles manicure), and two skin-care products — a hybrid eye gel and matte lip oil that comes in a dual-ended cooling contraption called the Pleasing Pen, and an illuminating serum full of pearlescent balls you can use as primer instead of lube. The products range from $20 to $65, are available for preorder in limited quantities on Pleasing's shiny new website, and will start shipping out the week of November 29.
"I really think that the essence of Pleasing is finding those little moments of joy and showing them to people," Styles explained in a new interview with Dazed, referencing seeing a flower or cool wallpaper and wanting to put those colors on his nails. "It was a fun little project, but during the pandemic, and when we eventually named it Pleasing, it felt like it was so much more than nail polish," he continued. "I've always found that the moments in my life which have brought me the most joy are the small ones, whether it be, you know, the end of the night under the stars or a bite of food, or sitting with your friends thinking, 'Oh, I'm never gonna forget this.'"
That's nice, but if you're starting to feel suffocated by the sheer volume of beauty products being born into the world, Styles hears you. "We also totally understand that we are putting more product into the world, so if we're gonna do that, then we have to do it the right way," he told the publication, which notes that Pleasing was made with "the lightest possible footprint in mind," meaning post-consumer plastics and compostable paper printed with bio-sourced inks. Please standby for news on when the hoodies drop.