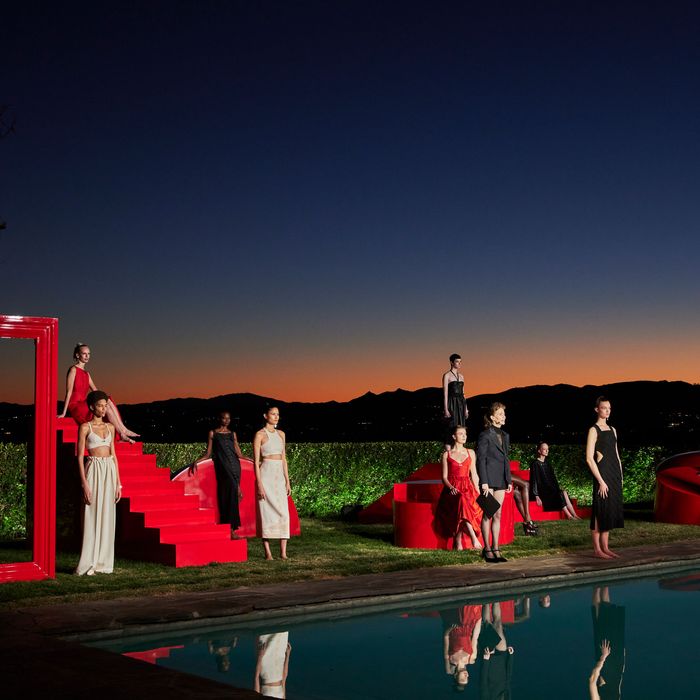 The latest collection from Nadège Vanhee-Cybulski.
Photo: Hermes
On Wednesday night, Hermès held a casual little get-together in a modest California home. Just kidding — it was a presentation of its latest spring collection that included 15 looks by Nadège Vanhee-Cybulski around an expansive pool on the grounds of a fancy mid-century Los Angeles home.
Over 300 guests watched as ultrasoft leather bustiers, cutout dresses, and an embroidered coat worn with shorts made their way down the runway to cheeky commentary from filmmaker Miranda July. One model wore a silk scarf shirt and a leather skirt, basically the chic-est possible version of the early-aughts staple.
"Spotlight on Eleanor in rouge à lèvres red silk twill," July said of a model wearing a studded column dress with a slit. "She just got off the phone with her mom, who asked her if the Hermes event would be videoed. 'Hermès, Mom, Hermès! It's French!' It is being video'd and we will send you a link, Linda."
The guests — including Meena Harris, Judd Apatow, Iris Apatow, Leslie Mann, Kathryn Hahn, designer Athena Calderone, and dancer Benjamin Millepied — wandered through the home, which was built in 1951 by William Pereira and used to be frequented by Frank Sinatra. Perched on a hill in Chatsworth, near the infamous Hidden Hills and Calabasas areas, the space was transformed and reimagined by designer Stefan Beckman to include a piano room, a giant bed, and many a mirrored and lacquered surface, all in red, white, and black.
And yes, there was a synchronized-swimming troupe wearing all-black Hermès suits. At around 9:45 p.m., five members of the Aqualillies dove into the pool, creating formations in the water. At one point, four of the women lifted the fifth above their heads, revealing a glistening Hermès diamond necklace.
The audience let out a collective aah.
This, of course, is the French luxury brand's thing. This year, it took editors in Paris to Le Bourget, the airport where Charles Lindbergh landed in 1927, and to a workout studio in Williamsburg to show its "luxury sneakers, gym-bag charms, and other sort of wellness-related accessories and ready-to-wear."
By the end of the night, the models — still decked out in Hermès — milled about as chocolate toffee was passed around, dancing to
Sophie Ellis-Bextor's "Murder on the Dancefloor." More early-aughts nostalgia. We love a throwback.