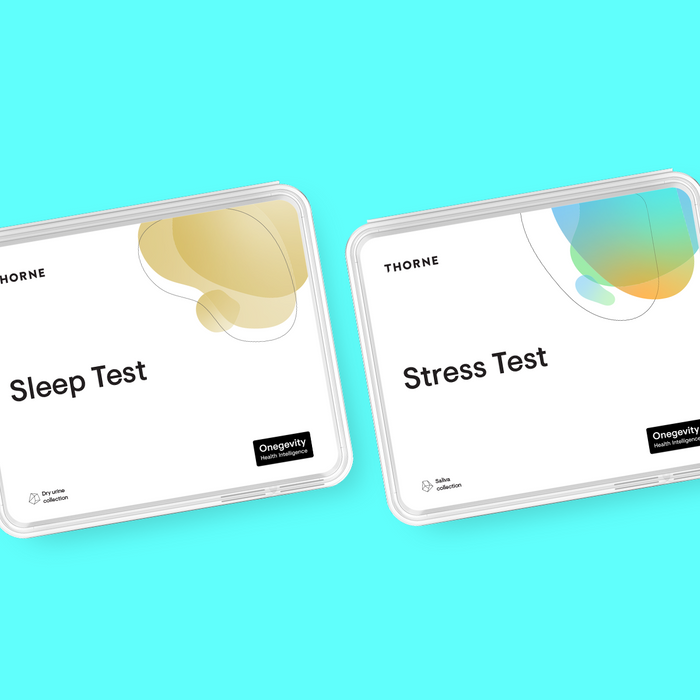 Photo: Courtesy of Thorne
When we don't feel our best, we often assume the role of Dr. Internet in diagnosing our symptoms. Although a search engine can be a good starting point, it can also be a slippery slope, which is especially true when it comes to the topics of stress and sleep. Studies show that three out of five U.S. adults look online for health information. But because the internet doesn't consider factors like your medical history or lifestyle, your "why can't I sleep?" search could result in an overwhelming number of possibilities — from simply drinking caffeine late in the day to something as drastic as cancer. And let's be real: If you get sucked down the rabbit hole too deep and too often, pretty much every symptom leads to a life-threatening (and usually false) self-diagnosis.
Today, there are easier, more personalized, and ultimately less anxiety-inducing ways to get to the root of your health issues. Thorne* is a health and technology company that is disrupting the preventative wellness space by offering multi-omics tests to bring clear analysis, meaningful results, and tailored recommendations — minus the doctor's office. Drawing from your unique biomarkers and working in tandem with a sophisticated algorithm that compares data points from thousands of scientific publications, plus artificial intelligence, Thorne's tests provide meaningful insights and a tailored plan on how to make lifestyle changes to improve your well-being. So, the next time you feel like you're stressed or sleep-deprived, invest in your future self and get some insights to prove it — and a plan to get back on track.
We challenged three Vox Media staffers to take stock of their health and wellness with two of Thorne's at-home health test offerings: the Stress Test and the Sleep Test. Read on for the honest reviews from Athena, 33, Cait, 32, and Jordan**, 34, each one a millennial living in the age of pandemic burnout.
Who Are These Tests For?
Stress can be beneficial in moments when your mind and body need to stay sharp, such as during a work presentation. But chronic stress — say, like the kind present while trying to live through a global pandemic — can throw your hormone levels off balance. Because Thorne's at-home health tests provide detailed insights and a personalized improvement plan, they're for anyone who wants to take control of their well-being with convenience and affordability — the Stress Test is $150 and the Sleep Test is $200.
Although each test is unique, stress and sleep problems share a reciprocal relationship: "A few years ago, I left my hometown of Chicago to move to L.A. to be a screenwriter. Having financial insecurity from credit card debt while also trying to be creative is very difficult. I was also definitely one of those people who gained pandemic weight — I found myself ordering out a lot. I used to run three miles a day and do yoga on days I didn't run, but these days, just doing downward dog kills me. So, I'm very stressed out and my sleep is horrible," says Athena.
For others, symptoms like irritability, sugar cravings, anxiousness, fatigue, and insomnia can persist even while staying physically active and sticking to a healthy diet. "Between cycling and Pilates classes, I work out at least three times a week. Plus, my diet is relatively good. Over the last year, it was abundantly clear to me that I needed to tackle my stress and anxiety, so I've been regularly seeing a therapist. Yet, even with these steps, it's been difficult to find progress with my broken sleep schedule," says Cait.
Jordan, who also tries to eat clean and exercise, says he is "big on personal health," although with the pandemic it's hard to establish a routine. "I usually run a 5K and lift weights four or five times a week. I don't do much for my mental health, however. I feel like during this pandemic, I'll have a healthy routine for a month, and then somehow it phases away, and I realize I haven't left the house in four days," he says.
Studies show addressing either the issue of sleep or stress often leads to improvements in the other. "One of the biggest impacts of my stress is that I'm rarely able to wake up without coffee. So, I want to know: Am I stressed and miserable because I work so much, or is there something physiological going on?" asks Jordan.
Thorne's health tests help unravel what's going on with a person's hormones at the scientific level — all in the comfort of home. "I actually have a pretty good understanding of the effects of melatonin, but I know nothing about cortisol, so I find that really interesting about this test. I'm intrigued about understanding more about my energy levels and why my body isn't stoked about being awake," says Cait.
Understanding Cortisol and Your Body
Is stress causing you to sleep poorly — or is poor sleep causing your stress? Whatever the case, both are deeply tied to your overall health and happiness. Before diving into how Thorne's at-home tests work, a quick reminder on how your body responds to the hormone cortisol: This primary stress hormone (a.k.a. your body's natural "flight or fight" response) is one of the biomarkers that Thorne tests to identify potential health risks or specific opportunities for improvement. Cortisol is responsible for many processes that help the body function properly, like regulating blood sugar and blood pressure. Cortisol gives you a surge of energy when you need to handle a stressful situation, plus it also guides your sleep/wake cycle.
Cortisol also suppresses dehydroepiandrosterone (DHEA), another hormone associated with how you respond to stress. When cortisol goes into overdrive (for example, when your heart is racing and you get flushed), DHEA works to counterbalance that effect. Normal cortisol levels ebb and flow throughout the day — cortisol peaks in the morning and reaches its lowest level before you fall asleep (conversely, melatonin, the hormone that regulates your body's circadian rhythm, increases with darkness).
How Thorne's Tests Work
When your test kit arrives in the mail, you first link it to your account and complete your profile. "Everything is very nicely packaged, and the instructions are simple and straightforward," says Jordan. "They ask you what feels like a full-on health questionnaire — from your health history to your current diet to your medications. It takes about 10 or 15 minutes to fill out the different things they want to know," he adds. With the information in your health profile, Thorne and a physician can customize your recommendations and give you the most accurate information possible.
After activating the test, it's time for sample collection. The Stress Test uses your saliva to obtain results about how your adrenal glands are handling stress by measuring cortisol and DHEA. The Sleep Test uses a urine sample to measure cortisol and your body's natural melatonin levels. With both tests, you're collecting four samples at different times during the day (think: first thing when you wake up and before lunch) to monitor your hormone levels over a full 24-hour span.
"There was a link in my kit to watch a video on how to make sure you're collecting the sample correctly. So, that was really helpful and not cumbersome or daunting. The directions are really clear," says Cait. Particularly for our busy millennials, nailing the timing of the samples was the trickiest part: "I had to really concentrate and set alarms to make sure I did it properly. For the first sample of the day, it was easy to pee immediately on waking up because doesn't everyone? But for the rest of the samples, it was hard to figure out when 'two hours before dinner and bedtime' would be because I'm not very consistent with a schedule," says Athena.
After sampling, you pack up the samples in the included bag with the pre-paid return label, mail it off, and wait for Thorne to provide your personalized insights via e-mail within ten business days.
Moving Forward
To help you understand your results, Thorne provides an intuitive online interface to review your hormone levels — a visual dashboard that's a big departure from the typical complex medical report. "The results are very easy to interpret," says Cait. Your test not only uses Thorne's proprietary Onegevity Health Intelligence platform to give you an actionable improvement plan based on your results, there is still a human who reviews your information, too — a board-certified physician gives everything the green light.
"They outlined my melatonin and cortisol levels, letting me know whether they were normal, low, or high, with recommendations on how to normalize abnormal levels. I thought for sure my results would be the opposite of what they were," says Cait. "For starters, I was surprised that one of the suggestions from Thorne is to eat melatonin-rich foods. Before taking the test, I would have generally avoided that because I felt like it would make me more tired. I also learned a lot more about cortisol than I previously knew." Thorne works with the nation's leading laboratories that are certified pursuant to the Clinical Laboratory Improvement Amendments (CLIA) and/or by the College of American Pathologists (CAP) to analyze your samples to customize your results.
If you've already tried different strategies to alleviate your sleep or stress problems, then you might want to level-set expectations as to what personalized health test results can achieve. Although everyone's health journey is different and can be impacted by various factors, Thorne's tests give you personalized insight into the critical hormones that affect your sleep or stress and encourage you to take the necessary next steps toward finding relief.
"Personally, I viewed Thorne as a great tool that's cheaper than going to the doctor and getting a lab test done," says Jordan. "Those typical lab results don't tell you anything other than a number."
Thorne gives you a greater understanding of the actions you need to take to move forward — whether it's consulting a nutritionist, making specific lifestyle changes, or using Thorne supplements to support your immune system. "I like getting the raw numbers of my cortisol levels to see exactly how stressed I am, but also seeing what my results mean and why I should care about this," he says, "Now, I'll go get some therapy or something."
_____ 
*Thorne is not a healthcare provider and does not provide medical advice, diagnosis, or treatment. If you need medical assistance, please contact a healthcare provider directly.
**Name has been changed.
This advertising content was produced in collaboration between Vox Creative and our sponsor, without involvement from Vox Media editorial staff.