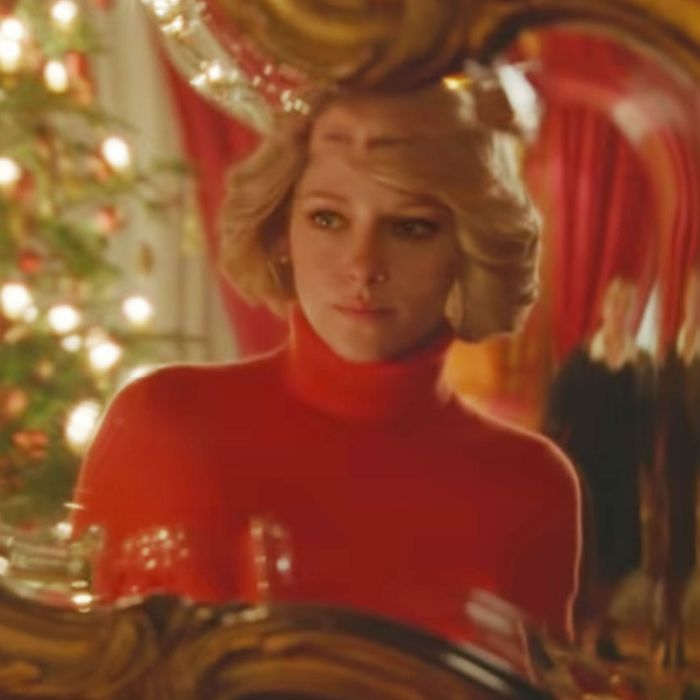 Spencer, Pablo Larraín's intimate imagining of three excruciating days in Princess Diana's life, calls itself "a fable from a true story." Set during a Christmas holiday that finds Diana (Kristen Stewart) on frosty terms with the royal family, it follows her desperate attempts to survive a life ruled by the stifling confines of the royal family. Though it never specifies when exactly it takes place, it's set shortly before Diana separated from her husband, Prince Charles, the premise being that this was the weekend she decided their marriage was over.
Most of Spencer's scenes are fictionalized: the personal disputes that went on behind closed doors, the chilly snubs Diana experienced from the royal family, the inner workings of her own brain. But the film does build on the broad strokes that have been reported about Diana and her experience with the royal family in order to construct its arc. Here's what we know about the events that inspired the film.
Diana and Charles officially separated at the end of 1992.
According to the premise of the film, the days it chronicles represent a crucial turning point when Diana realized her marriage was over. While she was clearly miserable by this point, we don't really know when, if ever, she decided she wanted out of the royal family. In a later interview, Diana said that Charles was the one who had asked for a separation, and that she "supported it" but it caused her "deep, deep, profound sadness."
The main impetus behind the separation was Charles's relationship with Camilla Parker Bowles, his first love, whom the royal family reportedly thought wasn't  virginal enough for him to marry. (Also, she didn't have a title.) According to biographers, Charles and Camilla began their affair in 1979, suspending it two years later when he and Diana married but resuming it at some point in the mid-'80s. The affair tormented Diana, who famously said that her marriage was "a bit crowded" due to there being "three of us." She confronted Parker Bowles in 1989 but maintained that she never wanted out of the marriage, saying later, "I come from a divorced background, and I didn't want to go into that one again." She later confirmed that she had an affair of her own with the royal riding instructor, James Hewitt, though a number of others were rumored.
While Parker Bowles doesn't show up in Spencer, Stewart's Diana points out at one point that Charles gifted her the same exact necklace he bought for Parker Bowles. As for Diana and Charles's relationship in the movie, it's icy to say the least: They have one scene alone together, during which Charles tells her, "You have to be able to make your body do things you hate, for the good of the country."
It's not entirely clear whether Charles and Diana were ever truly in love: In 1981, when an interviewer asked whether they were in love, Diana said, "Of course," followed by Charles: "Whatever 'in love' means." She certainly realized she was doomed early on, calling her wedding day the worst of her life. Their formal separation was announced in December 1992, a month after explicit exchanges between Charles and Parker Bowles leaked to the public. Diana skipped Christmas with the royal family that year, so the movie presumably takes place during winter 1991, the last Christmas Diana spent with the royal family before her separation was announced.
Diana spent the royal Christmas celebration near her childhood home on the Sandringham estate.
The movie takes place during Christmas at Sandringham House, a royal residence in Norfolk where the Queen and her family have spent the holiday for years. It was a location Diana knew well already — she was actually raised on the wider Sandringham estate until she was 14, in a house called the Park House that belonged to her father. That house looms large in Spencer, which finds her trying desperately to go back and see the house, only to find that it's abandoned and boarded up. In real life, the property would have been a hospital for the disabled by then.
Diana was notoriously unhappy during the holidays with the royals.
The visit portrayed in the film is a tormented trip from the second Diana arrives, late, at the austere palace. After being weighed on a scale (more on that later) and greeting her sons, the first word she utters once alone is an exasperated, dread-filled, "Fuck."
That sentiment seems to be accurate: Various accounts describe her, already deeply unhappy with her life as a royal, finding the holidays particularly torturous. During her first Christmas with the family, she's alleged to have missed the memo on giving joke gifts, handing Princess Anne a cashmere sweater in an apparently humiliating faux pas. In 1982, according to her biographer, Andrew Morton, she tried to commit suicide by throwing herself down the stairs at Sandringham. In a documentary about the royal Christmas celebrations, her former butler said that she was "crawling the walls" by the last day of the festivities every year and "couldn't wait to escape." He recalled her being disoriented by the number of outfit changes involved in the day's festivities, another tradition that features heavily in Spencer.
Though Diana returned to Sandringham for Christmas throughout her separation with Charles for the sake of their sons, reports have said that she continued to find the holidays painful and left as soon as she could manage.
She hung out with the palace staff more than most of the other family members.
Spencer finds Diana feeling so estranged from the royal family that she seeks solace with the royal staff. In real life, the princess is said to have interacted with the palace staff in ways the royal family found appalling, like having a glass of wine with the cooks while they prepared food. The former royal chef, Darren McGrady, who's also a prominent character in the movie, said that the princess would "come in for a chat" after holiday dinners, and "just sort of walk around the kitchen and see what was going on."
Diana struggled with bulimia throughout her marriage to Prince Charles.
Diana's trips to the kitchen in Spencer are also tied to her eating disorder, which looms large throughout the movie. Toward the beginning, a few palace servants polish an ancient-looking scale that all the royal family members are allegedly required to sit on upon arriving at the estate for the holidays — a real tradition that's still done over the holidays, purportedly intended to insure guests gain weight by the time they leave. In the film, Diana bristles at the prospect of being weighed, and the movie depicts her bingeing and purging in excruciating detail.
Diana's real-life struggles with bulimia were first documented in Andrew Morton's book, Diana: Her True Story. Based on tapes that Diana allegedly recorded and had smuggled out of the palace, the biography included her own account of her eating disorder, which she said started the week after she and Charles got engaged. "My husband put his hand on my waistline," she's quoted saying, "and said, 'Oh, a bit chubby here, aren't we?' and that triggered off something in me." She also told Morton that the queen suggested her bulimia was destroying her marriage, because "Charles was having such a difficult time" managing it. Diana later made it clear that Charles's affair with Parker Bowles also played a major factor: When asked how she reacted to finding out about the affair, she responded, "rampant bulimia."
Diana continued to talk about her eating disorder openly in later years, making her an early advocate for people struggling with them. In 1995, Diana sat down for an interview with BBC and recalled the royal family telling her she was wasting food — a sentiment that's also hinted at in Spencer via comments from Charles.
Spencer comes out in theaters this Friday, November 5.