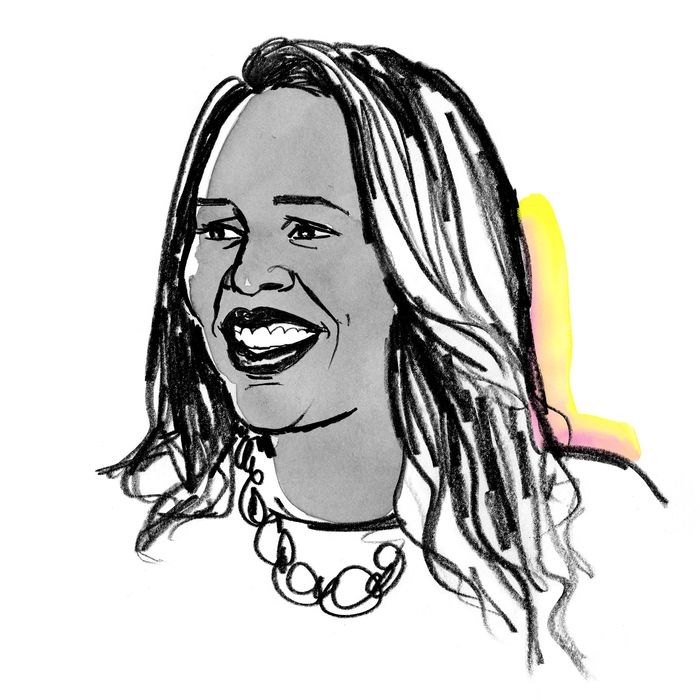 Illustration: Lauren Tamaki
In 2019, Alicia Guevara became the first woman — and the first Black and Latina executive — to serve as CEO of Big Brothers Big Sisters New York City in the organization's 117-year history. She now presides over the city's largest youth-mentorship program, annually matching more than 2,500 kids from across the five boroughs with "bigs" who support and advise them. Guevara currently lives in the Bronx, where she was born and where her parents immigrated to from Cuba, with her husband and two small children. Though she says it's not what her younger self would've imagined of her career, she has spent the past 25-plus years working in local nonprofits — and working with young people feels like coming full circle. "Having benefited from that level of mentorship and also having stood as a mentor for others, it just seems like a natural fit," Guevara says of her role. "I am called to serve young people. It is what I am called to do every single day." Here's how she gets it done. 
On finding her path:
When I was a young person, nonprofit executive leadership was not something that was accessible to me. I didn't know what that was. I had more traditional blueprints of what professional success looked like, and those were typically tied to well-recognized professions. Particularly when you're first-generation new American, you become a lawyer, you become a doctor, you become an accountant, or you become an engineer, and that's where it starts and ends. What I did, once I decided I wasn't going to law school, was to really lean into my passions. What was the thing not that I wanted to do day in and day out, but what was the ultimate accomplishment that I wanted to achieve? And for me, the ultimate accomplishment was to make a lasting change and impact in the community where I live, and as I gained clarity about that, I gained even more clarity about the how.
On being the first woman to hold her position:
That's really familiar to me. I've often been the first in many of the spaces that I occupy. When I think about my trajectory and what led me here, it was driven by a deep-seated commitment to making a difference in the community to which I belonged. I'm someone in whom many investments were made that helped shape my educational experiences, my professional experiences, and some of those investments were through mentorship.
[It was] more about this blind belief about what was possible for me. And that's what I walked into the spaces that I have occupied [with] — it's always been confidence that I am here because I've earned my space here, and while I may be the only one occupying this space here, not only have I earned it, but I now have a responsibility to create more room at the table so that it is more reflective of the general population.
On her own mentors:
I have to start with my mom and my grandmother. My mother is someone who always took care of her community and made certain that was a norm and an expectation in our household. My grandmother gave me clarity on where I came from; she helped me to prize the narrative of where I'm from — where I'm from ethnically, racially, culturally — which is such an important foundation for me to better understand where I wanted to be. I think about some of my teachers — you know how we all had that one teacher who really makes a difference for you? For me, it was Mrs. Koller. I was at a small, elite private school that I'd been able to secure an academic scholarship for. I walked in thinking that I was the smartest person in the room. That clearly changed very quickly, which was deeply humbling. And what Mrs. Koller did was set a standard for me that really reminded me that my success was an expectation; it was not an exception. I was expected to perform at the bar that she was setting, and she supported me in doing that. She supported me in living up to the potential that she saw.
I sometimes had mentors who looked nothing like me; we didn't share the same gender, we didn't share the same layers of identity. But what they saw in me was the potential, the hunger, the desire to learn more, and an opportunity to invest.
On her morning routine:
I typically start my day at about 6:30 in the morning with the sweetest alarm in the world: my 4-year-old boy. He wakes me up and he's hugging on me and cuddling on me — it's in that moment of the day that I'm most still, most present and grateful for all that I have and all that I'm called to do. And then the moment goes, and that's when the real work begins: I pick up my phone to check my schedule, I scan to see if there are any quick response emails I can fire off, or if I've gotta drop in that thought that I had in the middle of the night to the right person, then it's off to tending to the kids' needs. My husband takes care of breakfast while I tend to clothes and backpacks and water bottles and COVID spit tests these days, and hair. Hair is a big deal in my house. We condition in the morning and braid and barrettes and bows — hair is a huge deal. And then the kids are off. My husband and I take turns between drop-offs, and as soon as they're off, I tidy up my work space, which is now my dining-room table, because if there isn't order in my space, there isn't order in my head. Usually at about 8:50, I'm ready for my first Zoom call, and it's off to the races.
On prioritizing:
I start out thinking that I'm going to have a very structured workday, and that is subject to change, driven by our young people's needs. Oftentimes, the phone calls that we're having, the meetings that we're having, are less about reporting and more about solving. Sometimes it's more of the smaller things, like ensuring that staff has the equipment they need to maintain the connection between the matches, and at other times, it may be that a young person's housing is in jeopardy, so how do we solve for that? Or one of our littles who's now graduated high school and is off to college may need to have their financial-aid package reviewed, or it may very well be a young person who's interested in astrophysics and wants to make sure that they're matched with a big who has a similar interest. Or it may be that we have a family for whom English isn't their first language, and we need to ensure that whatever resources we're making available to them are accessible and translated into their native language so that we're building the cultural competencies for them to feel confident having their child participate in our program.
On work-life balance:
I threw away that phrase a long time ago. It doesn't exist for me. The phrase that speaks to me more is work-life integration. What that looks like is, when I'm on a Zoom call in my dining room and my children are around, we have integrated my work life into my home. They know Mommy is on a phone call. They actually know who they can be loud with when Mommy's on a phone call and when they really need to not speak a peep. Similarly, I can be on a work call and Paw Patrol is on in the background, or Peppa Pig or what have you, because that's part of our babysitting plan. There are ways in which I have really opened up my home and presented myself authentically to colleagues and to peers because my family is everything; they are my priority. And if I am going to exist as an effective working professional today, it has to be with that level of openness and transparency. And fortunately, the work that I get to do allows me to do that.
On dance parties as stress relief:
The all-time, go-to unwind, unstress [activity] is our family dance party. We'll just throw on some music and dance like nobody's watching and everybody's watching at the same time. My husband plays DJ; it's usually house, or classic hip-hop, or Latin, or some good old R&B and funk. All we need is about a good hour to shake the wiggles out, but do it on-beat to some good grooves. There is no weekend without a dance party.
On creating change:
I struggle with impatience, particularly when my convictions are so strong around what ought to happen and what is possible. And what I struggle with is when there have been moments of resistance to those possibilities, I find that challenging. Particularly ambitious driven young people — and I can really identify with this — bring an impatience around wanting to arrive at a solution when part of the process is taking notes around the experience that they are seeing before them. Taking notes on what's been tried and tested, even if it's failed, to understand how to improve it, how to make it better. To strike hard. To ask questions, to probe, to inquire. Because chances are, if you're asking yourself, somebody else in the room is asking themself too, including the person who's in the decision-making seat.