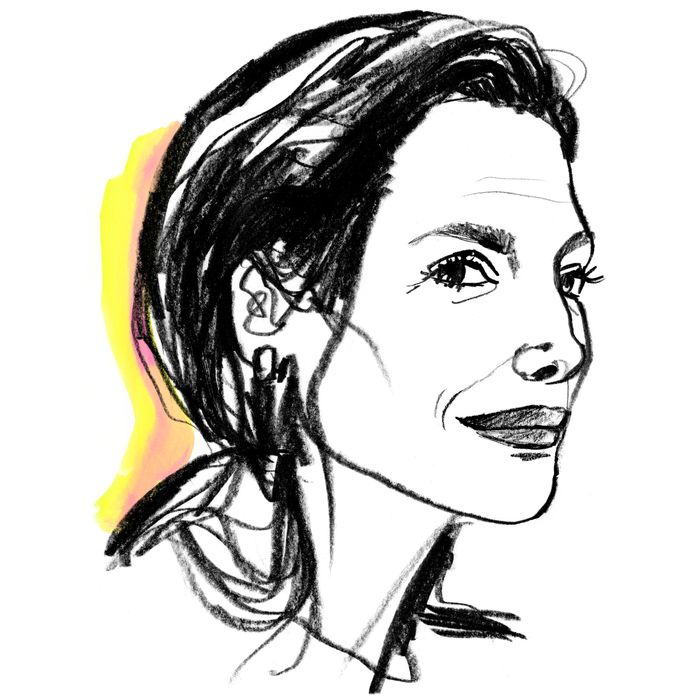 Illustration: Lauren Tamaki
Ten years ago, model Christy Turlington Burns ran her first New York City Marathon. At the time, she didn't consider herself a runner, but she'd just founded her nonprofit, Every Mother Counts, which is dedicated to making pregnancy and childbirth safe for every woman, and marathons are a great way to raise awareness and funds. "So I became really into it, and it's become a big part of the way that we engage people." This weekend, Turlington Burns will run her ninth marathon with New York City's. She was hoping that this would be her tenth, seeing that it's also the marathon's 50th anniversary. But she got injured in 2019, and unfortunately wasn't able to run that year. This time, she will be running with her daughter, though — a first, and a good motivator. She's also done all six world marathons: Tokyo, Berlin, Chicago, Boston, London, and New York. Below, we spoke to Turlington Burns about her training leading up to the marathon, and how she gets it done day-of. 
On her morning routine:
No day is typical, especially when I'm training for a marathon; I have to squeeze more in than I typically would. I usually wake up at 8 a.m., sometimes earlier; my dogs dictate that. I try to pretend like I'm still asleep and hope that my husband will get up with them first. But I set my alarm for 8 a.m. My kids start school later now because of COVID — they don't leave until 8:45 a.m. So that's just enough time for me to get myself together and get them moving.
Once I get the kids out the door, then I'll either go for a run or do yoga, or something to move my body before I actually start my workday. I check my phone, of course, in between — just to make sure things are in a good place. I like to prepare my mind so that after whatever I do physically, I'm in the mind-set of being able to focus and be a little bit more thoughtful.
On training:
If you're a regular runner, you start to increase your running as you get closer to the marathon date. There are lots of different training programs — we now have a coach that creates them for Every Mother Counts. But honestly, I've been kind of winging it this time. This is my ninth New York Marathon, and I have a sense of what has worked well for me in the past, and I know my body. I do a ton of yoga — that's been my primary mode of fitness and wellness for the last 30 years or so, and throughout COVID — and I run a couple of times a week. I just did 20 miles, so once you do your longest distance, then you start to taper off before the full marathon. It's kind of a great period of time where you can pull back and take care of yourself, eat well, and psychologically prepare for whatever race day will have in store for you.
On the gear she uses: 
Over time, I've come to know what my favorite things are, like shoes and stuff, but I would never recommend them to people because I know how nuanced it can be. I don't do a lot with gadgets, and I don't like to get new stuff just for the sake of it. But this time around, I have been using a Polar watch because somebody recommended it to me over the summer. I like being more attuned to my heart rate and the way I recover from running. So I've started to at least monitor that. I'm also still experimenting with how to nourish myself during the race. There are a lot of products out there for that, too, that have caffeine, or lots of extra stuff, and I just find it can be intense on your stomach. Some of it is also problematic to eat. Like one time, I had a PowerBar, but I could barely bite into it, so I ended up running with it most of the rest of the race.
On being present in the moment:
With any race, I just try to be as prepared as possible and not get attached to an outcome. I just try to enjoy being in the moment. People are in really good spirits, and you see some really heroic efforts out there. I recommend people [run for] a charity. Running for yourself is great and feels good. But sometimes when you're out there for that long, you need another motivation. Having a charity or a team can really make a difference.
On staying motivated:
Earlier today, someone told me, "I could only run if I was being chased." But it's cool to not identify as a runner, and then you get out there and you run half a mile and you're like, Oh, well, I did it. And the next time you do it, it's easier than it was the first time. It's just one of those examples in life where you surprise yourself, and you see that you're more capable than you thought you were. I think that's pretty empowering. You're so lucky to have a body that's able to do that, and that's never lost on me any time I'm out there: That I can do it, that I have the capacity to do it, and that I'm part of a larger group of humanity. It's a beautiful thing.
On recovering from an injury:
When you're an active person, it's hard to surrender and be like, Okay, can't move right now. But the most important practice for me generally is patience — with myself, but also with everything happening around me. I did more meditation during that time. Listen to your body, whether you're running or not. It's easy to ignore it when it's telling you not to do something, especially if you have a team behind you or an organization that is involved. You feel like you'd be letting people down or letting yourself down if you made a commitment or you've started to fundraise. That's all a lot of pressure. So with this race, I trained a certain amount, just so I could feel confident before I started putting the word out and telling people that I was doing it.
On work-life post(ish)-COVID: 
I'm planning another trip now to Tanzania, which would be the first Every Mother Counts trip since I was in India [before COVID]. And I'm really excited that that can happen next year. But I used to travel for conferences or events, and I realized I can actually do that just as well, and be just as present, from home. That's one of the really nice things that I've learned. And I think just knowing that, and knowing the difference, I don't know that I'll ever go back to trying to do as much of that as I used to.
On winding down at night: 
As a founder, it's hard to turn off. It was my daughter's birth that made me aware of the magnitude of this issue, because I had a complication after her birth. So my kids are very much involved in the day-to-day, and the work is inspired, in part, by them. There's a lot of overlap and integration. Where they go to school is very close to my office, and that was intentional. When I left the office last night — I had a pretty full day, so I left around 6:30/6:45. I live just a few blocks away, but I am still finishing things and checking things up until I walk in the door, so I can hopefully then put that aside. But that doesn't always happen. Because my kids are older and they're doing their own thing, I don't find that I'm being torn with like, Am I paying enough attention to them? So if nobody else is at home and I'm just cooking or settling in, then I'll continue working, because it actually makes me feel better to stay on top of things and not have it waiting for me in the morning. But then when everybody comes in, it's nice to have that ability to be present. So I try to do this as best I can. I also try to go to bed before 11. Most nights, I'm falling asleep somewhere between 11 and 12 p.m.
This interview has been edited and condensed for clarity.