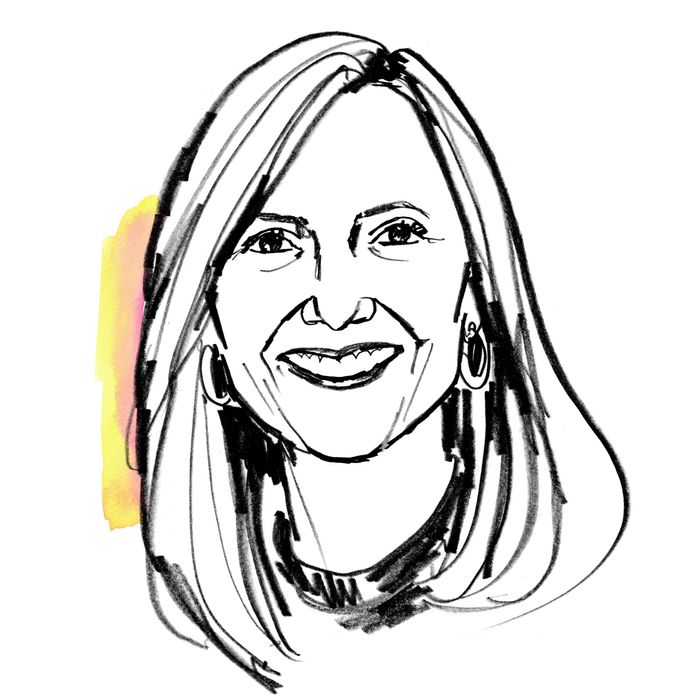 Illustration: Lauren Tamaki
Pam Habner has always wanted to be a CEO. And in her first official CEO role as the head of U.S. branded cards and lending at Citi, she juggles everything from ad campaigns with Rashida Jones to three-year financial forecasts in order to make sure everything's running smoothly. Before Citi, she spent 20 years in various roles at American Express before making the jump to J.P. Morgan and then joining Citigroup under its first-ever female CEO, Jane Fraser. Credit cards aren't exactly the first thing that come to mind when you think of innovation, but to Habner, they're extremely personal tools that should support each customer's needs, beliefs, and aspirations. Case in point: Last year, she partnered with Mastercard to launch the True Name Initiative, a policy that allowed transgender cardholders to change the names on [eligible credit] cards without needing to change their legal names. Since its October 2020 rollout, over 10,000 customers have changed their card names. She lives in New York with her husband and 9-year-old twin sons. Here's how she gets it done.
On her morning routine:
Like most people, my morning routine has been upended during the pandemic, but actually in a positive way. I used to get up super-early, kiss my sleeping 9-year-old twin boys good-bye, and leave the house while the sun was coming up to commute into the office or go on a business trip. I still get up early, at about 5:15 a.m., but now I have the opportunity to go for a run outside or, in the winter months, hit the treadmill or my Peloton. It's a wonderful time to get a workout in and listen to the news or a podcast. I love How I Built This from NPR. I've been able to take care of me a little bit and start the day with a new sense of energy and positivity.
I make a nice big cup of coffee and I sit down for a bit of breakfast. It's probably the only time I'm by myself for the rest of the day. It lets me relax, gather my thoughts, and get ready for the day. Then it's time to get ready for work and get my boys ready for school. My husband and I share a lot of the parenting responsibilities and we have an amazing caregiver who helps us make it all work.
On working with credit cards:
They're this great combination of Vanity Fair and the Federal Reserve. I was a math major in college, so I love the analytical side and the creative side. The relationship consumers have with their card as a financial tool is very personal, to the extent that I've always thought of credit card brands more as lifestyle brands. Millennials that have Custom Cash, they tell us, "This represents the fact that I can be myself, that this card is going to adapt to my spending patterns, not the other way around. I think that's cool, and therefore I'm excited to use that card." So a card product ultimately is a payment device for consumers, but the rewards and the value propositions really bring out the lifestyle element of why as a brand they really matter to consumers.
On launching the True Name Initiative:
We have now given our customers the opportunity to put their chosen name on their credit card without having to make a legal name change. This is incredibly important for the transgender community, who tell us the majority of them don't have a single ID or card that has their chosen name and represents who they feel they authentically are. That's a problem, because when they go and use an ID that doesn't connect with their outward appearance or their chosen approach to life, they are faced with either denial of service or sometimes even abusive behavior. So we launched this last year; we've had a great response. We've had more than 10,000 customers put their chosen name on their card.
On leadership during the pandemic:
Being a general manager is like being an orchestra leader. You have to make sure that all the different elements that go into managing the business are working well together and making that beautiful music. You have to inspire your team by keeping them focused on top priorities and celebrating wins, even when the world feels pretty bleak around us. We have to lead with empathy and really understand what our employees are going through.
On mentorship:
I make a distinction between mentors and sponsors. A mentor is somebody who you can go to for advice and guidance. They can be wonderful sounding boards. Sponsors take things to the next level. These are people who individuals have worked for or with in their careers, who can speak firsthand to the attributes, to the success, to the qualities of that person. Those sponsors are willing to put their chips on the table when it comes to recommending an employee for a new job or assignment. And I think it's important to have both. I have three or four sponsors that I've known for years. And every time I'm contemplating a new career move or want advice on a particularly challenging thing, I know I can go to them.
One of the most satisfying things that I do in my career is to pay it forward to other, junior people. I meet with junior people on a regular basis, and I'm a mentor to many individuals across the firm, but I also make it a priority to stay in touch with folks that I would consider myself a sponsor for. When you're a sponsor or a mentor, you get as much out of that experience as you do by being a mentee.
On work-life balance:
Work-life balance is not really achievable. But I believe in this notion of "balance over time." Your career is a highway, and it's perfectly fine to move the car into a slow lane occasionally, because you can always move back into the fast lane. Don't take the exit. Be very happy and confident to make the choice to go into the slow lane for a little bit. There have been moments in my career where my job has had to take precedence and I've worked really long hours. Once I had children and my family started to become the most important thing to me, I was able to balance both of those. I was given an opportunity to run an international market just as I was about to have twins, and I chose not to accept that role. It was a career goal, but it would've gotten in the way of a personal one: being a great mom with young babies. Being a parent is a master class in not sweating the small stuff, allowing yourself to achieve all your goals without saying, "I have to step away from my career to be a good parent." I don't think that's needed at all. And now that my boys are getting older, I feel totally fine to get back into the faster lane.