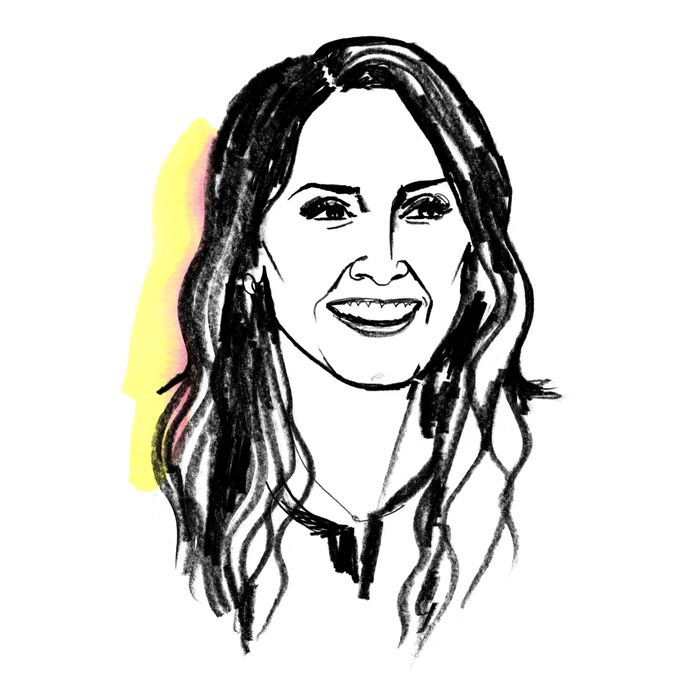 Illustration: Lauren Tamaki
After she was laid off from her first job out of college when the company went bankrupt, Kim Perell decided to start her own. At 22 years old and from her kitchen table, she hung out her own shingle using a $10,000 loan from her grandmother. That company grew to over $100 million in annual revenue by the time she was 30. Her next, the global marketing-technology company Amobee, was sold to Singapore Telecommunications for $235 million. Currently, Perell is CEO and co-founder of 100.Co, a consumer brand group that creates purpose-driven products and has invested in over 100 companies. Its most recent launch is Sama Tea, created by podcast host Jay Shetty. After 20 years of experience as an entrepreneur, Perell has written two books: The Execution Factor and Jump: Dare to Do What Scares You in Business and Life, about finding the courage to make change, released this month. She lives in Miami with her husband and their two sets of twins. Here's how she gets it done.
On her morning routine:
We get up at seven and we're off and running. During the week, my main goal is to get everyone out of the house without three meltdowns. Once the kids are on the bus, then I exercise. I'm obsessed with Peloton. I usually have a protein power shake on the way from the kitchen to my desk — my commute is very short.
On her path to entrepreneurship:
Both my parents are entrepreneurs, so there's definitely something in my DNA that wants to create and innovate and make change. But it was also a total struggle growing up, and I was like, This is exhausting. I'm just going to a real job. It's more secure. That "real job" quickly turned into a nightmare, and then I thought, Nothing's actually secure, so I'm just going to bet on myself. Because at least when I lose, I'm making all the decisions. I can only blame myself if it goes wrong. I want to control my own destiny. And so that's when I made that jump. I believed in the internet; I believed there was going to be a huge opportunity for online advertising. It seems obvious now, but 20 years ago, it was a totally different market.
On a typical workday:
I wear a lot of hats — I'm an entrepreneur, I invest, I have a book out — so it's always about prioritizing and finding the one thing that's most important to get done today. I usually talk to the three companies that were incubated under 100.Co, and then I try to talk to at least one entrepreneur a day from a pitch perspective because I get energy from it and I love hearing the ideas. I try to do at least one a day because (a) selfishly, Hey, I'm an investor and I want to look at the deals, but also (b) to pass on my own experience and advice.
On ambition:
It comes down to believing in yourself, believing that you have the capabilities and the confidence to do it. There's a statistic that shows that a woman will apply for a job if she's 100 percent confident she has all the skills, whereas a man will apply if he feels he has 60 percent of the skills. My advice is to be ready to go at 70 percent — giving women new benchmarks in order to see themselves because it's all about perspective. You just need to be 70 percent confident, and you'll figure it out along the way and have the competence to know you will figure it out.
On getting funding when you're starting out: 
No. 1 is having the courage to start. When I started, no one would make a bet on me because my track record of bankruptcy and failed internet companies wasn't exactly bankable. So I went to someone that believed in me, and my grandma made a bet on me. She didn't even know what the internet was. At that point, and early on, you just need someone to believe in you. That's honestly why I invest in so many start-ups, because not everyone has a grandma that has the funds to give to them. I want to be that person that bets on individuals that have big dreams.
On what she looks for in collaborators:
I like people that have this vision of how they see the world, not as it is today but how they believe it could be or how they could change it themselves. And that's coming from a fundamental need. So I look for entrepreneurs, individuals who had challenges or saw a need and solved it themselves. It shows you've got hustle and that entrepreneurial spirit where you're going to create even if others don't see or believe in the vision.
On mitigating risks:
When I started 100.Co, it was really about how to create brands using artificial intelligence to de-risk. You know, 80 or 90 percent of brands fail within their first year. How do we de-risk that, go to market, ensure success, and also accelerate success? You can do that with data. And that's what we're using. So we just launched an amazing tea brand, Sama, with Jay Shetty and his wife, Radhi. It used artificial intelligence and data to make decisions on the packaging, the pricing, the ingredients — all these decisions even before the products are created. It's a unique combination because you're taking an old-school thought: How do you do tea differently? It's authentic to them, it's purpose-driven, and then we're validating it using technology and data services.
On dealing with self-doubt: 
I question myself all the time, just like everyone else. But I don't let that hold me back. I have that courage muscle, and I think it's like a muscle you have to build over time, so mine's quite strong at this point. You have to learn that you can't compare yourself to anyone else and that you have your own unique talents that you need to identify and capitalize on. I truly believe that what makes you different makes you successful.
On the books on her nightstand: 
I like applicable books. I want books that I can actually take value out of, like biographies of people I can learn from. I'm reading Maye Musk's book, who is just such an inspiration and has great practical advice. She's 73 and saying "I'm just warming up." I love it. I'm also reading That Will Never Work, by Marc Randolph, the co-founder of Netflix. It's one of those stories of the journey of someone telling you, "That's never gonna work." And then, obviously, Netflix happened, and we all know how that ended.
On winding down:
Having a cup of tea means taking a moment to pause. Other than that, I love '80s and '90s music because it takes me back to a really good time when I had no worries in my life and was carefree. It takes me back to a very centered place. I love Ted Lasso. And then honestly, if I'm not working, I'm spending time with my family.