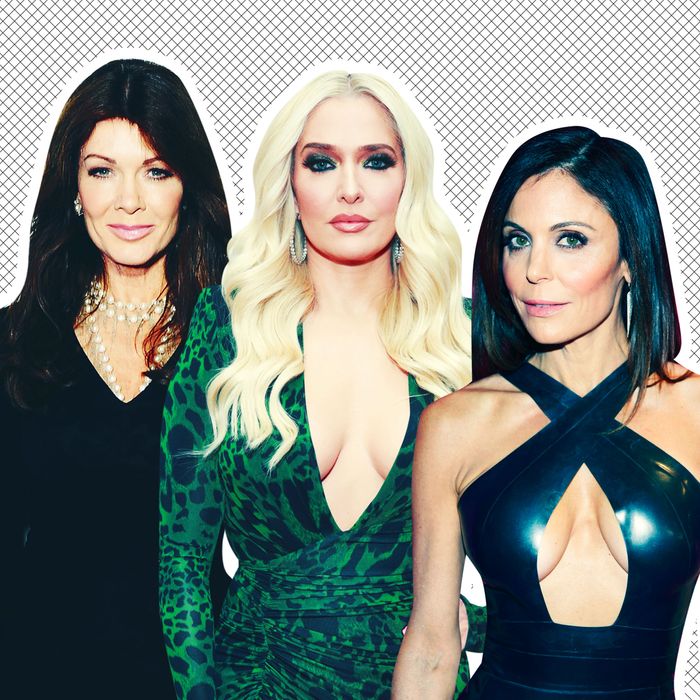 Photo-Illustration: by The Cut; Photos: Getty Images
In 2019, Los Angeles Times journalists Harriet Ryan and Matt Hamilton won the Pulitzer Prize for investigative reporting. Alongside their colleague Paul Pringle, the pair uncovered that a University of Southern California gynecologist was accused of violating hundreds of young women for more than 25 years. Winning a Pulitzer is an achievement that most journalists can only dream of, particularly for a story like this one. So it would be natural to assume that Ryan and Hamilton would have received more congratulatory texts, social-media shout-outs, and supportive Slack messages about that than anything else they've done together, right?
Wrong.
The reporting duo became accidental reality-TV stars in August 2021, when a bombshell investigation they co-authored became a central story line on the 11th season of Bravo's The Real Housewives of Beverly Hills. The 4,000-word story chronicled the rise and fall of lawyer Tom Girardi and Real Housewives star Erika Girardi (also known as Erika Jayne). After her work appeared on the show, Ryan "couldn't believe" the response. "One friend even said to me, 'This is a much bigger deal to me than you guys winning the Pulitzer!'," she says. "That was a real career milestone for me. But to many people, the fact that a Real Housewives episode revolved around our story was a much bigger deal."
The fallout from the investigation aired halfway through the latest season, while the Housewives of Beverly Hills sipped margaritas on a "girls' weekend" in La Quinta, California. The report accused Girardi — a California legal titan whose work helped inspire the film Erin Brockovich — of using his law firm like a "Ponzi scheme" for decades, embezzling millions of dollars he won on behalf of clients to fund the couple's lavish lifestyle. The long list of people he's allegedly stolen from include burn victims, plane crash victims, widows, and orphans.
Ryan and Hamilton spent months pulling together the story. "When we started working on it, it was already clear it was all coming to a head soon and that he was going to be in an enormous amount of trouble," Ryan says. "He is one of the most important lawyers in Los Angeles. He's a huge political donor and he had enormous influence on the judges sitting on the bench in Southern California. So it would be a huge scandal even if he wasn't married to Erika — but it wouldn't have gotten as much attention."
To the surprise of virtually everyone, Jayne kept filming the show as the scandal intensified. Much of the season has centered on how much she knew about her estranged husband's finances. She filed for divorce shortly before the allegations hit the press (on Election Day, to be exact), telling her castmates that the pair had drifted apart. Since then, she has denied any prior knowledge of his alleged crimes, even when Ryan and Hamilton's report alleged that Girardi's law firm had loaned at least $20 million to the company Jayne uses to run her entertainment career — funds that remain unaccounted for. Jayne has since denied this, but confirmed at the latest season's reunion that she spent $14 million on her American Express card over several years.
When the L.A. Times investigation dropped, the dynamic of the show completely changed. Jayne's story of how her marriage fell apart — featuring alleged car crashes, ignorance about her finances, various medical diagnoses, adultery, and middle-of-the-night robberies — had always seemed difficult to believe. Up to this point, most of the cast had been happy to brush aside tabloid speculation, but they struggled to ignore an in-depth investigation by such a respected paper. "There is a whole ecosystem of information that exists around these Housewives," Hamilton says. "In that ecosystem, there's a lot of blogs and outlets which report breaking news and analysis, but it's less common to see investigative reporting that goes back decades. That is what made our report different."
Viewers watched several cast members begin to openly question Jayne's narrative for the first time. "This is the L.A. Times!" said Sutton Stracke, emphasizing to her co-stars what a big deal the article was. After Stracke sought legal advice on how the scandal might implicate the cast, a series of jaw-dropping conflicts erupted. The show was suddenly transformed into a captivating true-crime drama. "I was amazed at people that I know in my life who are smart women and were obsessed with Real Housewives," Ryan says. "Initially, my reaction was, 'Wow, I can't believe they watch the show,' but that's when I realized that their viewership is intelligent women."
The L.A. Times is by no means the first media outlet to guest-star on The Real Housewives of Beverly Hills. Since season two, the cast members have been accusing each other of "selling stories" to gossip blogs and tabloids like People magazine. More recently, in season ten, Denise Richards stopped filming the show midseason, after details were leaked to the press about a salacious story her lawyers were trying to stop Bravo from airing. She left the show permanently soon afterward.
Before Jayne and Richards, the biggest crack in the show's "fourth wall" was in season nine, when Lisa Vanderpump was accused of leaking a story to the celebrity website Radar Online. Vanderpump strongly denied leaking the story, which suggested that her co-star Dorit Kemsley abandoned a puppy she had adopted from Vanderpump Dogs. The feud, which came to be known as "puppy-gate," dominated the season and ended with Vanderpump leaving the show and retreating to her spinoff shows. Even now, people are still talking about it: Last month, in Bravo's new "tell-all" book, an executive producer claimed Vanderpump did leak the story after all.
A former Radar journalist who worked on "puppy-gate" tells me that they could never have predicted how big it would get. "I was like, 'Yeah, let's just try it,' because I'm always open to trying things! But I didn't think it would get a huge amount of traction, nevermind be mentioned for an entire season," they say. "Even my mother-in-law was up my ass asking, 'Who was the source?' For once, everyone cared and it was very mainstream."
Radar's former journalist thinks "puppy-gate" brought "credibility" to the site's work. There's no doubt that it made fans eager to tune into the show to find out whether there was any truth to the story. After watching Vanderpump's husband Ken Todd kick Kyle Richards out of his house, screaming "Good-bye Kyle!" in the direction of her unsightly felt hat, reports like this certainly seem more legitimate. The drama over who leaked the story to Radar proved that reporting has the power to influence what we see on TV if leaks happen while reality shows are filming. It also demonstrated that reality stars think certain details from behind the scenes can encourage fans to form opinions before the show airs. "The Housewives are constantly leaking to the press to get public opinion on a side," the Radar source says. "If they know something is going to get out and be on TV, but they don't know how Bravo is going to edit it, they can use the press as a way of pre-editing it themselves and getting ahead of the story."
Cast members of the Real Housewives of New York were among the first to use the press in this way. From season two of the show onward, "Page Six" — the gossip pages of the New York Post — was mentioned regularly, whether it was Bethenny Frankel and Jill Zarin's epic fallout or Sonja Morgan accusing Tinsley Mortimer of being a bad houseguest. "'Page Six' became something of a character on RHONY," Andy Cohen, the show's executive producer and reunion host, told former NYC housewife Heather Thomson on her podcast. "At the start I thought that was so weird … But now it's really hard to deny that these women are famous and they have different lives now because they're on the show."
Cohen is correct that press coverage tends to generate more story lines on Housewives as it becomes a bigger part of the women's lives. There's a cycle to it: First there are references to "the blogs" (a recurring character in early seasons of Atlanta and Orange County), but then a huge scandal happens that is covered in the mainstream press. Stories that had this type of crossover include New Jersey's Teresa Giudice and her husband Joe being sent to prison, Orange County's Vicki Gunvalson being embroiled in a so-called "cancer scam," and Potomac's Ray and Karen Huger being pursued by the IRS for "millions" in unpaid taxes. The arrest by the FBI of Jen Shah — part of the newest series, based in Salt Lake City — is the latest example. Once a show has had a "moment" like this, media coverage normally becomes a much bigger part of the story lines we see going forward. For instance, on Housewives spinoff Vanderpump Rules, on-camera arguments about press coverage noticeably increased after original cast members Stassi Schroeder and Kristen Doute were fired in a racism scandal that made international headlines.
Brian Moylan, Vulture's Housewives recapper and author of The Housewives: The Real Story Behind the Real Housewives, tells me that whether it's negative or positive, press coverage is part of the "elite" status bestowed upon fame-hungry Bravo stars. "Part of the show is about creating aspirational characters, and what is more aspirational in America than being famous?" he says. "Showing these women being covered by the press creates an aura of fame around them that people love."
Despite Cohen admitting that they "tried so hard for years" to keep the fourth wall up, Moylan thinks that acknowledging media coverage is part of what has made the franchise so successful. "'Page Six' was so pivotal, because before Housewives became a nationwide thing, the New York media was obsessed with RHONY," he says. "But as the franchise has grown, to not acknowledge that these shows are produced and shaped by outside forces would be to insult the intelligence of an audience that grows savvier with each passing year."
In most cases, breaking down the fourth wall in this way makes viewers feel like what they're watching is more authentic. But part of the reason Jayne's story has been so divisive and shocking is because it contradicts much of what we've seen of her in six years on Housewives. Believing her story requires an acceptance that the woman we've seen on the show — who was supposedly happily married to a do-gooder lawyer — wasn't real either. Her story line has been ratings gold in the short term, but it's unclear what the longer-term consequences will be for the show and the wider franchise, now that everything fans see onscreen can be called into question.
Celebrity reporter Chelsea Hirsch has landed several scoops that have ended up on Bravo over the years. A story she wrote in 2018 for "Page Six" started a huge on-camera bust-up between former Real Housewives of Orange County stars Vicki Gunvalson and Kelly Dodd. (Vicki had played matchmaker for Kelly's ex-husband by setting him up on a date with one of her friends). Hirsch agrees that some reality stars perceive a certain cultural currency in being written about. "Even if it's for something that they might not necessarily want to be on 'Page Six' for, who doesn't love seeing their name there?"
But it's not just the reality stars who are benefiting from the closeness between reality TV and the press. Now that Bravolebrities like Jayne are practically A-listers, a much wider range of media outlets are realizing that there's an audience for reality-TV news and analysis, from CNN to the New York Times. "It's fans that make reality-TV franchises successful and they're obsessed with hearing the latest information. If they could find out the last time Erika blinked, they would!" Hirsch says. "If you look at gossip accounts like DeuxMoi, a majority of the sightings used to be A-list stars, but now people are more interested in reality-TV sightings, which is crazy to me."
This shift might make some people despair, but in Moylan's book, several academics argue that dissecting reality-TV shows like the Real Housewives might actually be making us smarter consumers of media. "I think Housewives is making attentive viewers more critically engaged in what they're watching," said Indiana University culture and gender studies professor Brenda R. Weber. "For instance, if they're watching an episode and then they're watching Watch What Happens Live, and then they see that there's a distance between what happened on the show and how it's been described, and then they're also watching a Housewife's Twitter feed at the same time, they can try to get the truth, right?"
If we think of viewers as detectives trying to solve a mystery — and recently, that's exactly what Housewives has felt like — then press reporting, particularly when it is story lined on reality shows, can help us understand how both forms of media are created and how trustworthy they are as sources. "The fans become sort of media critics, and they start thinking, 'Well, how can that be true? How can what happened on the show be true, if what I saw on Twitter or in this other show didn't match up with that?'" Weber told Moylan. "That's doing intellectual work that the show alone doesn't, but it's media across platforms that's creating these new spaces for critical engagement."
Since their investigation took center stage on Housewives, Ryan and Hamilton have published several more stories about Tom and Erika Girardi. To Hamilton, the most eye-opening part of their accidental reality-TV fame was discovering how engaged Bravo fans are on social media. "The fans have analyzed every detail of this story with the zeal of scientists on an expedition," he says.
In the final part of the Real Housewives of Beverly Hills reunion show, the L.A. Times reports were compared to what we have seen and heard on the show by Andy Cohen, Jayne, and the rest of the cast. Once again, the key details were then dissected and debated by fans.
Next week, when its bombshell season heats up, we will finally get to watch the cast of the Real Housewives of Salt Lake City learn that their co-star Jen Shah had been arrested by the FBI. And how did they find out about this scandal? By reading a news report as the cameras rolled. Now that Bravo's fourth wall has been toppled, the press might just be the unofficial star of the Real Housewives.