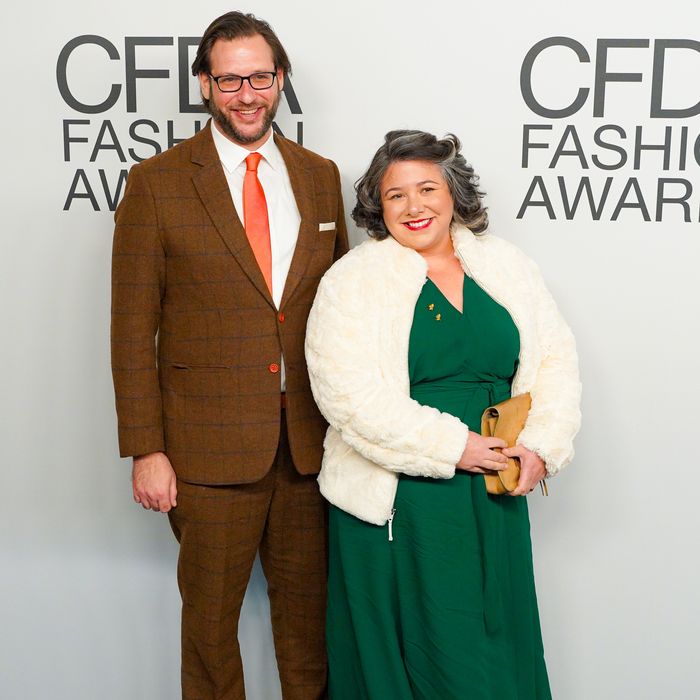 Photo: Patrick McMullan via Getty Image
On Wednesday night at the CFDA Awards — sometimes referred to as the "Oscars of fashion" — Patagonia was honored for its commitment to environmental sustainability. There to accept the award on the brand's behalf was Rebecca Goodstein, Patagonia's environmental and community programs manager for North America. In addition to making a speech, and doing the requisite schmoozing at The Pool, one of New York's swankiest dining destinations, she was also given the unique task of figuring out how to wear Patagonia to a black-tie event — one where everyone in the room, from Zendaya to Tom Ford, was sure to be dressed in the best of American fashion.
"This is a really fun departure for me," Goodstein told the Cut a few days before the event from her Airbnb in Brooklyn. She knew she wanted to wear something she already owned — "I really believe in reusing and repeating outfits," she said — so she pulled out a Reformation dress from her closet, (they are a Patagonia partner), and borrowed a Brother Vellies bag from a friend. (The designer, Aurora James, was also an honoree that night.) To top it all off, Goodstein also wore a Patagonia, of course, specifically a Lunar Frost Jacket, which looks like a faux-fur coat, and is made with 100 percent polyester (35 percent recycled) high-pile fleece, with a 100 percent recycled polyester plain-weave lining. It's also Fair Trade Certified Sewn. The only thing she purchased were her shoes: a pair of gold sandals from a nondescript label that felt "glamorous and comfortable."
"It speaks to how I try to dress in general," Goodstein said of the look. "I always want to buy high-quality, durable, well-designed pieces — and wear them forever." She also loves a good story — something that repeating outfits affords. Her husband, for example, who was her plus-one on Wednesday night, wore his suit from their recent wedding — a perfect icebreaker.
In this day and age, wearing Patagonia to a black-tie event isn't so out-there. Remember when Ralph Lauren wore jeans and Salomon sneakers to the CFDA Awards in 2018? In many ways, it reflects a current, more-casual and practical moment and fashion — and also where it's headed in the future. The same goes for recycling outfits, as opposed to buying new. Patagonia has its own clothing-reuse program, and luxury brands like Valentino are also starting to follow suit. (Pun intended.) In general, the fashion resale market is booming, with more and more consumers buying vintage and used clothing through apps and online, from Patagonia fleeces to black-tie gowns.
"I just want to normalize reusing," Goodstein said. "But not just make it the norm — I also want to make it feel sexy and glamorous."