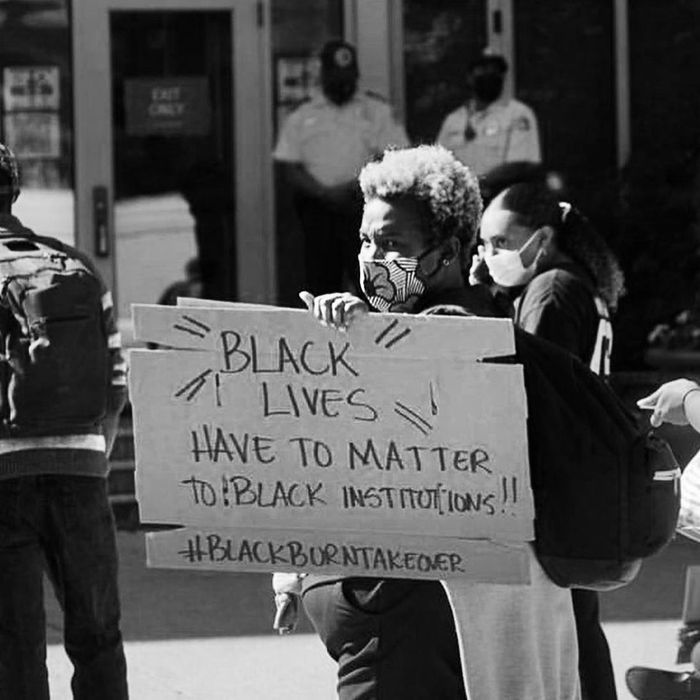 On Monday, Howard University announced that after the longest student protest in the school's history, the administration had finally reached an agreement with student organizers. The news followed more than a month of student demonstrations against unlivable housing conditions on campus, including a number of students who set up tents in front of the school's Blackburn student center. Others posted disturbing evidence of their living conditions to social media: footage of mold growing rampant on picture frames and other student possessions in dorm rooms, pictures of black mold that university maintenance allegedly tried to paint over, reports that students were unable to stay in their dorms or even hospitalized and coughing up blood as a result of mold exposure.
In addition to widespread issues with mold, students also cited leaking ceilings, roaches in the cafeteria, brown water in laboratory classrooms used for eye-washing, as well as months-long Wi-Fi outages, including some that put a halt to classes at the start of the semester.
Students at Howard pay more than $14,000 a year for housing, and for many, enough was enough. Student organizers took over the Blackburn center on October 12, demanding immediate action from administrators to end the school's housing contract with Corvias Inc., a private corporation that organizers believe "has caused the current hazardous living conditions," according to their statement of demands. The students wrote, "Howard students have reported brown water, black mold, cases of students developing mold-based asthma and respiratory illnesses, and a list of other harmful building issues and D.C. health-code violations." They went on: "Not only does [the administration] expect students to live, study, and sleep in this state of disorder, but they expect us to do so while paying for it."
Camryn Turner, a freshman at Howard, recently told the Cut she just had her first hot shower in her dorm in over a month. "I was living in other people's dorms for an entire month because mine was so uninhabitable," she said. "I started getting mold in our dorms, and our water is turned off every other week. We just got hot water."
Jasmine Joof, a sophomore and member of The Live Movement, the student group organizing #BlackburnTakeover, told CNN that students have been trying to call attention to these housing issues for long before the recent demonstrations. "There is mold in the dorms, it's actually growing on people's things. There is water damage, rat and bug infestations," Joof told CNN. "We've been telling RAs and building directors about this, but the university has refused to acknowledge it until this protest," she said, adding: "They are ignoring us."
"It's time for President Frederick to make time for us, and not photo ops with [U.S. Vice-President] Kamala Harris," Aniyah Vines, a 21-year-old senior, told the Washington Informer, echoing criticism from many students that Howard's president, Wayne A. I. Frederick, continues to prioritize the reputation of the school over the well-being of its students. (Harris is an alumna.) "Right now with the housing crisis, students are sleeping in their cars and going to Burr (gymnasium) to shower. Black mold [in the dorms] is making people throw up and administrators are literally telling students their experiences are false," Vines said.
These issues are not unique to Howard. Similar demonstrations have begun at other historically Black colleges and universities (HBCUs), including within the Atlanta University Consortium, which includes Spelman College, Morehouse College, and Clark Atlanta University, where students are protesting their own housing crises in solidarity with those at Howard. Consortium students recently released a Declaration of Occupation calling for school presidents to conduct a full assessment of student housing needs, and also called on the Biden-Harris Administration to fully fund HBCUs as part of the Build Back Better Act.
Issues of housing, food access, and safety on campus are not new to HBCUs. "We've met Howard alumni from 2003 who were fighting for housing rights when they went here," Turner told the Cut. "We are trying to make this the last time students have to fight for housing. There shouldn't have to be a new protest every year because clearly you are not fixing the issue."
These schools also have a rich history of student protest. HBCUs hold a precious legacy of the civil-rights struggle that is taught to students while on campus and emboldens many to fight for their rights. "This is what they told us to do, they taught us to fight for justice, and we must struggle no matter what," Channing Hill, a student organizer at Howard, said during a recent press conference.
Which, many Howard students feel, makes the administration's response to the protest all the more hypocritical. Student organizers have reported tense and occasionally violent interactions with campus police since the start of the occupation. And last month, President Frederick wrote a letter to the Howard community downplaying students' claims and calling for an end to the protest. Contrary to student reports of widespread issues, Frederick wrote that, "there have only been a small number of documented facilities reports relative to our entire inventory of residence rooms." He added: "The results of our inquiries to date affirm that the issues are not widespread and the vast majority of our students are living comfortably in their rooms." The same day Frederick wrote his letter, a current Howard student filed a putative class-action lawsuit against Corvias, LLC and Howard University alleging widespread mold contamination in their residence.
The student protests across the country are also shedding light on a larger reckoning at HBCUs that has been brewing for years. HBCUs of all sizes are facing biased state endowments that disproportionately cut HBCU funding, poorly managed offices, and old-guard administrations that continue to use police force to silence student dissent. In addition to its housing crisis, Howard, like many HBCUs, also has a long history of neglect when it comes to handling sexual violence on campus.
HBCUs have also been flooded with student interest over the last year. Inside HigherEd reports that HBCUs across the country saw not only high applicant pools and enrollment but huge increases in private philanthropic funds following the 2020 uprisings protesting racist police brutality. Now, many students are asking where those funds are being invested. "We want to see our institutions show up for us not just in words but with safe housing," Vines said during a recent press conference.
Across the country, Black leaders have rallied in solidarity with student organizers. Reverend Jesse Jackson, NAACP president Derrick Johnson, and Martin Luther King III, the eldest son of Reverend Martin Luther King Jr., have all spoken in support of the students. "I support their struggle for safe, dignified housing," D.C. council member Janeese Lewis George said in a recent tweet. "It's the same struggle Black families face against gentrification all over D.C. Power concedes nothing without demand."
After speaking with Howard student activists on campus, Debbie Allen (herself a Howard alumna), said, "We all know what the Howard student body means. In any country when the students don't speak out, the nation is not doing well." (Her sister, Howard dean of fine arts Phylicia Rashad, who recently received backlash from students over her comments supporting Bill Cosby's overturned sexual-assault conviction, seemed to see it differently.)
It's possible that this external pressure is what finally moved the needle. At some schools, there are signs that student activism may actually result in meaningful change. As of October 26, Clark Atlanta University has signed the HBCU Student Quality of Life Agreement, holding administrators accountable for implementing third party housing inspections and increasing transparency around sexual assault on campus and Title IX protocols. Spelman College has agreed to process emergency grant applications for students experiencing houselessness based on the grassroots organizing work by National Action Network student organizers.
And on November 15, student organizers at Howard concluded their 34-day sit-in — the longest student occupation in the school's history — though the terms of the agreement with Howard remain confidential. In a statement to the student body, President Fredricks said, "The health and well-being of our students is the most important part of my job as president. As I have said before, even one issue in one of our dormitories is too many, and we will continue to remain vigilant in our pledge to maintain safe and high-end housing."
While neither the president nor student organizers have elaborated on the terms of the agreement, students said that they're not done pushing for change. "We're out here continuing the fight, it's not going to stop here," Vines said in a press conference on Instagram. "We're not done at Howard. There is a historic disconnect between administration and student bodies, not just at Howard, but at a lot of HBCUs."
Lettirose Cargill, a student organizer and sophomore at Howard, echoed this sentiment: "We are hoping that we can continue to hold them accountable so that we can be a part of the decisions made on our behalf beforehand." After all, it's hard not to question why it took this long. "It's been devastating, emotionally draining, and intellectually draining to deal with this as I begin my senior year," said McKenzie Andrews, a senior at Spelman College. "The chaos of the housing crisis stripped the soul of the campus."