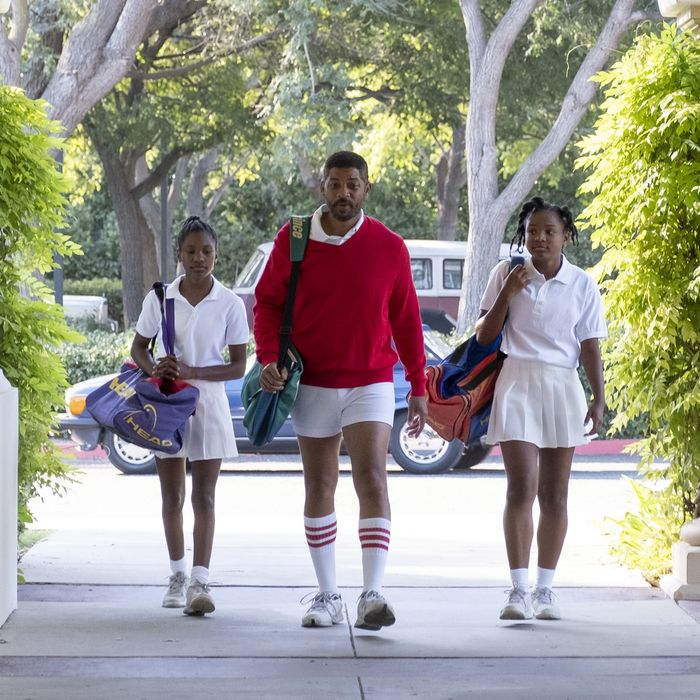 Call it the Call Me by Your Name effect: All anyone wants to see right now are men in tiny shorts. TikTok knows it, Paul Mescal knows it, and so, it appears, does Will Smith, because last week, we welcomed a new installment in the pantheon of cinematic man shorts: Smith's new movie King Richard, in which an endless assortment of unbelievably small shorts clings to Smith's powerful thighs.
King Richard follows the titular Williams as he prepares his daughters to become two of the most successful tennis players in history. Richard is a little … eccentric, to say the least: He pops into Pete Sampras's coaching session to poach his trainer; he won't stop talking about his 78-page plan to make his little girls champions; and when they're on the verge of becoming just that, he pulls them out of competitions to give them a normal life. But there's one thing about Richard that makes him exactly the same as all men like him: his clothing. Throughout the movie, Smith's character wears something I like to call "tennis-dad style," a powerful mélange of three-quarter zips, very high socks, and boxy polos that screams, My daughter's backhand will blow your freaking mind.
As a tennis dad, Richard spends a lot of time around, near, and in the vicinity of tennis. He's on the courts in Compton tossing balls to Serena out of a supermarket cart, on the sidelines of a coaching session filming Venus's serve, chatting up the wealthy white dads next to him at the benches of the juniors competitions. Will Smith actually plays very little tennis in this movie, yet he's constantly dressed as if he's about to. Tennis-dad style is worn not only when playing tennis but anytime the dad in question is in close proximity to a tennis court, as if to suggest someone will ask him to sprint to the baseline and fire off a few lobs. Nike polos, cotton memorabilia T-shirts from past Grand Slams, K-Swiss kicks — it's an athletic-adjacent way of dressing that makes it clear he's just here for his kid, but he could hit some balls around if anyone's down.
Another key element of tennis-dad style: tiny shorts. Yes, before Outdoor Voices embraced the five-inch inseam, before horny TikTok teens demanded that hemlines be raised, before even Milo Ventimiglia took his enormous thighs out for a jaunt, racquet-wielding fathers everywhere were leaning into this painfully sexy piece of apparel. You know what they say: The trunkier the leg, the shorter the short. Okay, no one says that, but it's true! Will Smith, a trunk-legged king, has the perfect gams for these small but mighty shorts.
And boy, does he wear a wide array of tiny shorts in this movie. There are red tiny shorts. There are blue tiny shorts. Tiny shorts with V-neck sweaters. Tiny shorts with polos and stripe-y warm-up jackets. As if the tiny shorts did not emphasize Smith's impressive upper-leg area enough, his character also has a habit of wearing unbelievably high socks, so that really the only part of his leg visible to us is a glorious expanse of pure, unfiltered thigh.
Smith's King Richard costumes seem to be pretty spot-on replicas of how the actual Richard Williams dresses. One particularly arresting combo of upper-thigh-hugging red shorts and a bright-magenta polo is actually a reference to a real outfit Williams can be seen wearing in photos of him wheeling Venus and Serena around in those tennis-ball-filled supermarket carts. Some shots of him playing alongside both girls have him squatting so low his micro shorts nearly disappear under a graphic tee he's playing in. Sometimes he would even match with his daughters, coordinating his signature micro bottoms with their (much longer) pleated skirts.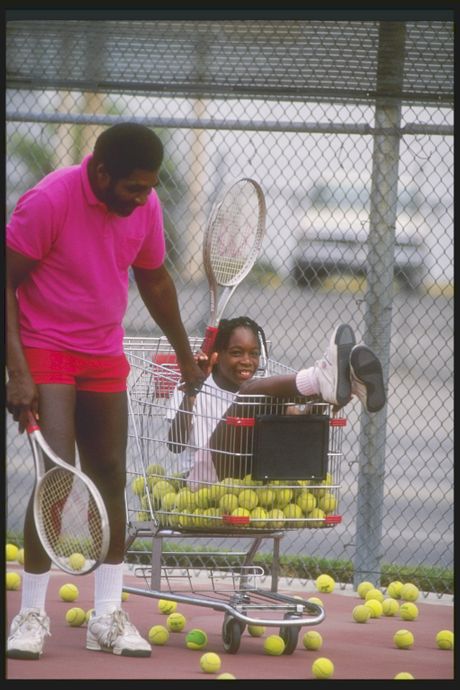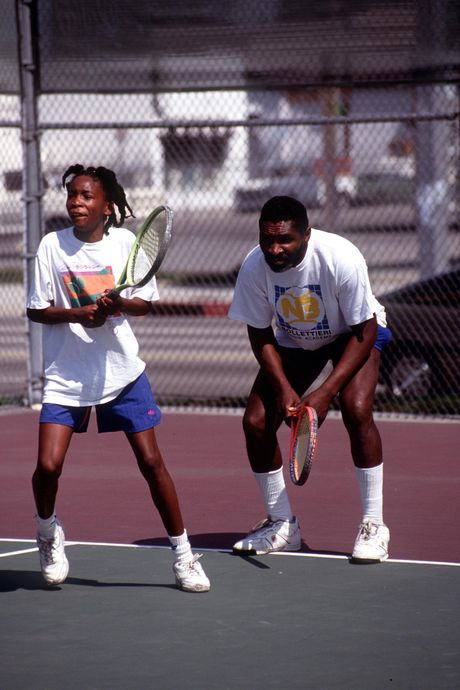 And Will Smith, who spent the last six months documenting a post-lockdown fitness endeavor that likely contributed to the excellent state of his thighs, is the perfect vehicle for Williams's shorts. He knows it, too: He recently shared some behind-the-scenes B-roll from the movie, writing, "Don't let the length of my shorts distract you from the depth of my thoughts." Frankly, I'm not sure that's possible, but for these thighs, I'll surely try!