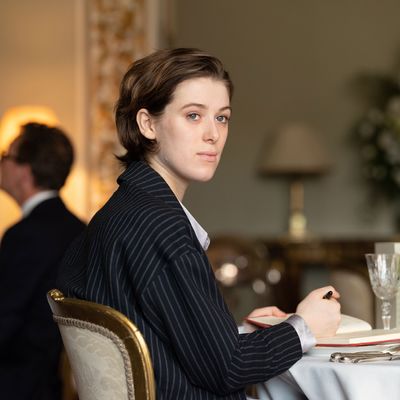 Mild spoilers for both films below.
Joanna Hogg's film The Souvenir contains one of the most devastating lines I've heard in a movie. Over Champagne in a stuffy hotel while planning a trip to Venice, Anthony (Tom Burke) tells Julie (Honor Swinton Byrne) about former girlfriends he has visited the city with, which makes Julie spiral but ask for more information. Anthony says, "Stop torturing yourself. Stop inviting me to torture you." It's a fleeting moment, but it's so packed with truth that it's heart-stopping.
Maybe we all haven't been in a Bad Romance, but Hogg's cinematic universe in her films The Souvenir and The Souvenir II (out now) manages to feel specific and universal at the same time. As Julie, Swinton Byrne (yes, daughter of Tilda, who plays her mother in these movies) plays an aspiring film director who is completely unmoored by her first romance with the older, endlessly charming, and troubled Anthony. She, of course, is head over heels for him. This romance has taken over every facet of Julie's brain, and her friends complain about how she has kept both them and her schooling at bay.
The films also have a meta aspect through which Hogg, through Julie, explores her own coming-of-age as both a woman and an artist. She doubles down on this in The Souvenir II, in which, in the aftermath of Anthony's addiction and sudden death, Julie has to deal with her grief and figure out what was fact versus fiction in their tumultuous relationship; she goes about processing all of this through her work as a director. Much like the first film, The Souvenir II doesn't have a traditional plot per se — but a Joanna Hogg movie isn't about plot, it's about feeling.
And feeling infuses everything, from the first use of Nico's song "Sixty/Forty," which echoes throughout the film, to Swinton Byrne's luminous performance. It's remarkable to watch Julie go from her initial heartache and grief-fueled detective work into finding out just who Anthony might have been. Anthony's presence looms large — a first love so huge, so destructive that, at the start of the film, it's hard to see how Julie will find her way out of it. For Julie, like Hogg, finding her way out of all-consuming grief means turning the relationship into film. Julie carefully reconstructs the walls of her flat and casts actors to play herself and Anthony, culminating in one of the film's most brilliant scenes. It cements Hogg as a director who understands the importance of aesthetics, from sweeping shots of the flower fields of Julie's parents' home when she's mourning down to her excellent silver pants (and a dozen other enviable outfits).
Both films have haunted me since I've watched them, and they leave a ghostly imprint when they randomly come into my thoughts. As a woman watching Julie struggle to fight for an uncompromised vision of her art against a board of all white dudes at film school, or experience her loving relationship with her mother, or even grit her teeth while listening to Anthony talk about his exes, there's bound to be a moment when you can't help but see your own reflection in the world that Hogg and Swinton Byrne have so carefully made.