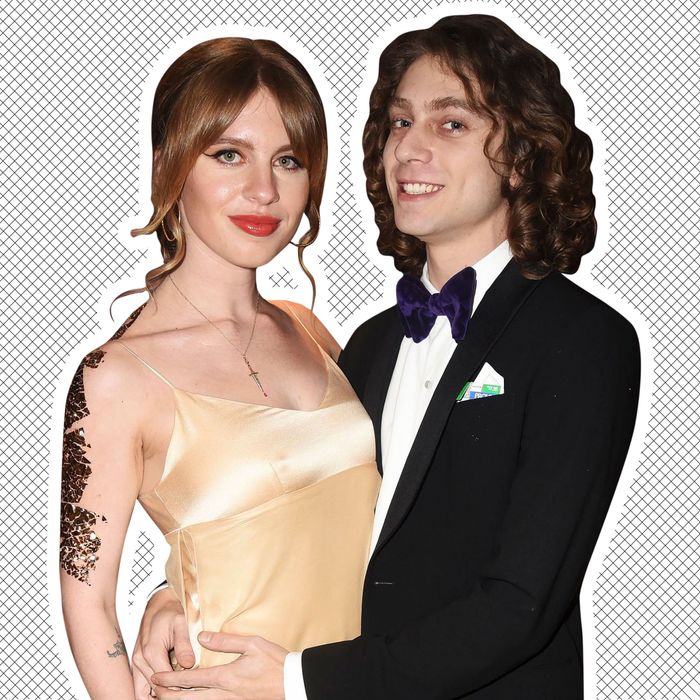 Photo-Illustration: The Cut. Photo: Jack Dredd/Shutterstock
Yet again we return to one of America's favorite pastimes: ogling the weddings of extremely wealthy women. Ivy Love Getty, the great-granddaughter of oil tycoon J. Paul Getty, got married this weekend in San Francisco, where she and her new husband, Tobias Engel, held a three-day extravaganza involving a '60s-themed disco party, a canine ring bearer, and upwards of 16 haute couture dresses. Billionaire oil heiresses — they're just like us! Except not at all. Vogue, of course, covered the nuptials in extensive detail, and, well, it sure was glamorous.
The entire affair kicked off with a mod-themed "British Invasion" pre-wedding party at the Palace of Fine Arts, where everyone had to put their phones in those locked pouches that controversy-covered stand-up comedians use for shows. Who was in charge of the music that no one was allowed to record, you ask? Mark Ronson, and also Earth, Wind, and Fire, who popped in for a live performance at some point in the night. The next morning, this couple held an IV-drip picnic for their presumably hungover pre-wedding-party guests.
As the actual wedding day began, the 14 bridesmaids joined up for a pajama party — with personalized Morgan Lane PJ sets, of course — and then put on their Maison Martin Margiela by Galliano couture dresses. Galliano, who also had a hand in the hair and makeup stylings of the bridal party, crafted a dress for Ivy covered in broken-mirror shards and a veil embroidered with walnuts and guitars, both nods to her grandmother and father, both of whom died last year. The main event took place at city hall (humble), which Getty's event planner had covered with teal and fuschia Persian rugs. Finally, black cars transported all the guests to Ivy's grandparents' famed mansion, which houses a small museum's worth of fine art.
Oh, the guests! Yes, let's talk about them. There was a real Mad Libs–y collection of celebrities, politicians, and European royalty present at this event. Anya Taylor-Joy, who apparently met Getty six years ago on her first day in L.A., served as maid of honor. Officiating the ceremony was … Nancy Pelosi? Also in attendance: California governor Gavin Newsom, Vogue editor Hamish Bowles, Olivia Rodrigo, and Princess Olympia of Greece and Denmark. I understand that Rodrigo is technically a qualified politician now, but I still find this a fascinating and utterly confusing mix. The most noteworthy guest of all, though, was Ivy's rescue chihuahua Blue, who was the ring bearer.
Where, you ask, did Ivy and her robust team of event planners get the inspiration for all this revelry? Certainly not online. The bride says the wedding theme was the Getty Mansion and her grandmother, who interior-designed every room in the house (presumably working around the Degas and Matisses). Unlike the Mason-jar- and string-light-obsessed masses, "I never had to turn to Pinterest for inspiration," she told Vogue.