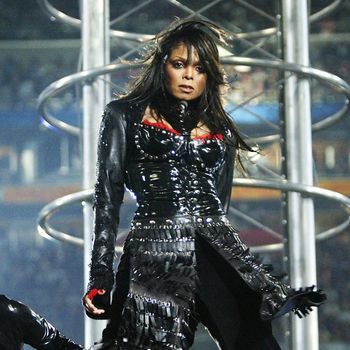 Photo: Frank Micelotta/Getty Images
In 2004, Janet Jackson — an artist renowned for her socially engaged and sexually liberating music — performed at the MTV halftime show for the Super Bowl in Houston, Texas. At the end of the set, she performed a rendition of "Rhythm Nation" that transitioned into Justin Timberlake's "Rock Your Body." Timberlake appeared — a surprise to the audience — and the two performed the song together. Jackson sang the women's refrain: "Talk to me boy." Justin sang his last line — "I'm gonna have you naked by the end of this song" — and pulled Janet's blouse, exposing her breast to over 140 million viewers.
Jackson's breast was exposed for 9/16th of a second. The damage she faced reverberated for years to come. The newest installment of the FX and Hulu docuseries The New York Times Presents revisits the now-infamous "wardrobe malfunction" moment and highlights the vicious misogynoir that followed.
The beginning of the documentary focuses on Jackson's career ascent, then spends most of its 69-minute run on the halftime incident itself. The event shot Timberlake higher in his solo career while Jackson was made to shoulder all of the blame, and watched her career plummet. Media outlets called Jackson a "trollop," a "bitch in heat," and "deplorable." If it sounds very cruel and overblown for less than a second of an exposed breast, it is. If it sounds like there was no equality of punishment, there wasn't — far too many people and networks were busy taking glee in punishing an iconic Black woman and artist. Here are the biggest takeaways from "Malfunction: The Dressing Down of Janet Jackson."
As young as 11, Janet faced body-shaming from the media.
Janet was just 11 years old when she starred on the CBS sitcom Good Times as Penny Gordon Woods, at a time when there wasn't much Black representation on television. White television executives tailored their content to what was "acceptable" for white audiences; from a young age, Jackson had to contend with double standards and pressures that didn't exist for white female artists. Janet also faced body-shaming on set. In an interview clip, Jackson remembers the wardrobe woman telling her they had to wrap bandages around Jackson's chest. The next season, Jackson was told she had to lose weight. "I immediately thought: As I am isn't good enough," Jackson said. The body-shaming occurred off-set too. Jackson's brothers nicknamed her "Donkey," or "Donk," because of her body shape. In one clip from 2011, Janet tells an interviewer about being "teased a lot" as a kid; how she was called names like "pig, cow, slaughter hog-horse."
"That had to be a lot of laughs," the interviewer responded.
Janet smiled. "Laughs for somebody."
Before the halftime show, Janet was seen as a sexually liberated tour de force in music.
Jackson signed her first recording contract at 14. Her father, Joe Jackson, controlled her early music career. Whereas Janet's siblings were outspoken about their father's controlling and violent nature, Janet insisted her father had never been rough with her. When, in one archival segment, an interviewer asks her if the spankings went too far, Jackson replied: "It was never something we didn't deserve."
Eventually Janet tired of her father's control and fired him. Now autonomous, she signed with A&M records. Her music was lauded for its messages of equality and empowerment; her sound moved from R&B to pop and back. Jackson was celebrated for reinventing what it meant to be a Black female pop star. Against a backdrop of '90s culture wars, parental advisory labels, and congressional dissent over "broadcast indecency," Janet put out music that reflected her sexual maturity and liberation. She was true to herself, but interview footage also suggests that she was hyperaware of the line between "class" and "crass" in the public eye. Especially for a Black female artist, the public, the documentary suggests, was just looking for a reason to punish a Black woman as successful and self-assured as Janet.
Media companies were already on edge about the halftime show.
When Viacom and CBS first merged, pressures surrounding "broadcast indecency" (underscored by racism and sexism) were on the rise. When the NFL network partnered with MTV for a halftime show, they wanted a performer who would appeal to red and blue states. They were wary of MTV, which had earned a reputation for being subversive and risqué. ViacomCBS made a shortlist of "acceptable" and appropriate candidates who also might "diversify" the show.
Janet's name was on the list. She accepted. In 2004, Janet had already been out of the spotlight for a few years. She'd been working on her newest CD, Damita Jo. As the halftime performance approached, networks fretted over how the acts — P. Diddy, Nelly, and Kid Rock — would fit into their wholesome Americana image. No one, it seemed, was worried about Janet. She knew how to be "acceptable," how to straddle lines.
To satisfy CBS's demands for family-friendly entertainment, MTV invited Justin Timberlake to join the halftime performance. His performance was meant to be a surprise, with MTV releasing a press release that teased "shocking moments" from the show.
What went down the day of the performance is still under debate.
Timberlake was touring in Europe and had little rehearsal time with Janet. The original plan was for Timberlake to pull off Jackson's tearaway skirt and reveal her bodysuit underneath. But the staging didn't work, and the plan was scrapped.
According to a halftime producer, Janet's wardrobe stylist went shopping for her sunbelt nipple shields. A former halftime producer claimed that Jackson, Timberlake, and the stylist met up in Jackson's dressing room to choreograph their own plan, one in which Timberlake would rip Janet's blouse and reveal a lace red bra. But when he pulled Jackson's bustier, the bra came off too.
Janet's breast was so briefly exposed that producers didn't notice what happened until the phones started ringing. After the show, Timberlake hung back, offering coy interviews. ("That was fun. Quick, slick, to the point.") A visibly mortified Janet fled the scene.
Janet was vilified by networks, the public, and the show's production team. The fact that she'd adorned herself with a nipple ring led people to think she had planned the exposure — it was unfathomable that she could have worn the nipple ring just because. In her interview with the Times, a former halftime producer says that Timberlake "manned up" by sticking around and apologizing, and that Jackson "betrayed" her and "plotted" the malfunction behind the network's back. Jackson eventually issued two apologies, including a video in which she took responsibility for the idea and claimed the networks had no clue (she later told Oprah she regretted apologizing for what had been an accident). Still the public resented her. They resented her for fleeing, for not apologizing immediately, for not "taking the heat."
After "Nipplegate," Janet's career nosedived, while Timberlake's soared.
An investigation was launched. Some of those involved in the halftime show were fired and others were deposed. MTV was never invited to perform at the halftime show again. The fallout to "Nipplegate" was swift, brutal, and fell totally on Jackson's shoulders. Criticism leveled by talk-show hosts and magazines was laced with misogynoir. News outlets jumped on the opportunity to punish and exclude Janet. The New York Times even critiqued the aesthetic of Janet's breast, calling it a "normal middle-aged woman's breast" in a 2004 article. A talk-show host calls Janet, who was 37 at the time, "almost geriatric." The Damita Jo album tanked. Radio stations wouldn't play Janet's songs. MTV didn't play her music videos.
Meanwhile, Timberlake's solo career soared. Though he once appeared to idolize Janet (while in 'N Sync, he opened for her Velvet Rope tour; and the documentary plays a clip of him kissing a Jackson poster) he abandoned her after the incident, riding the coattails of the prevailing sexist and racist perceptions of Janet to distance himself from the situation.
Everyone demanded Janet's contrition, and when they had it, it was never enough.
Timberlake, capitalizing on suggestions that Jackson orchestrated the incident for attention, kissed the rings of conservatives, and said he felt he didn't need "publicity like this, especially something of this magnitude." No matter how many apologies Jackson made, or how contrite she appeared on video, it was never enough. The now-disgraced Les Moonves, who was then the CEO of CBS, was out for blood. When the Grammys neared, Moonves wanted Timberlake and Jackson to publicly apologize at the event. Timberlake acquiesced. Jackson unscheduled herself from the show.
After the Federal Communications Commission investigated the Super Bowl incident, lawmakers proposed a Broadcast Decency Enforcement Act. The Act was proposed in 2004 and became public law in 2006. Meanwhile, companies and white executives that long profited off Jackson deserted her. Jackson and her record label parted ways. Her role as Lena Horne in an upcoming biopic was rescinded. A figure of Mickey dressed in a Rhythm Nation costume at Disneyland got taken down. Justin Timberlake kept his McDonald's sponsorship. "I'm lovin' it," he crooned in the ads.
We'll never know how much "Nipplegate" cost Janet.
As with Framing Britney Spears, Malfunction never interviews the artists it most closely observes. While the documentary doesn't offer us much new information, what it dissects — the overblown cruelty that followed a woman's briefly exposed breast — is infuriating. Also infuriating: the knowledge that, in 2018, Timberlake was invited back to the Super Bowl, where he sang "Rock Your Body" during his halftime performance. What he costed Janet is insurmountable and unknowable, and while it can't be repaid, there's been a number of strides among her fans, like the #JanetJacksonAppreciationDay trend on Twitter, the skyrocketing of the Control album to number one on the charts 35 years after its release, and her induction into the Rock & Roll Hall of Fame. After Framing Britney Spears, Justin Timberlake released a statement on his Instagram, trying to atone for profiting off systemic misogyny and racism, and specifically addressing Britney and Janet, women he claimed to care for and respect. Both apologies feel hollow, too-little-too-late Instagram squares. His message to Janet feels especially performative, a preemptive attempt to clear his name, while for so long he was complicit — so many of us were — in slandering Janet's.