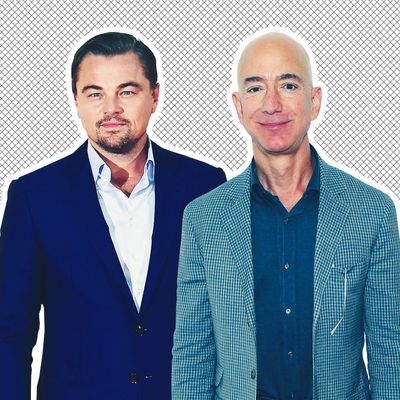 Leonardo DiCaprio, an actor, and Jeff Bezos, a rich man who does not need Twitter.
Photo-Illustration: The Cut; Photos: Getty Images
If you are among the richest people in the world, you do not need Twitter. Should you disagree with this notion, I would like to direct your attention to a recent tweet from Papa Amazon himself, Mr. Jeffrey Preston Bezos. On Monday, Barstool Sports tweeted a clip of Leonardo DiCaprio talking to Bezos and his girlfriend, Lauren Sánchez, at the 2021 LACMA Art+Film Gala. Sánchez is looking up at DiCaprio the way most of us would, were Leo to give us a little side hug. (Also, if you're unsettled by DiCaprio appearing to be a full foot taller than both Bezos and Sánchez, fear not: It looks like he's just on some steps.) Accompanying the video are the words "Leo is Mr. Steal Yo Girl." This is, of course, Bezos's activation phrase.
Bezos responded to the tweet with a photo of himself, shirtless, leaning on a hiking-trail sign that reads "DANGER! STEEP CLIFF. FATAL DROP." Alongside the photo, Bezos wrote, "Leo, come over here, I want to show you something …," tagging DiCaprio in his tweet. Hmm … okay, Jeff! Let's workshop a bit.
Love that you really went for it with the silly implication that you'd push Oscar-winning actor Leonardo DiCaprio off a cliff for being near your girlfriend. Very fun! However, I would have liked to see something with a little more specificity. For example, you could have suggested you'd launch him into space using your cool phallic rocket. Also, the addition of the shirtless photo is a bit much. Really takes the toxic masculinity to an uncomfortable level. Perhaps next time, you pick either the shirtless photo or the playful threat of death.
Just kidding. There will be no next time, as I would like to make this modest proposal: No more Twitter for the billionaires. For too long, we have tolerated the rich trying their hardest to be funny online. We've laughed and applauded obligatorily, like, "Haha! Good one, sir! Money, please?" But Twitter should only be for the dumb little thoughts of common folk, with the occasional opportunity to see Ted Cruz liking pornographic tweets.
We do not need to keep pretending Elon Musk is funny. No one needs to bear witness to attempts at relatability by people like Mark Zuckerberg, Bill Gates, or anyone else with the net worth of a small country. Jack Dorsey, Twitter CEO, is worth an estimated $13.1 billion. Therefore, he too should be banned from the platform he created. I understand this means sacrificing the good tweets of billionaires like Rihanna and Oprah. It is a small price I am willing to pay if it means never having to see another very rich man's very poor attempt at comedy.
It's fine. Rihanna and Oprah can still have Instagram.