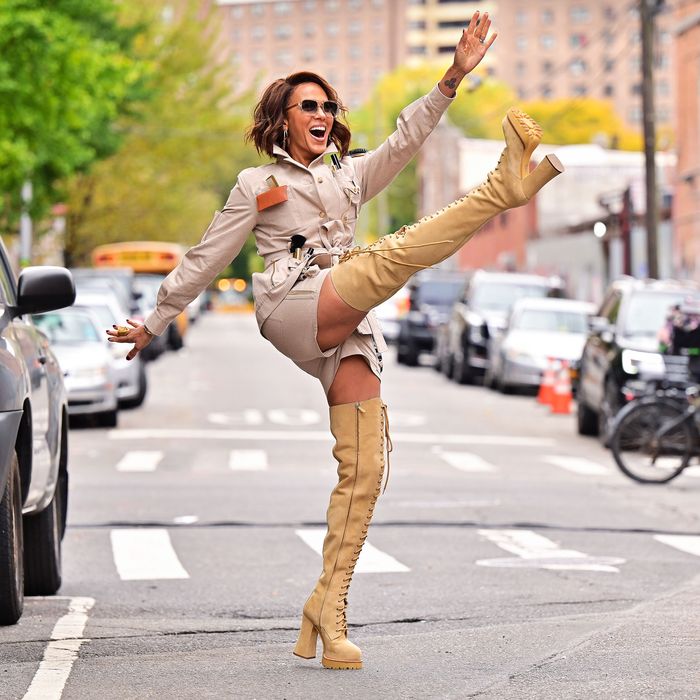 Photo: James Devaney/GC Images
If you're feeling especially grounded today, please allow me to knock your psyche off its course via another series of destabilizing photos from the set of And Just Like That …, the Sex and the City reboot that is, against the wishes of Kim Cattrall, happening. First up: this shot of Nicole Ari Parker, whose character Lisa Todd Wexley is joining the show's core foursome as a purported replacement for Cattrall's Samantha.
Pockets. POCKETS!!!! Everyone wants them but no one can have them because Nicole Ari Parker has them all. I'm counting at least 18 compartments in which to put things in this getup, 10 of which are filled with various makeup and/or grooming tools. Lisa is described only, per "Page Six," as a "Park Avenue mother of three," so I'm not clear on her profession, but if it is makeup artist, boy is she leaning in.
If you can manage to see past this abundance of pockets, you may notice Parker is doing some high kicks in what I fear is a pair of … thigh-high Timberlands? Hmm. What can I say about these besides, Boy, that's a lot of laces?
Which brings us to our next composition of disorienting items. Here is Cynthia Nixon, who we know is perfectly capable of possessing impeccably coiffed hair, wearing what is simply a bad wig. Is this the outfit that will inspire the next generation's entire Depop grid? I'm concerned.
More importantly, though, Sarah Jessica Parker is inexplicably holding a paint roller while fully dressed, tote bag in hand, in the streets of New York. Why? Why not! If these antics really are fakeouts meant to throw fans off the scent of spoilers, I'm now convinced the show has spent more time constructing these pretend scenes than actually filming the ones in the show. Give this poor props team a rest, please!
Meanwhile, over on Sarah Jessica Parker's Instagram, the star posted a carousel featuring updated versions of various iconic pieces from the original show, including her enormous closet, her gold Carrie necklace, a Cosmopolitan, and a lot of SJP-branded heels. One photo is particularly vexing: It shows an ancient-looking laptop adorned with a sticky note (yes, like that sticky note) bearing the Wi-Fi password "AJLTDec2021." Pulled up on the laptop is a TextEdit window (???) with the words "And just like that …" typed out. This, I gotta say, does track with Carrie's hostility toward modern technology. Does this mean we can expect her to be reinventing the Notes app apology as … the TextEdit apology?
And Just Like That … comes out in December, which means we have at least 30 more days of wacky poses to endure. What will the next month bring us? A jumpsuit made entirely of oversize bobby pins? Floral-print shower caps? Kristin Davis vacuuming in Central Park? Maybe even … a guest appearance from Kyrsten Sinema's wigs? Here's hoping.