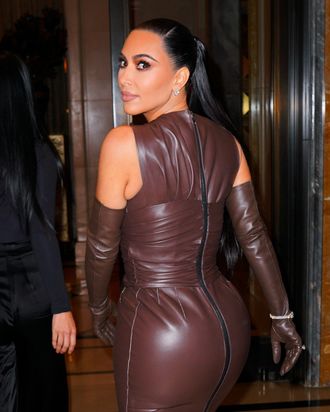 The Kete saga continues. (Kavidson? Pim? We're gonna need an official couple name for these two.) On Saturday, November 27, Kim Kardashian and Pete Davidson were seen hanging out in Beverly Hills together, and this time they were kind enough to give fans some photographic evidence.
Kim and Pete were reportedly chilling at the Beverly Hills Hotel this Thanksgiving weekend when they were spotted by a music journalist from Amsterdam, Paul Barewijk, who had stopped at the hotel for tea and to call his mother. "I was sitting at the bar looking around while calling and saw Pete Davidson," he told E! News. "But as I looked one more time, I saw it's Kim Kardashian."
The writer, who had just come from a pilgrimage to the Fendi x SKIMS pop-up on Rodeo Drive — the store was closed, so he got a selfie — asked Kim for a photo, apparently taken by Pete, and then asked the Saturday Night Live star for one too. Sadly, he didn't snap a pic of the two of them together, but his matching photos really do say a thousand words.
According to Barewijk, the couple left soon after, but he told E! News that when they were there, he noticed, "They looked really happy, were chilling and drinking, looked in a happy place … They sat next and close to each other." He later told People that it "looked like a date." It's not Kravis-level PDA, but I guess it'll do.
This is the second time this week that Kim and Pete were seen dining out together. So, if they're trying to keep their romance a secret, it looks like that's pretty much a lost cause. Now the question is will they go public and, if so, how? Personally, I'm rooting for a Pete Davidson guest appearance on Kim and her daughter North West's new TikTok page.