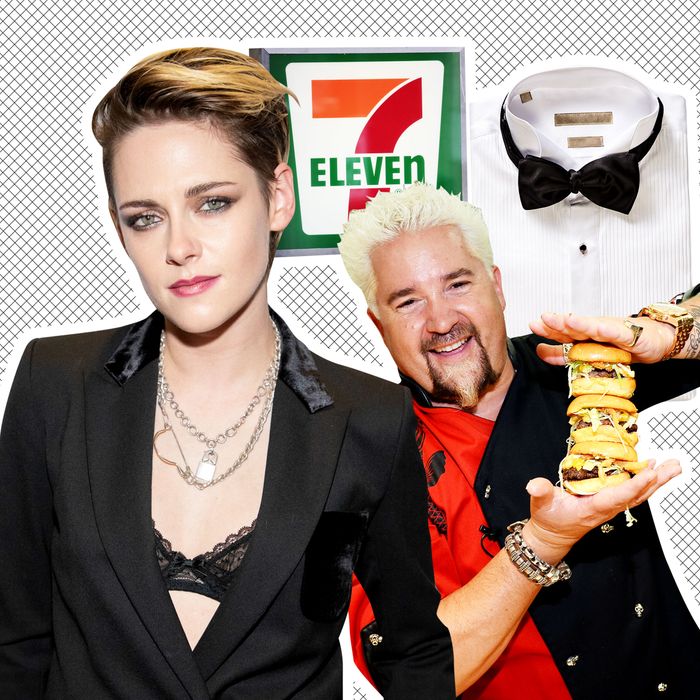 Photo-Illustration: by The Cut; Photos: Getty Images
It's been a big week for celebrity engagements, and now, people are locking in their celebrity wedding officiants. Kal Penn has secured Cardi B to marry him and his partner of 11 years, and Kristen Stewart's marriage to screenwriter Dylan Meyer will apparently be officiated by none other than Guy Fieri. Stewart manifested this dream earlier in the week on The Howard Stern Show, where she noted that Fieri officiates a lot of gay weddings, adding that "the idea of that man — that sweet, sweet spiky-headed man — coming to our wedding and officiating it, it just makes me laugh so much."
This morning, Fieri responded to Stewart's request during her live interview on the Today show, saying, "I'm all in." Her response was utter shock, followed by asking about his address and whether he lives in L.A., which sounds to me like it's really happening.
K-Stew revealed that she is engaged on Tuesday during her interview with Stern, sending the queer world into a frenzy. She shared a few details about what she wants her wedding to be like, explaining that it would be a low-key event at their home in L.A. And apparently, she wants Howard Stern to be there? She said, "Full standing offer: Come to the wedding. We welcome you." He responded, "I would go. I want to see it." Looks like we're in the same boat, Howard.
Though Stewart told Stern that she "wanted to be proposed to," the rest of her wedding plans sound anything but traditional. She said she doesn't want to wear a wedding dress, and instead plans on wearing "the best pair of Levi's ever" with a cutoff tuxedo T-shirt and being barefoot. "I want to see her laugh hysterically when she sees me," Stewart said of Meyer.
Stewart also doesn't want any walking down the aisle — only vows and partying with her friends, which now include Stern. Instead of a live band, there will only be classic wedding music and hits, because she wants to dance. For food, she wants a mixture of "caviar and fucking 7-Eleven." I don't know how Fieri's going to feel about that one, but I guess we'll see.