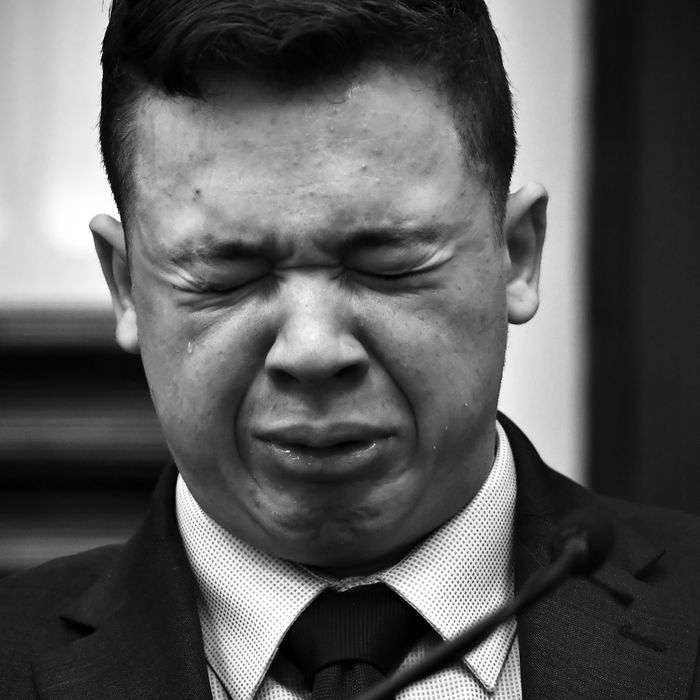 Kyle Rittenhouse sobs on the stand.
Photo: Pool/Getty Images
On Friday, a jury found Kyle Rittenhouse not guilty of charges he faced for killing two people and shooting another with an AR15 rifle at Black Lives Matter protests in Kenosha, Wisconsin, on August 25, 2020. After three and a half days of deliberation, a jury acquitted Rittenhouse of all felony counts, including first-degree intentional homicide, first-degree reckless homicide, attempted first-degree intentional homicide, and two counts of first-degree recklessly endangering safety.
Rittenhouse, who was 17 at the time of the shooting, lived in Antioch, Illinois; he crossed state lines, picked up an illegally obtained AR15 rifle from a friend's stepfather, and embedded with a self-described militia purportedly protecting a local business from demonstrators out after curfew. That week, Kenosha saw sustained protests after local police shot Jacob Blake, a Black man, in the back with his children watching. Rittenhouse — a former police cadet and a Trump supporter with a strong "Blues Lives Matter" social-media presence — told a right-wing media outlet that he was there doing his "job," though he had taken it upon himself to help guard the car dealership. And when a confrontation broke out, Rittenhouse fired at a group of people appearing to chase him, killing 36-year-old Joseph Rosenbaum. Shortly after that, he shot and killed 26-year-old Anthony Huber, also injuring 26-year-old Gaige Grosskreutz.
With Fox News personalities hailing him as a hero, and even the then-president defending him, Rittenhouse was charged with first-degree intentional homicide days later. Kenosha prosecutors also charged him with two counts of first-degree recklessly endangering safety, one count of first-degree reckless homicide, one count of attempted first-degree intentional homicide, one count of possession of a dangerous weapon by a person under 18, and also for violating curfew. He pleaded not guilty to all, claiming he shot his victims in self-defense. His trial began on November 2.
What did the prosecution argue?
In his opening statements, prosecutor Thomas Binger emphasized that although hundreds of people "experienced the night of August 25, experienced the chaos — the only one who killed anyone was the defendant, Kyle Rittenhouse." Binger positioned Rittenhouse as the instigator of deadly conflict, one of the outsiders drawn to unrest in Kenosha "like moths to a flame."
Among the dozen-plus witnesses the prosecution called were Dominick Black, a friend of Rittenhouse's who admitted to testifying in a bid to avoid prison time (Black bought Rittenhouse his AR15, illegally); an FBI agent; a Kenosha resident who witnessed and recorded protests that night; Grosskreutz, the only person Rittenhouse shot who survived the shootings; and two of his fellow militiamen, who testified to Rittenhouse being "underequipped" and inexperienced. One of these witnesses, Jason Lackowski, said that he did not think the night called for any force past shouting. He also described Rosenbaum as "acting very belligerently" but not in a way that indicated he might endanger himself or anyone else. "I turned my back to him and ignored him," Lackowski said. "I really didn't see him as a threat at all, to be honest with you."
Prosecutors also questioned Richard McGinnis, the Daily Caller reporter who interviewed Rittenhouse minutes before the first shooting. Rittenhouse described himself as an adult and also a medic (he was neither) — McGinnis saw Rosenbaum chasing Rittenhouse and followed. He said he saw Rosenbaum lunge for the AR15 and heard him say "fuck you" just before Rittenhouse fired four times. McGinnis tended to Rosenbaum as the purported EMT ran away; Rittenhouse has been charged with endangering his safety.
The prosecution has also relied heavily on imagery: videos and photos from the night in question, but also of the Rosenbaum and Huber's wounds. Overall, there has been a sense from commentators and legal experts that this isn't going so well for the prosecution, as some of the witnesses (McGinnis, one of the militiamen) have seemed to support the defense's arguments. The prosecution rested its case on November 10.
What did the defense argue?
In short, that Rittenhouse acted in self-defense. In opening statements, his lead attorney, Mark Richards, painted his client as a benevolent kid doing his part to support Kenosha when aggressive protesters "attacked him in the street like an animal." Rittenhouse, Richards insisted, only "protected himself" and "protected his firearm so it couldn't be taken and used against him or other people who Mr. Rosenbaum had made threats to kill." The defense has called Rittenhouse himself as a witness and also use-of-force expert Dr. John Black, who previously proposed that Rittenhouse was in "reactionary mode" when he fired. Prosecutors tried to get Black's testimony dismissed, without success. The defense has several more witnesses lined up.
What did Kyle Rittenhouse say in his testimony?
Rittenhouse delivered a mostly measured testimony on November 10 — "composed, confident and sometimes quizzical," per the New York Times — except for the portion in which he broke down sobbing. The crying interlude came as he recalled the moment when he shot Huber, Rosenbaum, and Grosskreutz; it featured a lot of heavy breathing and gasping for air, but the quality of the tears (did this man's face get wet?) failed to convince many viewers. Nevertheless, the judge granted a break while Rittenhouse pulled himself together.
In Rittenhouse's version of events, he came to Kenosha to dispense medical aid and put out the fires protesters set. (He is not an EMT, he admitted on the stand.) He claimed to have cleaned up graffiti. He said he joined the militia outside a local car dealership because its owner had asked for help. When Binger asked why Rittenhouse felt the need to insert himself into a combustible situation in a city where he didn't even live — and why he brought along his AR15 if his sole goal was actually to provide aid — Rittenhouse painted his decision like a reasonable precaution. "I brought the gun for my protection," he replied. "I didn't think I would have to use the gun and end up defending myself."
Self-defense was the banner theme of Rittenhouse's testimony. Rosenbaum, the teen insisted, appeared menacing from their first encounter, carrying what Rittenhouse said was a "steel chain." He said Rosenbaum threatened to kill him twice: "If I catch any of you fuckers alone, I'm going to fucking kill you," was the quote Rittenhouse supplied. "He said, 'I'm going to cut your fucking hearts out.'" And he said that when Rosenbaum chased him, he felt fear for his life even though Rosenbaum wasn't armed: "If I would have let Mr. Rosenbaum take my firearm from me, he would have used it and killed me with it and probably killed more people." Huber, he continued, tried to take away the gun while hitting him in the neck with a skateboard: "I can feel it pulling away from me, and I can feel the straps coming off my body. I fire one shot."
Grosskreutz, meanwhile, lunged at him and pointed a Glock pistol at his head, Rittenhouse said — though video footage shows Grosskreutz crouching with his hands in the air just before Rittenhouse fired. Yet Grosskreutz, an actual paramedic, testified earlier in the week that he drew his weapon believing him to be an active shooter but put his hands in the air as Rittenhouse reracked his AR15. Grosskreutz said he took this motion to mean "the defendant wasn't accepting my surrender."
According to Rittenhouse, though, he didn't want to fire any of the eight shots he ultimately did. "I didn't do anything wrong," he insisted. "I defended myself."
Would you say the judge has behaved, I don't know, normally and appropriately during this trial?
Though I am not a trial attorney, I would say that the judge does not seem particularly well dispositioned toward the prosecution. Ahead of the proceedings, Kenosha County judge Bruce Schroeder declined to issue a new arrest warrant for Rittenhouse when the teen went missing while out on bond. (His $2 million bail having been crowdfunded by his MAGA fans.) Per The Nation, he allowed the defense to admit video of police officers praising Rittenhouse and other armed vigilantes on the night in question but did not allow the prosecution to use video of Rittenhouse saying he wanted to shoot "looters" on a previous occasion. Photos of Rittenhouse posing with Proud Boys would also be excluded. During jury selection, Schroeder argued with a man who insisted his support of the Second Amendment was too strong to allow him to remain impartial, telling him: "I want this case to reflect the greatness of Kenosha and the fairness of Kenosha, and I don't want it to get sidetracked into other issues. I don't care about your opinions on the Second Amendment." (It's unclear whether or not the gun guy made it onto the jury.)
Before the trial began, Schroeder also barred prosecutors from using the word victim to describe the three men Rittenhouse either injured or fatally shot, ruling that victims could be prejudicial against the defendant. But arsonists, looters, rioters? Totally fine by Schroeder so long as Rittenhouse's team had evidence to support those assertions. By that logic, victims should also work provided prosecutors could back up their claim, but maybe in hindsight all of this winds up looking like a series of clues as to where we were headed. Anyway, it's worth remembering that Grosskreutz — the only survivor of Rittenhouse's open fire — has not been charged with any of the above crimes.
Now that the trial is underway, Schroeder has repeatedly interrupted and reprimanded prosecutor Binger, seemingly trying to stop the attorney when he questioned why Rittenhouse felt a gun was necessary for protection if he didn't think he would need to shoot anyone. On November 10, Schroeder spat, "I don't believe you!" at Binger after the defense accused him of trying to sneak in a line of questioning that had been excluded pretrial, something Binger stressed he had done "in good faith."
It's been rough:
Then, when the defense team asked for a mistrial following Rittenhouse's cross-examination, Schroeder's phone started ringing loudly in the courtroom. His ringtone? "God Bless the USA," a song that has recently served as former president Donald Trump's entrance music at rallies. Make of that what you will.
On November 15, Schroeder dropped the misdemeanor charge against Rittenhouse: possession of a dangerous weapon by a person under 18. Per the Hill, he ruled it "unclear whether the rifle Rittenhouse used qualified under the Wisconsin statute," which he believes to have been badly written. That brings the number of charges against him down to five felonies.
Jury deliberations began on November 16, at which point Schroeder let Rittenhouse pick the slips of paper that would determine which 12 jurors would decide his verdict and which would be alternates — something the clerk of courts usually does. Schroeder defended his decision on Wednesday while the jury deliberated, citing a case with a Black defendant where a court official drew the number of the only Black juror as an alternate and saying he thought it better for the defendant to draw the alternates.
On Friday, November 19, the almost completely white jury acquitted Rittenhouse on all counts.
This article has been updated.