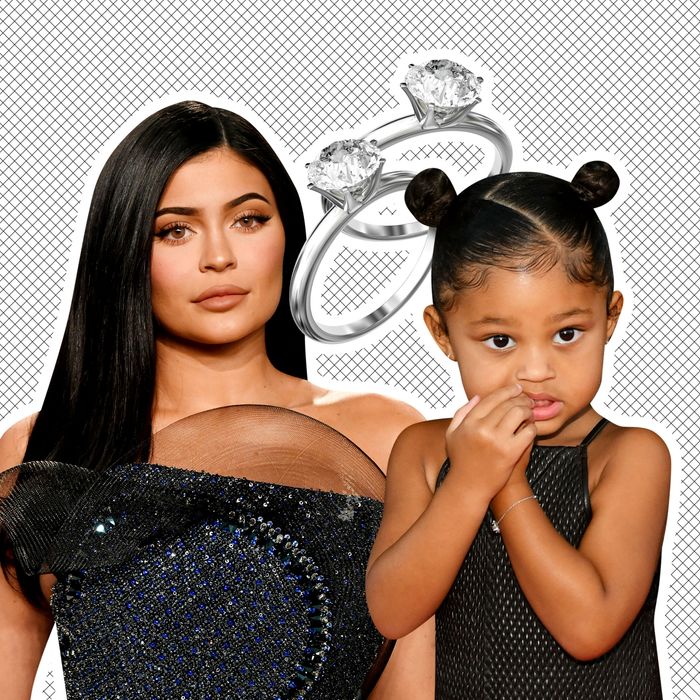 Diamonds are … for babies?
Photo-Illustration: by The Cut; Photos: Getty Images
Imagine having so much money that you look at a diamond ring and think, "This is a good gift for a toddler." Such is the life of Stomi Webster, the 3-year-old daughter of Kylie Jenner and Travis Scott. Yesterday, Jenner posted a picture of Scott's most recent gift to their daughter, writing, "daddy got us matching rings." Haha, what?
Indeed, in the picture, Jenner, who is currently expecting her second child with Scott, and Stormi are wearing coordinating rings adorned with two diamonds each. Per "Page Six," one diamond expert estimated Jenner's stones to be "5 or 6 carats each, with an estimated value of $325,000 for both" and Stormi's to be "1.5 carats each, with an estimated value of $120,000 for both." Meaning the estimated total worth of the gift would be nearly $450,000. Today I ordered coffee on DoorDash — very Kylie Jenner of me —and plan to feel a little guilty about the $1.99 delivery fee for the rest of the day.
The only relatable part of this picture is Stormi's nails. Also, they make ring bands small enough to fit a 3-year-old's fingers?? This is one of my many questions: Do you think Stormi took the ring off immediately? Did she react to the ring at all? How long after being given the ring did Stormi try to put it in her mouth? If I were a 3-year-old with a diamond, my instinct would probably be to eat it.
At this point, Stormi is more than accustomed to over-the-top presents. She can add this new diamond ring to her collections of other inexplicable gifts which include an artisanal pony, a small mansion, and a school bus. Though at this point it seems there is nothing this child doesn't have, I do have a few predictions about what the 3-year-old might be gifted next:
An entire constellation — like buying a star but for rich people

A portion of the imminent space billboard

A yacht

A mini-replica of Nobu for when she doesn't want to cook at her mini-mansion

A Cameo from every single person who is on Cameo

A small country
Only time and Instagram pics will tell.