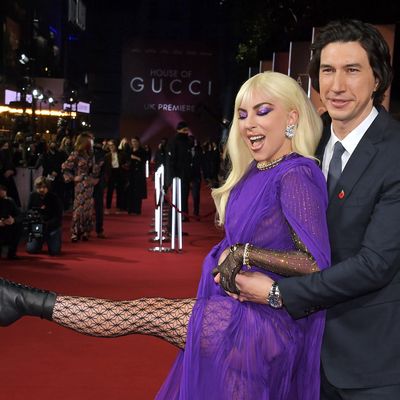 May I draw your attention to those
boots
?!
Photo: Dave Benett/WireImage
Celebrity heights are important to me. I want to know which actors could see above my refrigerator, which singers I could potentially give a piggyback ride to. As a celebrity-height aficionado, I of course am well aware that Lady Gaga is five-foot-one and Adam Driver is about six-foot-two. Thus, we must discuss their 13-inch height difference in the forthcoming House of Gucci movie.
While you may be curious about the accuracy of the story or seek an explanation for why Gaga spoke in her House of Gucci accent for nine months, I would like to know how they made sure this tall man didn't tower over my small, powerful mother in every frame. What movie magic kept the camera operators from cutting off all of Driver's head or having only a few wisps of Gaga's hair visible in close-ups? (Note: I don't actually want to know. I'm sure there were heels and apple boxes involved. Please, just let me play in this space.)
Gaga is no stranger to tall men. Bradley Cooper, her co-star in A Star Is Born, is reportedly six-one, a mere inch shorter than Driver. Cooper, however, lacks the kind of Tall Boy energy Driver exudes. It seems more accurate to me that Cooper is five-11 and Driver is the same height as a small giraffe.
Although undeniably powerful, Gaga and Driver's 13-inch height difference isn't the biggest in cinema. While I can't say with certainty which movie pairing takes that title — thanks for nothing, celebrity heights dot com! — I can give you a wonderful array of other co-stars with significant height differences. Gaze upon them and say, Oh wow! That's a big difference in height!
Jada Pinkett Smith (five feet tall) and Channing Tatum (six-one) in Magic Mike XXL
Will Smith is six-two, so a big ol' height difference is nothing new to Pinkett Smith. However, if she is in fact joining the cast of Knives Out 2, I do require at least one (1) scene in which she and Dave Bautista (six-four) stand next to each other for a little bit.
Sarah Jessica Parker (five-three) and John Corbett (six-five) in Sex and the City
A 14-inch height difference! Please clap! If anything, this is a valid reason to look forward to the SATC reboot And Just Like That …
Kristen Bell (five-one) and Jason Segel (six-four) in Forgetting Sarah Marshall
Fifteen inches, baby!
Zoë Kravitz (five-two) and Robert Pattinson (six-one) in the forthcoming The Batman
Although I cannot be bothered with any more superhero movies, I do honor and admire this 11-inch height difference.
Dwayne Johnson (six-five) and Kevin Hart (five-two to five-four) in Jumanji 2
Because Hart likes to be elusive about his height, there's anywhere from a 13-inch to a 15-inch differential between these two. Regardless, I love it!
Danny DeVito (four-ten) and Arnold Schwarzenegger (six-two) in Twins
I'd be remiss not to mention the OGs. Their 16-inch height difference was basically the entire plot of this movie.
Reese Witherspoon (five-one) and Nicole Kidman (five-11) in Big Little Lies
Big Little Lies, indeed!
Congrats to Gaga and Driver on joining the ranks of these very fine co-stars with different heights! And, I guess, congrats on House of Gucci, which opens on November 24.