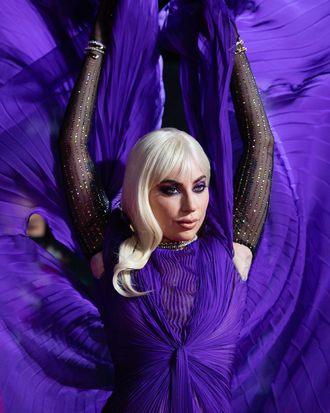 Father, Son, and Lady Gaga.
Photo: Samir Hussein/WireImage
Mommy's home! Yesterday, Lady Gaga joined TikTok, much to the joy of little monsters everywhere. Think of it as an early holiday gift, a blessing from the Mother herself. (Or should I say Madre Mostro?) Prepare thine paws; GagaTok is upon us.
There's something for everyone in Lady Gaga's first TikTok. First, she is speaking in her Patrizia Gucci accent, something she apparently did for nine months while filming the House of Gucci movie. (We are in the Stefani Angelina Germanotta era and we will pay our respects accordingly.)
Then Gaga gives us a little transition into her House of Gucci red-carpet outfit, a purple gown that is less a dress and more a feeling, an emotion. It's a statement piece, and that statement is, "Have you seen my gorgeous legs? They are in fishnets." Oh, and Gaga is also wearing the House of Gucci wedding ring in the video; you know because she points to it. Bravissima!
You'd think there wouldn't be much to dissect from a 20-second video clip. To which I say, Watch me. First of all, the flowers! There are so many! Give us a flower tour, Gaga! Second, the location. Where are we? What is this palatial entrance in which we are standing? Most importantly, the implication of a fan! When Gaga transitions into her House of Gucci outfit, there is suddenly a glamorous breeze causing her dress to billow. At what point did Gaga request the fan? Is Gaga Fan Duty a job I can sign up for?
If this is her debut, what else can we expect from GagaTok? More outfit compilations? An Emily Mariko–style cooking vlog? Will Gaga do any of the little TikTok dances? Perhaps a lip sync or two? I, for one, will take any crumb of a TikTok she gives us and savor every moment.