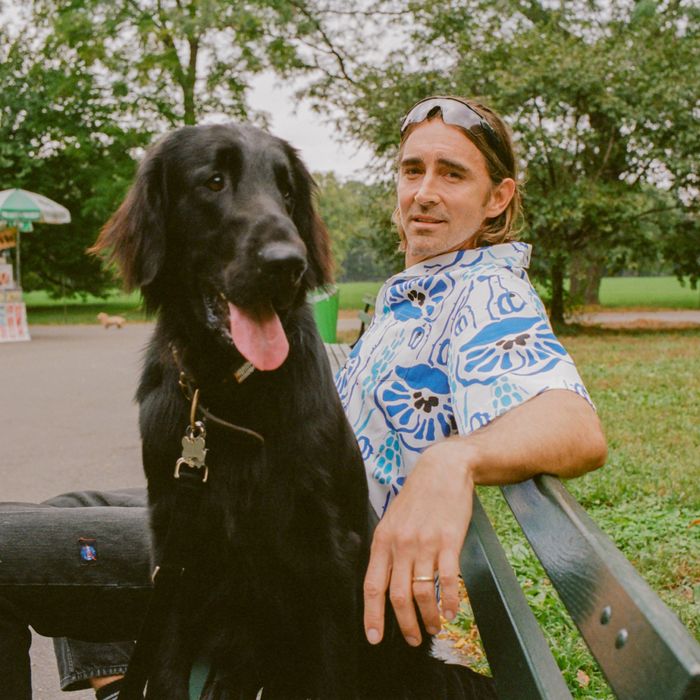 Dream Date: Brushes with our celebrity crushes
"That was my dick, Gus." Gus has just jumped up onto Lee Pace's lap and accidentally pawed at the actor's manhood. (Gus is Lee Pace's enthusiastic black retriever, by the way.) "I was hoping this article would be about how well-mannered my dog was," Pace jokes.
It's understandable, Gus. Over the past few months, there's a fair chance you have stumbled across a picture of the 42-year-old actor in the wild (i.e., on Twitter or Instagram) either from his own ever-increasingly popular Instagram account or at September's Met Gala wearing a Thom Browne suit-shorts combo and suddenly felt a hot flash. "I am aware," he says, smiling about becoming the object of our collective online lust. "I don't understand how the internet works. I actually think people are trolling me." Or is the star of Apple TV+'s new series Foundation trolling all of us? "Who's trolling who is the question. But I guess that's what you submit yourself to on the internet: a mutual troll fest," he says. "I guess I'm trolling back and that's fun for everyone involved."
Sore balls aside, Pace and I are enjoying a late afternoon Central Park hang with Gus in tow. Pace is a doting dog dad to year-and-a-half old Gus, who he got after his last dog, Pete, passed away in early 2020. "I'm like a pirate with a parrot on his shoulder," says Pace of his close bond with Gus (he also has a cat named Macho). "There was about a three-year period of time where I didn't have a dog and I was depressed." As we pass parents with strollers and joggers on this warm October afternoon, he clips Gus's leash onto his belt, keeping the pup from wandering too far. "He's awfully handsome," Pace brags. "When you see him out in the field and working, he's got this great high step."
The "field" is actually Pace's farm in upstate New York — which you already know if you follow him on Instagram, which you do — where the actor moved in 2010. For the first two years, he lived without heat and electricity in a home he built himself and would ask neighbor Jessica Lange to use her shower. "​​She's one of the coolest," he says of the American Horror Story actress. The actor has since purchased Lange's home and now even has his own tractor that his Texan father helped him pick out. "For a while, we planted wheat and corn and sunflowers," he says. "Now we put it to hay because I travel so much. I plant a lot of trees. I have tree projects every year." And he's dedicated to expanding his upstate abode. Pace laughs, "If I can get a few more seasons of Foundation, I'm going to put a fence up and get as many animals as I can."
It's all very Old MacDonald, except for the Met Gala part. For this year's Vogue-sponsored event (Pace's second), he sat at Browne's table alongside Pete Davidson, Erykah Badu, and Mj Rodriguez. "Honestly it was a pretty chill night," Pace says. "I didn't go out after because of COVID. But the best part of the night was getting a burger after." Still, being in the orbit of Rihanna was pretty cool. "She was only about ten feet away from me," he reveals. "I was like, 'There she is. The queen is here.'"
Pace spots an open bench with a view of the Freedom Tower in the far distance and sits down. With his long hair swept behind his ears, printed Prada camp collared shirt and Oakley sunglasses, Pace is giving off Jeff Spicoli–meets–Johnny Utah vibes. In reality, Pace grew up in Texas (with stops in Saudi Arabia and New Orleans thanks to his father's oil-business work) and then moved to New York to attend Juilliard. Central Park is where he spent his weekends in college. He lived on Amsterdam at 77th Street and would get stoned and wander the Metropolitan Museum of Art. One of Pace's freshman-year roommates was Anthony Mackie, which makes what he says next feel less schmaltzy, more matter-of-fact. "​​I would say I learned the majority of how to do my job from watching my classmates," Pace says. "It was such a great time for me to be in this little incubator and watch all these incredibly talented people."
While his Instagram fandom is just reaching boyband-level status, Pace has been working steadily for nearly 20 years. After making his big-screen debut in the 2003 film Soldier's Girl, Pace starred in the TV series Pushing Daisies and Halt and Catch Fire, both of which earned loyal cult followings. Roles followed in some of Hollywood's biggest franchises, like The Twilight Saga: Breaking Dawn (Part 1 and Part 2) and Guardians of the Galaxy. On the latter two special-effects-laden films, Pace and his co-stars engaged in dance-offs during the large amount of downtime. "I lost the Guardians one," he admits. "But we soundly won the Twilight one."
After enduring an exhausting run as the closeted Joe Pitt in the 2018 Broadway revival of Angels in America, Pace gravitated toward doing something a little more fun. Pace says Foundation, based on Isaac Asimov's novels, is the biggest project he's ever been involved in — the first season's locations include Ireland, Germany, Malta, and the Canary Islands. His character, Brother Day, is an imperious and arrogant leader of a futuristic empire at a crossroads. Brother Day wears an outfit that can only be described as a blue-armored caftan and orders executions with a flick of a finger. "There's kind of a camp fun to this — there HAS to be," says Pace. "You can't play this abstraction of inherited power or the patriarch in charge and not think it's a little bit funny. Emperor of the galaxy? It's funny."
Despite the casualness of his Instagram feed — a mix of outdoorsy stuff (Look, it's Lee in a canoe!), Gus pics (Look at that cute dog!) Met Gala pics (Look at his calves in those Thom Browne shorts!), and tame thirst traps (Look at those back muscles!) — Pace has been a notoriously private actor in interviews. The grid, he says, allows him to parse out his life by his own rules. "My feeling about it now is I choose not to answer questions about my life," Pace tells me. "I choose to show things as I want to. That feels to me appropriate in the 21st century. I actually think it's kind of fun."
Pace's rumored partner, based on America's great detective, The Internet, is Thom Browne exec Matthew Foley (both are tagged in each other's Instagrams). He prefers not to identify Foley, but Pace consistently refers to "we" when talking about life at the farm. Then, I notice a gold wedding band on his left hand and ask about it. He playfully feigns surprise. "What? No! How did that get there? Gus, do you know anything about that?" It's at this moment that Pace asks that we get up and walk, seeking shade and perhaps escape. His jitteriness toward speaking about his personal life became a talking point in 2018 during press for Angels in America. He was asked about his sexuality in a W Magazine interview and said he found the question "intrusive." It then led Pace to come out as "a member of the queer community" on Twitter (with the help of a Missy Elliott GIF) and then in a New York Times profile. "I just don't feel like I owe anyone an explanation about who I am or what I do," he says. "I mean talk about a farce, like 12 times I read 'He's come out!' [Laughs.] I'm not hiding. I'm living and I always have been."
As the orange glow of the sun begins to vanish, we head toward the Western edge of the park to part ways. Pace will pack up for Ireland soon for season two of Foundation and sadly leave Gus behind. But he's gotta get back to work because he has a clear plan for his future … or at least the future of the farm: "Cows. We'll get that fence up. Put up a barn. I would need a proper barn for those cows." The fence and barn will be perfect spots for future thirst traps.