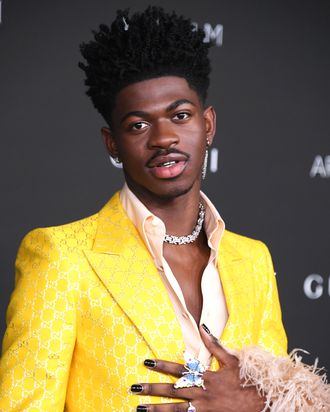 Photo: Steve Granitz/FilmMagic
Montero came out in September, but Lil Nas X, God bless him, will never be done promoting this album. This is the same album whose rollout kicked off with the lap dance heard 'round the world, moved on to a Nike lawsuit involving drops of blood in sneakers, and culminated in an elaborate series of pregnancy photo shoots that put Drake's Damien Hirst–designed emoji album cover to shame. Other facets have included: an inspired billboard campaign, a "Jolene" cover, and lots of nude choreography. And now, Nas has called in none other than Maury Povich to help him expand this shockingly complex story arc.
Last we saw him, Lil Nas X was crying in a wedding dress in the music video for "What I Want," which followed his character-slash-alter ego Montero's romance with a high-school football player named Jai and eventual discovery that Jai has a wife and child. On Wednesday, Montero brought his (fictional) case to the set of Maury, the 30-year-old daytime talk show that specializes in disentangling romantic disputes via DNA tests. Maury hosted both "football players" and the "wife" on Wednesday's episode to get to the bottom of … something.
Without giving too much away (trust me, you want to tune into this one), an explosive lie-detector test and one destroyed bouquet of roses eventually lead to the revelation that Jai and Montero aren't meant to be, and a leather-pants wearing Lil Nas X sprints out of the Maury studio to continue his quest for true love.
Jailbird, Satan worshipper, copyright violator, album birther, lawyer … and now, home-wrecker and jilted lover. There's no telling what stunt he's got up his sleeve next. Directing a Taylor Swift video? Auctioning off an NFT of his "Montero" wig? At least one thing is clear: There's nothing this man can't do.