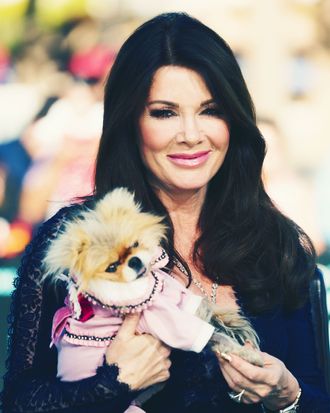 Lisa Vanderpump
Photo: Noel Vasquez/Getty Images
Some fun facts about Lisa Vanderpump: She owns a wine line (which allegedly fell prey to earwigs) and a Sexy Unique Restaurant (SUR, which allegedly gave one patron severe sexy unique food poisoning) and! She apparently lobbied the West Hollywood City Council against raising the minimum wage to $17.64 an hour, making it the highest in the nation, from $13 to $14 an hour.
"I just implore you to really give this a lot of thought, because I do believe, if we raise the minimum wage now, it's going to be counterproductive," she is seen telling the council on Zoom in a news clip from KABC.
This perspective is neither sexy nor unique; it is the National Restaurant Association's view that, given the ongoing pandemic, boosting the federal minimum wage even to $15 an hour would force closures, layoffs, and price spikes. (Counterpoint, via Eater: Maybe customers have been underpaying all this time, and maybe paying people more actually stimulates the economy.) At the same time, restaurateurs nationwide have complained of labor shortages: trouble retaining and attracting staff to work in conditions that put their health at risk, often without benefits, and often for low hourly rates. Raising the minimum wage could be a step toward solving that problem, though as KABC points out, even $17.64 fails to cover the cost of living in Los Angeles — $19.35 per hour would be closer to the mark, per one MIT study.
Admittedly, I know nothing of the Vanderpump finances, but my suspicion is that, with her Sexy Unique Restaurant and Tom Tom and PUMP serving as Bravo TV plot points, she can probably afford to pay her sexy unique staff more. Anyway, she's going to have to: The WeHo City Council approved the wage hike in an overnight vote. The ordinance will take effect for hotel workers on January 1 and all other hourly workers on July 1.