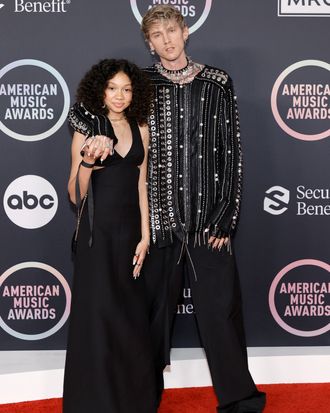 Photo: Amy Sussman/Getty Images
What's that saying? Bros before red-carpet reporters? That seems to be the mantra Machine Gun Kelly is sticking to. Just look how he sprinted when asked about Kim Kardashian and Pete Davidson's rumored relationship.
On Sunday, MGK refrained from commenting on Pete and Kim K while walking the red carpet at the American Music Awards with his daughter, Casie Colson Baker. "Your boy Pete Davidson and Kim Kardashian, how happy are you for him?" Entertainment Tonight's Cassie DiLaura asked.
The musician, who took home the AMA for Favorite Rock Artist, started his retreat before she was even done asking the question. "No comment, no comment," he said as he walked away.
Is that a smile you're hiding there, Machine Gun Kelly? Come on, you can tell us. Flavor Flav already posted the photographic evidence, and "Page Six" confirmed that Kim and Pete are officially dating (though the two have yet to officially comment on the rumors). Even his Saturday Night Live co-stars have commented, albeit without actually confirming the romance. "I don't know what the nature of the friendship is, but it seems like they're having a good time hanging out," Bowen Yang told "Page Six" earlier this week. Kenan Thompson added, "They look like they're having a good time."
MGK, if Kenan can comment, I think you can too, buddy. It's time.