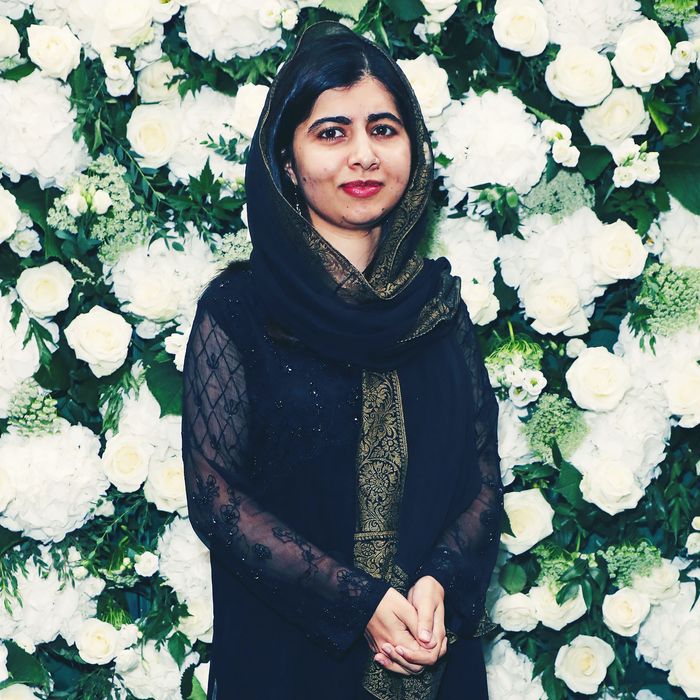 Malala Yousafzai wed her partner, Asser Malik, on Tuesday.
Photo: David M. Benett/Getty Images
On Tuesday, author and education activist Malala Yousafzai got married to her partner, Asser Malik, a manager for the Pakistan Cricket Board. The couple celebrated in a small Islamic ceremony in Birmingham, England, alongside their families. Yousafzai, who became the youngest-ever Nobel Peace Prize laureate at 17, shared pictures from the wedding on social media, calling it a "precious day."
"Asser and I tied the knot to be partners for life," Yousafzai, now 24, captioned photos from the ceremony. "Please send us your prayers. We are excited to walk together for the journey ahead." Though Yousafzai kept most of the details of the day private, the pictures show her, Malik, and their families among fall foliage that looks so perfect, you'd swear the leaves were paid actors. "It is beyond words," Yousafzai's father, Ziauddin, wrote on Twitter. "Toor Pekai [Malala's mother] and I are overwhelmed with joy and gratitude."
Yousafzai, who, at 15, was targeted by the Taliban after advocating for girls' education, has previously shared her misgivings about marriage. "I still don't understand why people have to get married," she told British Vogue in July. "If you want to have a person in your life, why do you have to sign marriage papers, why can't it just be a partnership?" She said her mother, like most every mother, didn't agree. "My mum is like … 'Don't you dare say anything like that! You have to get married, marriage is beautiful'." I guess being a Nobel Peace Prize winner doesn't exempt you from having to admit your mother was right.
Congratulations to these newlyweds!