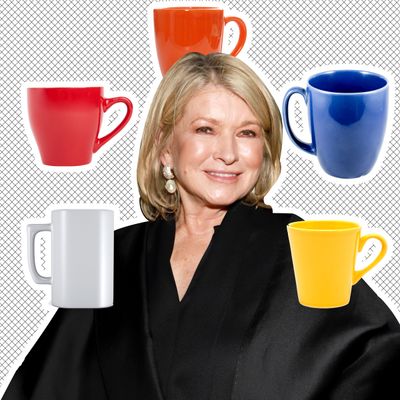 Martha Stewart says mugs are "clumsy and ugly."
Photo-Illustration: by The Cut; Photos: Getty Images
Within the Martha Stewart culinary universe, recipes for warm beverages — along with specific instructions for consuming them — abound. Toast your wedding guests with a mug of Irish coffee that "looks almost too perfect to drink," one MarthaStewart.com roundup proposes. "Melt away winter's chill with a mug of your favorite hot chocolate, mulled apple cider, pumpkin spice latte, herb tea, or other cozy drink," recommends another. "Welcome loved ones in from the cold with a mug of traditional mulled wine," advises yet another. Pretty regular suggestions, particularly as the Martha Stewart blog goes — mugs make sense for hot bevs; you don't want to scald your mitts!! But apparently, they also offend Stewart's aesthetic sensibilities, so now I am wondering if she knows just how often she's been running mug PR on her own website.
Stewart's mug hatred came up in a recent installment of The Tonight Show With Jimmy Fallon. During this segment, we learned that she sometimes pronounces "sandwich" as sahndwich, knows about and sells NFTs, and! This: "I don't like mugs. I think mugs are sort of clumsy and ugly. I don't own a mug in my house."
Really, you are asking, aghast and in unison with Fallon. Not a single mug to be found across her six homes? Sorry, but "no, I have beautiful cups."
On the one hand, we all have our own subjective preferences, whatever, pick the vessel that most pleases you and enjoy. On the other hand, cups, for hot liquids? Are teacups a type of mug?? Are we just out here pouring freshly brewed coffee into a regular old glass and hoping it doesn't explode??? Encouraging our guests to grab a scalding Christmas bauble full of hot buttered rum with their poor naked palms???? Chaotic, but maybe that's the secret to Martha Stewart living.